Advice for the Aspiring Role-Playing Blogger
I started blogging about role-playing games as an adjunct feature to a game scheduling site I was building. The game scheduler was a total failure, but I enjoyed the blogging so much I kept it up. I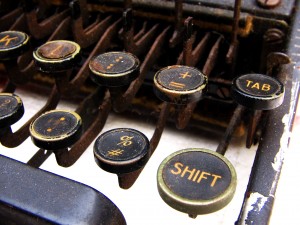 have been at it now for 18 months and have no plans to stop.  I now am arrogant confident enough to believe I know what I am doing and that I should share my hard-won wisdom with those that might consider RPG blogging.
First, a hard dose of reality. Blog for love of the game, not money. You will not make significant money blogging about RPGs. Period.   Oh, you might make some money every month, perhaps  enough to cover hosting fees or pay for a trip to a convention once a year if you save all your earnings, but you will not make a living at it. There are simply not enough people interested in the hobby to  generate enough traffic. If you want to make money blogging pick a topic that appeals to teenage girls. Now there is a money-making demographic!  If you are still interested even though there is little money in the hobby, read on for some more useful advice.
Do not quit! I will repeat that again, DO NOT QUIT. I promise you the first six months are likely to be the most disheartening months of your life.  Traffic is very low for new blogs, sometimes zero!  Even if you write the greatest content in the universe, no one will find you.
You must take action or you will languish in the depths of the internet for all time. It is critical that you network with other bloggers and grovel for some incoming links or a place on their blogroll.  Other RPG bloggers are a great source of interested readers. Post in forums with your blog in your signature line, but do not spam forums. That does not build traffic, only ill-will from the gaming community. Organic traffic from search engines is unlikely until you build up some incoming links and have enough keywords on your site to appear at the top of the search results. It will come, but it takes time. Search-engine optimization is outside the scope of this article, but a little research into the area is sure to help you build up traffic.
Join rpgbloggers.com as soon as possible. It is a great way to market your site and network with other bloggers.
Be original. Far too much of the blogosphere is an "echo chamber" reposting content or linking to other blogs, but generating very little original content. It does not matter what you write about as long as it is original. Original content also has more "Google mojo" and tends to land you higher up the search results, so there is an incentive to be creative.
Do not try to use your blogging might as a way to score free game stuff from companies. I assure you that so many flaky  "fly-by-night" blogs or "review sites" have approached game companies that they are quite selective about which bloggers get the free games for reviews.  Just focus on creating great content and building traffic. Once you have an established reputation, then game swag will flow your way. Game companies want their products mentioned on respected blogs and that respect is what you should seek, not free games.
Be ethical. Never "blog for pay" or do a review on a "comped" game unless you disclose the transaction. This is both for moral reasons and the likelihood that the "Federal Trade Commission"  will require bloggers to disclose these financial arrangements in the near future.  Also, if you are posting about a product and the company buys ad space on your site, a disclaimer is also in order.
This is my personal pet peeve, glowing product reviews on blogs for a product when the product's  ads are plastered all over the site. It destroys credibility.
Contact game authors and publishers! Far too many bloggers talk about a product, but never bother to actually do research or interviews. I promise there is no game author or publisher that will not consider a polite request for additional information or an interview about their game.  They want to talk about their products, often it is their "baby" and they are justifiably proud of their efforts. Some of my most popular posts were interviews about new or upcoming games.
I think that is enough to get you started, if there is enough interest I might do another post in the series. Feel free to drop me a comment if you have any questions or are considering taking the plunge.
Trask, The Last Tyromancer