Presenting the Livingdice Helix!
What do you think of my new site banner and slogan? The combination of D20s and a DNA helix always appealed to me because it is the essence of a true gamer. You can no sooner stop gaming than stop your very cells from replicating. Gaming is literally in your blood.  That and I enjoyed the play on words about the serious carnage in many role-playing games for the slogan.
This is my last post until next week. I am buried under so many gaming and non-gaming activities that I need a few days blog-free to catch up. Here is a quick preview of what is coming up in the very near future.
Interviews with game publishers both large and small.
Review of "Alpha/Omega" from Mindstorm Labs and their latest creature manual entitled "The Encountered: Volume 1"
Review of "Fantasycraft" from Crafty Games
"Ex-illis" beta kit play report  on Tuesday 9-8-09. Yes, I will finally get to play the game, complete with software. I am very curious and excited to see how it goes.
On a more general note, I am feeling very positive about the direction the blog is taking and the response from my readership and the gaming community in general.  I hope you agree and I look forward to continuing into the future.
Oh, in case you would like a closer look at the helix, here is a better view. Click on it for the large view. In a transparent attempt to earn some cash, I also have it up on Cafepress in the Livingdice.com store.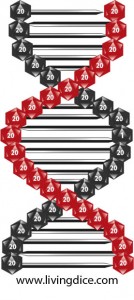 Gaming, It is in the blood!
Trask, The Last Tyromancer