Photos of the Ex-Illis Miniature Combat Iphone App and the William Wallace Miniature
Bastion Studios, publishers of the "Ex-Illis" miniature game released their Iphone application and I grabbed some screen shots of a game off my Iphone. If you are new to Ex-Illis, you can read more about the Ex-Illis miniature system that uses software instead of books for rules adjudication in my previous post.
The Iphone applications for Ex-Illis works exactly the same as the desktop version. It is a large app, so you need WIFI to download it. You login to your Ex-illis account, muster your army and then start killing your opponent. Haaldaar and I will play a game with two Iphones soon, but for testing purposes I ran a "mirror" practice game against my own unit. These shots are from that game.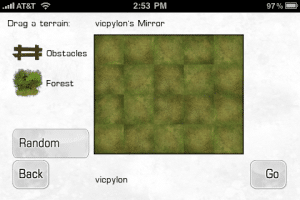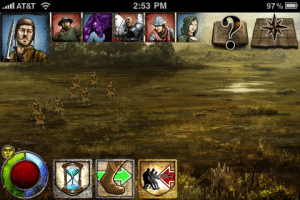 The game ran smoothly and the graphics were as good as the small Iphone screen can muster. It was  very playable and did not crash.
In other Ex-Illis news, I received my "William Wallace" miniature for buying the beta kit. Here is a shot of William, the only metal miniature out for Ex-Illis.  Sorry for the poor image quality, my camera died and I am using my Iphone until I replace it.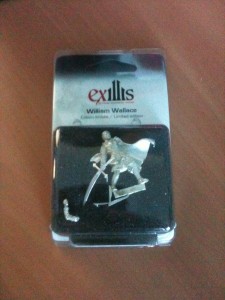 Trask, The Last Tyromancer