GAMA Trade Show 2011 Exhibitor Coverage – Part 8
GAMA Trade Show 2011 coverage continues with Looney Labs, Chivalry Games, Digme Productions,Flying Buffalo, Arcane Tinman, Acrylicos Vallejo, and WorldWise Imports.
The Labs were showing off three new products. First is Pirate Fluxx, which released in February. As the many other Fluxx flavors, this adds Pirates to the game. There are a couple new rules (Plunder and Being Captain), but other then that, it is Fluxx.
Second is Seven Dragons. If you are familiar with their game Aquarius, the gameplay is similar. If not, it is a domino style game (with cards) were you try to connect side of the cards together. Also, this game features original artwork by the venerable Larry Elmore. This game will be released in June.
Last, but not least, is IceDice. If you are familiar with Treehouse, this is another game utilizing the pyrimads. In fact, Looney Labs is designing a whole system around these Looney Pyramids. The IceDice is actually the primary game in the set, but it comes with a bonus games to play with the pyramids as well.  They will be selling other sets, expansion sets, and will even have a website were people can post new game they created with the pyramids. They are basically turning there pyramid pieces into a deck of cards, where you can play countless games. And it all starts with IceDice (and Treehouse), coming in June.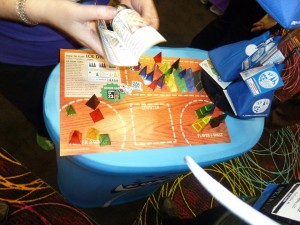 Last year at GTS, we covered a game, CHAOSTLE, a game under construction since 2005 (they had sample pieces on display). They have experienced pretty much every problem you can experience working with manufactures. However, I was very pleased to walk past their booth this year, and see a huge stack of CHAOSTLE board games ready for sale (it will be in game stores very soon)! The game mixes tabletop miniatures with board gaming in a sort of race/defense feel. I actually won a copy of the game in their raffle, so you can expect a full detailed review of CHAOSTLE in the near future.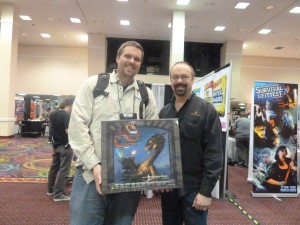 Digme Productions, Inc.
Digme was showing off many games in prototype. However, there one game that is in production now is Strike, Spare or In the Gutter. This is a 21+ drinking game (though you could play it Pepsi if you want). It is a simple game. You roll the dice on a Strike, you drink. On a Spare you pass. In the Gutter, you get a card that has some zany activity that you have to perform (do the robot dance), or a question you have to answer (roll a die and name that many NFL Quarterbacks), to the satisfaction of the group. If they do not approve, you get a penalty.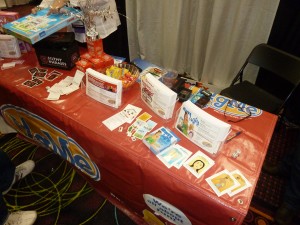 It wouldn't be a GTS without Flying Buffalo. 2010 was their 40th anniversary. Congratulations to Rick Loomis, and everyone at Flying Buffalo, for creating a gaming dynasty.
The main thing at the Tinman booth was The Spoils. The Spoils is a pop culture CCG with a more adult and a more tongue-in-cheek theme. The game has been around for a few years, and is gaining popularity as a tournament game. They also have a new line of Board Game sleeves.
Acrylicos Vallejo is a Spanish company that is known for its hobby paints. They have now have four main lines of paint, 
Model Color
for show and historical painters, 
Game Color
for fantasy painters, 
Model Air
for airbrushing techniques.  The newest line is
Panzer Aces
it is a color system designed in collaboration with Panzer Aces Magazine for reproducing the colors of the uniforms of tank crews and general armed forces in WWII.
WorldWise Imports is mainly known for two things. Party (mostly murder mystery) games and beautiful varieties of classic board games (mostly chess). They always have a new and interesting chess board coming out. And this year, they were showing off Dragon Chess. Dragon Chess adds two dragons (and two pawns) to the ends of the classic chess board.  The board also has two extensions out the side. This creates some interesting new strategies (and hiding places). This is a great game for the chess buff who isn't a purist.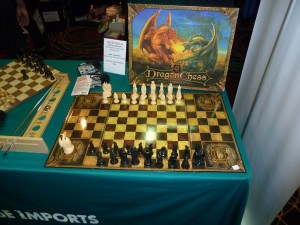 More tomorrow…