What is the GAMA Trade Show and Why Should I Care?
I just realized I have not really explained what the he Game Manufacturers Trade Show is  and why it matters to hobby gamers in general.  In short, GTS is a hobby game focused trade show that puts retailers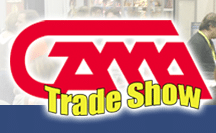 and publishers/manufacturers in the same building for five days. Here is the full GTS 2013 seminar schedule, but for me the seminars fall into three categories; retailer operations, manufacturing and product announcements. Retailer seminars are things like "how to choose a store site" and "proper tax paperwork." These seminars make GTS a sort of boot camp on running a retail game store. Since I focus on the  games I will not attend these seminars. Retailers have told me in the past there is a lot to learn, so budding store owners should to check them out.  Manufacturing seminars focus on the logistics of creating a game. I attended a couple of these when I had aspirations towards game publishing.  I changed my mind after hearing fun horror stories like "fungus-coated" wooden meeples from China and the nightmare of getting a game box printed successfully. Seriously, these seminars are a powerful reality check for those that might publish a game. I especially recommend the seminar by Byron Collins of Collins Epic Wargames.  on the publisher's perspective. He has been there and done that and learned many painful lessons. I spoke with him about his experiences at earlier conventions and it is valuable information.
Game announcement seminars are simply an hour of marketing from the larger companies. WOTC, Fantasy Flight, Wizkids and Mayfair among others packs them in to announce new products and often plans for existing product lines.  I haunt these because it is the best opportunity to see what is coming out for the Summer convention/Christmas season. The Fantasy Flight X-Wing game in particular interests me this year and it has its own seminar.
Then there is the exhibitor area. On Wednesday and Thursday the manufacturers setup booths in a ballroom and run demo and give elevator speeches about their games and new releases.  Here you actually go hands-on with the latest games and often a few prototypes. It is not uncommon for games to  use generic parts or replacement mock-up pieces due to manufacturing limitations.  Expect most of my reporting from this area as you can score some great interviews and photos of the new games.  Wednesday night is also a mini-game convention from 6:00-Midnightish. You actually get to play full games and get a feel for them and not a five-minute demo standing at a booth.
There is also a lot of networking, pitching and general socializing taking place all over the hotel.
It is not open to the public, but any aspiring retailer or manufacturer should get a GAMA membership and attend. It is both a fun and enlightening event.  So, if you want an early look at the new releases, check back next week. Oh, if there is anything especially interesting at GTS 2013, leave a comment and I will do my best to check it out.
Trask, The Last Tyromancer