GAMA 2009 Trade Show Report Part 2
This is the second in my series from Game Manufacturers Association Trade Show 2009. If you want to catch up, my first post is here. I am working my way through my notes and pictures to give you a better idea of what was on offer at GTS 2009, so these exhibitors are in no particular order.
This California-based company had one of the more interesting booths at the show. It was floor to ceiling with wooden board games. Chess mostly, but they also had a nice assortment of more unusual games like Mancala and Ur. I know it is not exactly cutting-edge games, but the elegance of a simple wooden game appeals to me. I think they just look cool. They do not sell to the public, only to retailers.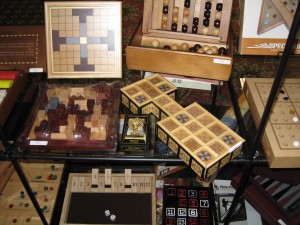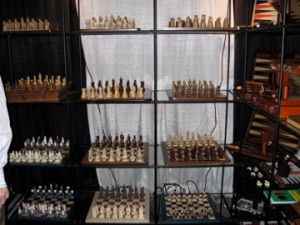 "Big Sunday" is a football simulator/board game. The mechanics involve offense and defense choosing pre-packaged plays and then resolving the play based on their choices. Not my cup of tea, but the game looked like fun for a football fanatic.
Out of the Box has an array of family and party games for all occasions. I played a quick demo of "Word on the Street." It involves moving letters back and forth across a "Street" by using the letters in words. It seemed more educational than a party game, but I could see how some adults might get a kick out of it.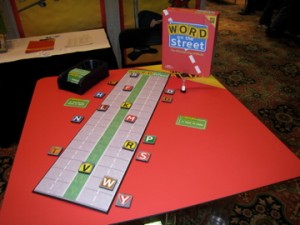 Studio 2 had a nice display regarding their new Deadlands: The Flood supplement. It contains information about the west coast after a devastating flood consumed the land. It also adds rules for martial arts.
Miniatures are not my thing, but I know GW's products have a rabid following, hence this entry. I chatted a bit at the GW booth and they mentioned that there is a new empire army coming out soon, as well as 3 new classic armies. I did not get the names of the armies, sorry. A friend also sent me to GW's booth in a quest for "greens," but none were available. I am such a GW novice that the kind gentlemen at the GW booth had to explain what a "green" actually is (it is a prototype epoxy version of an upcoming miniature). I was also instructed to ask about the potential of Thunderhawks in plastic versus resin. The booth had no information on this subject. They also discussed the upcoming Warhammer 40k Planetstrike rules. It went a bit over my head, but I think it boils down to rules and such for running planetary invasions.
A new "World of Warcraft" miniature set is on the horizon. There are 51 new miniatures in the set and it adds rules for equipment on the miniatures to enhance their abilities when fighting. The date for all this miniature carnage is May 5th, 2009. They were also passing out an "Ethereal Crypt Raider" promo miniature.
ImagiGrafx Games
Imagigrafx is not a game company, it is a game printer. Juan Mendez, IG's VP discussed how IG can do almost everything from printing and assembly to graphic arts for the aspiring publisher. The printing samples on display were quite attractive. I include it because I know there are aspiring game publishers out there that could really use an integrated printing service like IG.
Shard Studios had a very nice booth that featured the "Shard," the role-playing game. I was able to take a look at the main book, some supplements and an elaborate map of the world.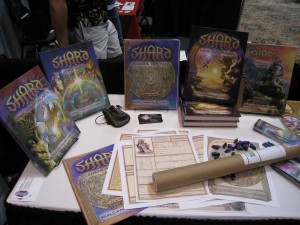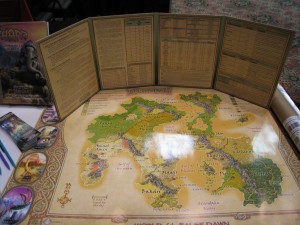 The production quality was excellent on everything. All maps for "Shard" come in a tube, so no creases. A nice touch. The Shard book itself is massive and beautifully illustrated. All the pages and artwork are in a sort of washed-out, sepia tone color scheme. Art is top notch throughout and has a unique look, rather than the screaming, action-packed images in your average WOTC offering. I look forward to this release in the near future.
I am off to complete real-world demands. Come back tomorrow for my pick for "Best of Show" from GTS 2009.
Trask, The Last Tyromancer