Arcane Legions Mass Miniature Combat Game Follow-Up
I originally discussed "Arcane Legions"  in my coverage of the GAMA Trade Show last month.  I now have a bit more information that I can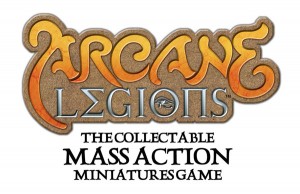 share. "Wells Expeditions," publisher of "Arcane Legions"  forwarded some new images today of the box art/miniatures, some direct to retailer marketing flyers and a press release. The press release link is below, but two sections caught my eye.
Common figures have been removed from randomized Booster Packs and placed into fixed Cavalry and Infantry Army Packs, and sets have been made intentionally small to make collecting even easier.  In fact, a player can buy a "Legion Bundle," eight faction-specific Boosters, and get every collectable figure in that faction — guaranteed!
Not that this is a trend, but I have a feeling that many collectable games will move to a non or minimally randomized sales model in this terrible economy to keep player outlays low.
Then there is this section.
…and a website that not only connects players but also allows players to do the unthinkable: design their own tournament-legal game elements — a first in the collectable game genre.
"Magic: The Gathering" and other games of its ilk had a finite amount of card types available for any given tournament.    I am curious as to how this will play out during a tournament, when the other players have completely original formations.
Arcane Legions Press Release
Click on any of the images below for a larger version.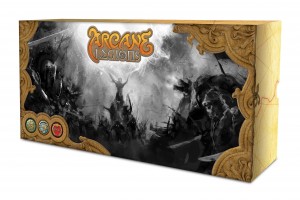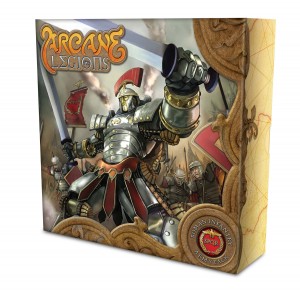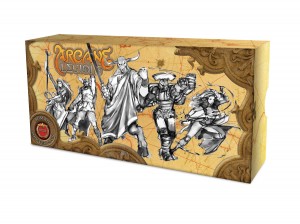 The image below is a top-down view of  one of the units in the game. The miniatures have certain characteristics and abilities, modified by what is printed on the card. The paper card is the game component that players can create "official"  versions of their own design for tournament play.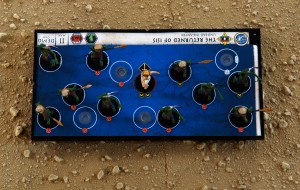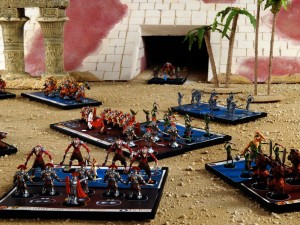 This one is just a marketing flyer, but I liked the slogan at the top.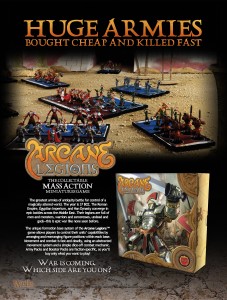 I hope to play this at Gen Con, so I will let you know how it goes.
Trask, The Last Tyromancer