GAMA Trade Show Report 2009 Part 4
Osprey Publishing, the venerable publisher of military history/reference books, showed off its latest offering, the "Raid" series. "Raid" books each focus on a specific military raid in tremendous detail. "Raid" looked interesting and the art diverged a bit from the usual ink and paint of other Osprey titles to a more digital look. Here is one of the upcoming titles.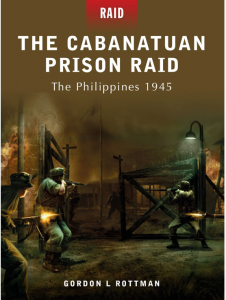 Osprey also had several samples of their "Field of Glory" miniature combat game books on display as well, in addition to the literally hundreds of historical titles.
A non-GTS interlude: I purchased an Osprey title "Saracen Strongholds" a few weeks ago and the review will go up next week.
Additionally, while writing this post I noticed a 20% off sale on all their "campaign" titles over at the Osprey Publishing web site, good until 4-30-09. I do not make any referral cash off sales, this is just a public service announcement.
Numbskull had a clever little card game involving psychiatrists treating patients in an asylum called "The Looney Bin." Did not get to play it, but the cards were a riot.
"Chez Goth," the goth answer to "Chez Geek" hits stores in August 2009. Tagging along is a 15 card expansion for "Munchkin" called " Munchkin:Fairy Dust" It has the cutest little fairy on the front cover, with a carefully concealed warhammer behind her back. Every card is full color with "glittery pink and silver fairy dust effects." Considering we are talking about "Munchkin," this new addition is slightly disturbing…
I am not a miniature painter, but I thought some of the oxidized and distressed colors on display here were pretty interesting. Worth a look for miniature painters.
Arcane Legions
"Arcane Legions"  from "Wells Expeditions" is a newcomer to the miniature wargame world and has an interesting premise. Magic erupted onto the world and three factions now compete for superiority, the Romans, Han Chinese and Egyptians. Here is a shot of the game board and 25 mm miniatures. The miniatures are early prototypes and not painted. Take note of the plastic peg-board on the left side.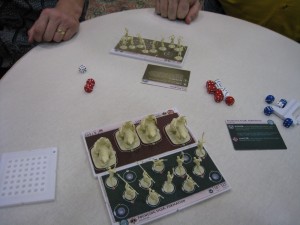 "Arcane Legions" is a massed combat game with a twist. The peg-boards you see in the photo above have templates placed on them. The templates define what type of units go on the board. Moreover, they also determine attack/defense/speed characteristics depending on where miniatures are placed on the board. It is difficult to see in my image, but there are different icons on each "peg" location on the template. These define what characteristic the miniature in that particular hole receives. For example, all of the occupied holes in my image give combat bonuses, but nothing to movement. During the game players change formations for different effects.
Units move as a group, using the movement tool included in the base kit. It is the plastic "T" in this image.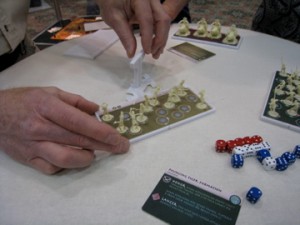 More interesting to me was the business model for "Arcane Legions." Subscribers to the "Centurion Club" site have access to special resin miniatures and the ability to create and print their own templates. There is also a system for verifying the authenticity of the template through a serial number. This prevents photoshoppers from creating "illegal" templates. The miniatures are relatively inexpensive, with the base set of 110 figures only $34.99. In a smart move, "AL" has three options for adding additional units. Army packs have a random assortment of 40 unpainted figures, faction specific per box. There is no guessing when you buy as to what you get. Cavalry packs are the same setup, with 15 mounted figures, also unpainted. Booster packs contain 1 rare, painted figure, a base card/template, two additional rare/uncommon units and five additional base cards for use with the booster/army packs. These additional sets are priced between $11.99 and $14.99. I was never a fan of the random, blind miniature purchase business model. I like the fact that randomness is only a small part of the army building process.
"Arcane Legion's" reps indicated that the game probably releases at Gen Con this year. I will post any updates as I get them.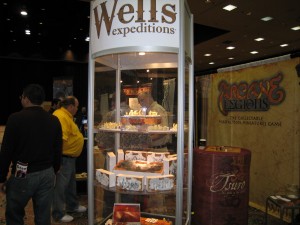 Tasty Minstrel had two prototypes on display "Homesteaders," a city-building game and "Terra Prime," a game of interstellar exploration. Neither game is released yet and are scheduled to ship in Q3 2009.
I sat down with the Konami demo team and played a round of "Blue Dragon." Konami calls BD a "Role-Playing Card Game." Many of the mechanics are CCG standards, but "Blue Dragon" adds a "level up" component. As you discard spent cards, they accumulate and you can "spend" them to upgrade your primary monster. It made discarding an actual tactic, as opposed to just a side-effect of playing cards. "Blue Dragon" clearly skews to the younger gaming crowd, but was fun.
One3 Productions
One3 Productions had a very cool, multimedia booth dedicated to their prototype game "Fury." The game premise is that a treatment center for anger management actually puts the patients into gladiatorial pit-fights and watches the blood fly! The game plays in 3 dimensions and sounded like a blast to play. The combat system was relatively simple and the game board was…interesting.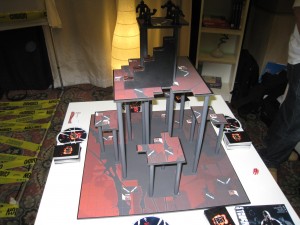 Here is another view.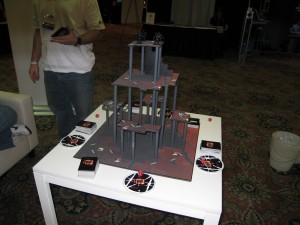 "Fury" was looking for a publisher at the show and it appeared that some were interested, but I did not hear if it sold or not. I will update this post if I get any firm release dates on this game.
Enough blogging for a work night. I am off to do real-world necessities.
Trask, The Last Tyromancer