GAMA Trade Show 2009 Report Part 3
This is part 3 of my ongoing series about my time at the GAMA Trade Show 2009 in Las Vegas. You can view part 1 and part 2 if you would like to catch up. Each post is independent of the others, so do not worry about reading them in order.
Bandai's main focus was on their new "Battle Spirits" CCG imported from Japan. The basic set comes with 10 plastic gems for tracking actions during the game. Launching an attack costs X gems. If you run out, then you cannot take that action. I am oversimplifying greatly, but that is the basic idea. The cards were nice and the addition of the gem mechanic will make this game popular among the younger gamers.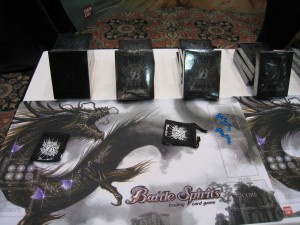 I played this game at the PSI open game night for demos. It took me about 20 minutes to figure out I had played this "new" game before. It is a remake of "Vinci."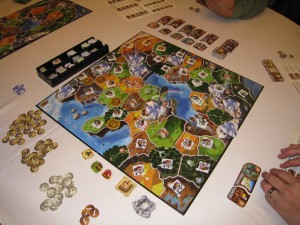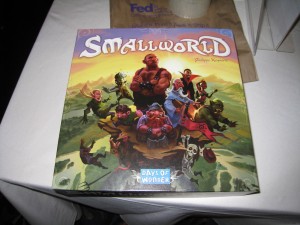 The primary difference is that "Small World" has fantasy creatures. I played a rampaging skeleton horde…and lost to the halflings. Oh, the shame!
Catalyst had several new products and prototypes at the show. I got my first look at the 20th Anniversary Edition of Shadowrun.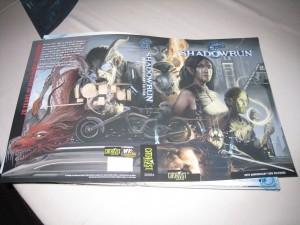 This is the actual cover and under the cover was the printer's proof of the book, held together with rubber bands. I flipped through it briefly and was impressed by the art. I am anxious to get a closer look at this item. I am a big Shadowrun fan, but lapsed in recent years. This book might bring me back into the fold…er…net.
Catalyst also had an early version of "Balance of Power," a new board game. I know it looks a little like "Risk," but the mechanics are very different. A modified "rock,paper,scissors" system based on unit types (general, banker, king) determines victory.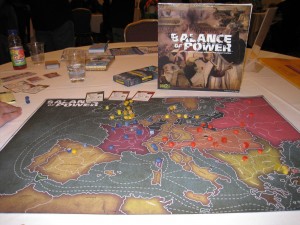 "Leviathan" is a new miniatures game set in a fantastical 19th century. Nikolai Tesla develops technology allowing mighty battleships to take flight and do battle for the great powers of Europe. Here is a shot of the cover.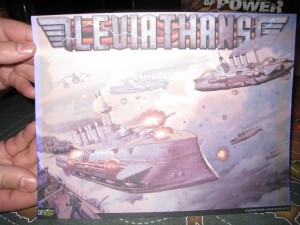 The art was very well done and I look forward to seeing what the miniatures look like.
Catalyst also has a Reiner Knizia card game coming out called "Merchants." I did not have a chance to play it, so I will end my comment there until I can actually get in a game.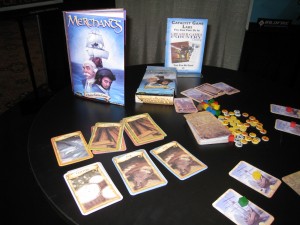 This was a bit surprising. White Wolf, one of the oldest RPG companies shows up at GTS with a new board game based on the EVE MMORPG. Production values were excellent and I utterly failed to get a picture of the board that was setup. Sorry. I direct you to Boardgame geek for some images.
"The Antarctic Express" is the classic children's story, "Polar Express," as done by H.P. Lovecraft (Kenneth Hite actually). I  flipped through the book and it was hysterical. Young boy gets on a plane in his pajamas and arrives in the Antarctic by plane, only to meet some hungry…things at the "Mountains of Madness." Good times.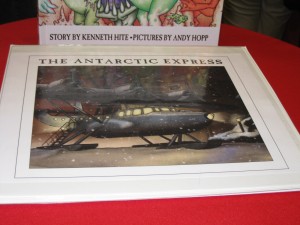 Words fail me. Just look at this die.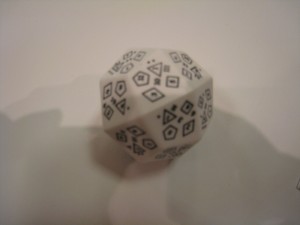 Sorry for the fuzziness, best I could do with the basic camera setup I have. This 24-sided die (the "D-Total") is big, about the same size as a d100, maybe a big bigger. Each side has multiple die shapes on it with numbers in the shapes. If you use the included, complicated directions, you can simulate rolling many types of dice (d2, d4, d6 etc)  with this one die. I am very skeptical gamers will ever give up the bags of dice for this gimmicky item, but it looks interesting.
That is all for today. I have some more items going up this week, but real-world demands are draining my time. I will post when I can and hopefully will complete my GTS coverage this weekend or early next week.  As always, I have the list of exhibitors and links to their websites up at rpgseek.com.
Trask, The Last Tyromancer