GTS 2009 Vendor Update: Fury from One 3 Productions
"Fury" is a combat board game I encountered at GTS 2009. Unlike most game vendors at the show, One 3 Productions was shopping for a game manufacturer deal.  "Fury" impressed me with a very slick presentation and a humorous premise; an anger management clinic that  used patients in gladiatorial combat. I also enjoyed the game board itself.
Here is a shot of the "Fury" prototype board.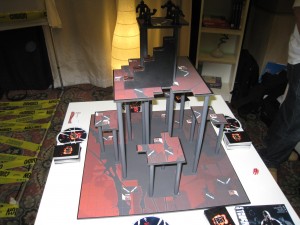 I recently asked for an update and the One 3 Director of Operations and Communications provided the following:
A final manufacturing agreement is pending for the end of this month.  I will get more information when this completes. Additionally, a Canadian film company is interested in using the Fury concept in a movie, with a script treatment currently under development.
So, things are moving along and I will keep you apprised of any updates as information becomes available.
Trask, The Last Tyromancer