Contest: Win a Free Copy of the Eoris Role-Playing Game
Update: We have a winner. Thank you to everyone that entered. Watch this site for further contests!
Eoris, the massive and beautiful role-playing game box set from "Visions of Essence" released at Gen Con 2010 after several lengthy delays. Controversy raged among the RPG forums about whether or not the game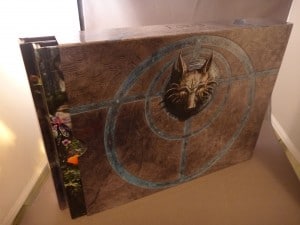 would ever release. Happily, it did release and I am giving away a copy.
Entering the contest is simple; join the Livingdice.com Elite Gaming Forums. On December 15th, 2010 I will get a random number from random.org and the user has that line in the user database wins. Oh, and no multiple fake accounts please. Real people only.
"What! This contest is a transparent attempt to drive people to a new gaming discussion forum with promises of great swag!"
Absolutely. "Free" draws interest like nothing else, but this contest is more than a crass marketing attempt. Livingdice gets good traffic already. I do not need to draw any more readers.
I want to build a community, a different kind of community.
I call this the "Elite Gaming Forums" because that is what I want in my community, the elite of gamers.
I want the people who went to college, got out of mommy's basement and generally get through life successfully. I want people that never forget that gaming is a hobby and not a substitute for a well-rounded life. I want those that use games as a way to test their intellectual mettle against another human being. I want history buffs that see games as a way to touch a long-dead time and experience just a bit of what once was. I want gamers that are articulate and knowledgeable. I want aspiring game designers that desperately need feedback. I want those that want to discuss games beyond "how to pimp your paladin." If this is you, then welcome!
I truly believe that a small minority of deeply pathetic people plague the gaming community, contaminating discussions with vitriol and personal attacks.
Venomous vermin spewing rage will not be tolerated here and will be removed. Permanently. As to moderation, I will only use my ban-hammer in the extreme cases and hope to recruit equally invested members of the forum as moderators to guide, but not control the community.
That said, I believe a community of elite gamers will resist these interlopers, much as an immune system repels infection. Flames wars will not find any kindling here. The elite are too intelligent to fall into such traps.
This is my manifesto, my hope for the new forum. My goals are modest; a community of elite gamers talking about all games; board, miniature, RPG or card in a friendly environment dedicated to squeezing just a bit more fun out of our shared hobby.
Trask, The Last Tyromancer