Review: Dungeons & Dragons Comics by IDW Publishing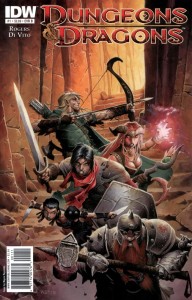 The schwag bags at Gen Con have been the butt of
many jokes
in recent years. And no wonder, they  SUCKED compared to the hey-day of the pre-recession yesteryear. Last Gen Con, we hung our bags up in the hotel room as a garbage repository. There was one thing, however, that I was very excited about in the 2010 bag. Inside, there was a comic book.  A #0 issue of the new
Dungeons & Dragons comic being published by IDW
.
I like fantasy comic books over the traditional super-hero stuff. Give me Conan, and Sinbad, and Red Sonja (hubba hubba). Nothing made me happier, and then sadder, then the recent Worlds of Dungeons & Dragons comic line by Devil's Due Publishing. It had iconic characters, great art, and great stories by some of today's top fantasy authors.  And POOF the comic suddenly stopped (if anyone knows what happened, please leave a comment). So, I was very happy to see IDW , not only take up the reins of this prestigious comic line, but inside were teasers for new Forgotten Realms, Dark Sun, Ebberon, and Salvatore/Drizzt comic goodness.
But there is more to this story.  There is a reason why am I writing about a free comic preview from August in December.  Well in November, issue #1 came out, followed by #2 this month. And, I wanted to point out how really cool this series is!
Two words… Marketing GENIUS.  This is a great example of two companies working together, using their individual talents, to create one really cool product. For in the last several pages of each of these comics, is a D&D 4E adventure. And not just any adventure. It is the story just told in the comic, brought to life for the game table.
So here is my take on the new Dungeons & Dragons Comic:
The comic itself is fun, campy, and adventurous. Funny and cool situations mixed together in an interesting adventure. It really brings the feel of playing a role-playing game into a comic. Other high-fantasy comics have gone the serious route (and that is really good too), but expect a lot of situational humor and jokes that only those who regularly sit at a game table will get. I guess a better way of explaining this is that this comic series more captures what it is like to play D&D rather then one that captures a story in a fantasy novel.
The adventures are also very good. Created by Wizard of the Coast's Bill Slavicsek, these short sets of encounters (aka a delve) can be plucked and added to any adventure. But of course, they can also be played together to recreate the events in the comic series.
The only negative thing I can say about this product, is that if you want to run these adventure for your group, and you want it to all be a surprise, then you will have to keep your group from reading the comics.  And good luck with that!
Dungeons and Dragons comics are available through IDWs online store, other online merchants, and your friendly local comic shop.
Let us know what you think!
Stuart