Livingdice Sponsors the Vul-Con Gaming Convention in Phoenix, AZ!
I am thrilled to announce that Livingdice is sponsoring a new game convention in Phoenix, Arizona called Vul-Con! Vul-Con will take over the 30,000 square feet of the Phoenix Convention Center on October 22-23, 2011. Plans are afoot for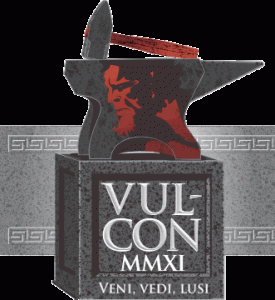 role-playing games, board gaming and miniature tournaments, so there is something for everyone.  In its heyday the Arizona convention scene had at least one decent-sized gaming convention, but over the past couple of years the conventions withered down to pale shadows of their former glory. I hope this new convention will invigorate local gaming in Phoenix on a yearly basis.
Check out the Vul-Con website for further update and I will, of course, be posting information as it becomes available.
Veni, Vedi, Lusi!
We came, we saw, we played!
Trask, The Last Tyromancer