Paizo's Pathfinder Society Does Gen Con Right!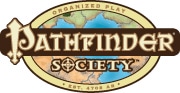 Paizo's Pathfinder Society rarely merits mention on Livingdice because I do not participate in the campaign. Nothing against it, in fact I like the Pathfinder system, but I only have a finite amount of gaming time. Yesterday Haaldaar forwarded me an email from Paizo regarding their Gen Con plans that impressed me enough to write this post. I was impressed not by the Pathfinder campaign itself but by the business acumen displayed by Paizo in their planning. Here is the email and my thoughts follow. I know it is long, but bear with me.
For Gen Con 2012, we plan to make this the biggest and best Gen Con yet! I am scheduling 750 tables of Pathfinder Society over the four days. We are also bringing the GM 101 workshops that debuted at Paizo Con (and were discussed in last Monday's blog) to Gen Con. They will hopefully be a hit and draw in new players and GMs to Pathfinder Society, as well as make active Pathfinder Society players take the next step and help to GM in their home regions.

We will be hosting Pathfinder RPG Beginner Box Introductions. During nine of the 10 slots at Gen Con, we are setting aside four tables at each slot for these events. These are scheduled with new players in mind. The first 45–60 minutes will be exploring the contents of the Beginner Box, explaining the rules, and reviewing the pregenerated characters. The final 4 hours of each slot will be playing through the four 1-hour adventures that were offered during the Beginner Box Bash.

In addition, we are adding a Pathfinder Kid's Track to our gaming area. We are focusing on players aged 6–12 and we will be using the Beginner Box for this as well. Each Kid's Track slot will be 2 hours long and each player will receive a check-off card, very similar to what was used at the Beginner BoxBash. The first hour teaches roleplaying and rules and reviews the pregenerated characters found in the Beginner Box. During the second hour, one of the four 1-hour adventures used during the Beginner Box Bash will be played. We will be restricting tables to four children players and are requiring a parent or guardian be present with each child (or multiple children if they have two or more interested in participating) for the entire 2 hours. The parent or guardian will assist the child when needed. But, we want to make this a good and memorable experience for the kids that attend Gen Con, who often find little they can participate in, espe cially with others their own age. We will be scheduling eight slots per day for the Kid's Track. However, we are only scheduling one adventure each day. If a child comes back and plays a different adventure each of the 4 days, he will be able to present his check-off card and receive a special certificate. We may also have other giveaways or special prizes. I will be very picky when choosing volunteer GMs for the Kid's Track. I prefer to have schoolteachers and other professionals with experience dealing with children, but I will consider GMs who are parents even if they do not deal with children regularly in their profession. If you are volunteering to GM the Kid's Track, please make sure to include all of your credentials. Also, since these are scheduled as 2-hour blocks, a GM will be required to run two Kid's Track slots back to back in a 4-hour block to count as one slot of credit toward GM rewards.

Finally, we are adding an invitation-only second round to the Gen Con Special: Race for the Runecarved Key! The first round will be what you have come to know and love as the Pathfinder Special. It will be 75 tables all working together to overcome some nasty problem the Decemvirate wants dealt with. However, the change this year is that we are adding a special, secret scoring system. The top three tables from each tier will advance to the invitation-only second round.

This second round will be one of the deadliest dungeons ever explored by the Pathfinder Society, and only the very best of the organization's agents even have a chance of surviving. Again, let me emphasize—this will be a true and deadly test of the Pathfinder Society's best teams. It is almost a guarantee some Pathfinders will die. Make sure to bring your A-game. The first round will be made available to qualifying conventions worldwide after Gen Con 2012 as it is every year. However, the second round is only being offered this once—at Gencon 2012.

At this point I am looking at restricting the GM pool to only 4- and 5-Star GMs. To top it off, the players that advance to the second round will trade in their Chronicle sheets received after the first round as their tickets to this invitation-only event. When they complete the second round, they will receive new Chronicle sheets with a very special boon. We haven't forgotten about our volunteer GMs for the special either. We didn't want them to miss out on the opportunity to play in the invitation-only second round. So, we will be entering all Round 1 GMs into a drawing, were we will pull six names. Those six GMs will then receive a seat at a 16th table of the second round.

The observant readers may have caught that I just mentioned 16 tables and are scratching their heads that three tables from each tier and the special GM table don't add up to 16 tables. Well, you are right. Like last week's blog that announced a special Tier 12+ event at Paizo Con, we are adding a Tier 12+ to both rounds of this year's Gen Con special! The special will be written for Subtiers 1–2, 3–4, 5–6, 8–9, 10–11, and 12+, and we'll actually have 19 tables of round 2.

Now, let's talk about the GMs and volunteers we need to pull all of the above off and make it an awesome Gen Con.

I need a minimum of 125 volunteer GMs for Pathfinder Society games, Beginner Box Introductions, and Kid's Track events. I'll continue taking volunteer GMs until the slots are filled, at which point I will create a waiting list in the event a scheduled GM has to cancel his or her Gen Con trip for whatever reason. I also need eight Volunteer Assistants for each slot of the show. These folks will not GM during their volunteer slots, but will instead help me run Pathfinder Society HQ—including marshalling, collecting tickets, distributing GM packs, and entering tracking sheets into the database—and will be our go-to guys and gals for all things Pathfinder Society…
Gen Con is the largest game convention in North America and all too often I see game companies skimping on sponsored events. If there was ever a location you NEEDED to run your game…a lot, Gen Con is it. Paizo took it to heart and is running 750 tables. Assuming all the tables go off that is 4500 players. Not a trivial number and the "jeez look at how many people are playing Pathfinder" factor makes for excellent marketing to new players. New players that get their own introductory events using pre-generated characters and quick, fun adventures. Paizo clearly understands that new blood is critical and making an event strictly to introduce people to the campaign is just good business.
And the good business decisions just continue with the "Kid's Track." This is a good idea in and of itself. Role-playing gamers are an aging lot and many younger players fall victim to the siren call of MMORPGs. Designing an event specifically to introduce 6-12 year olds is both brilliant and necessary to the health of the RPG hobby, but that is not really the reason I am excited. Paizo actually plans on vetting the judges! Long have I agitated for companies to at least attempt some game master quality control at conventions. In this case, it is beyond critical. Adults getting a bad first time experience might right it off as an aberration. Kids are less forgiving. TPKing a table of seven-year-olds will turn them off to RPGs for life. The hobby cannot afford the loss.
Conventions are expensive and players need good reason to attend one. Of course some might attend just to hang out and play with new people, but others are unwilling without a specific, marquis event to draw them in. The Pathfinder Special is one such event, but throwing in an invitation-only second round is just awesome. That is sure to loosen purse strings!
I know none of this is truly groundbreaking as other companies have done similar events and this post might sound like I am a Paizo fanboy (as I said earlier, not really). All that said, it is refreshing to see a game company actually take intelligent steps to grow their gaming fan base with some planning and a decent budget.
Trask, The Last Tyromancer