GAMA Trade Show Report Part 1
This is the first post of several discussing the GAMA Trade Show 2009 in Las Vegas. There is so much that I cannot hope to have a post for each exhibitor, so I am going to create a "virtual" trade show experience. Each post will have 5-10 entries, with images for various companies, just as though you walked down an aisle at the convention center. That said, a few companies I deem worthy of separate posts will get more in-depth coverage. This is because they have something that really interested me or was doing a big release. I will skip over some of the exhibitors that are of little interest in my readership like inventory management software sellers or credit card POS vendors. Enough talk, let us get to the games!
Royal Chess' booth had a simple chess set setup and some cards with chess pieces printed on them on either side of the chess board. You have a hand of 5 cards and you have to play cards to move your chess pieces. If you do not have the card, you cannot move the piece. It simplified the game and added a layer of bluffing to the dynamic, since you never knew what pieces your opponent could move.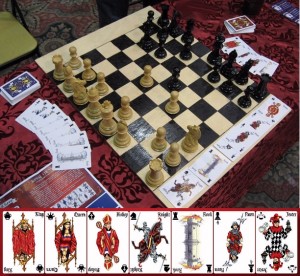 Warball
Duncan YoYo offered this variation on the CCG. The game combines cards with marbles, excuse me "warballs," to resolve combat. The marbles were nice and some of them had little creatures imbedded in them that reflected the various card creatures. There is some actual physical skill involved in shooting the marbles, so it is a bit more challenging than a standard CCG. The images below are of the organized play arena setup. This does not come with the basic set.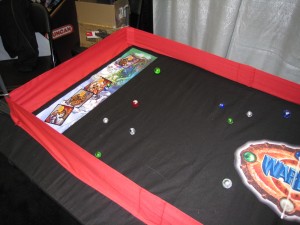 Dragonfire Signs Lasercrafts
Dragonfire produces a line of laser-cut and etched cards, buttons and tokens. Their latest offering is the licensed Traveller ships below for the venerable RPG game. The laser also added shading to the plastic and gave these ships a nice overall look.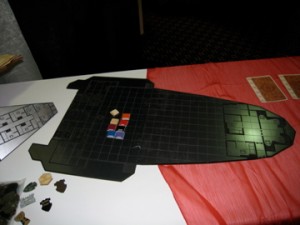 Reaper goes resin! The thing that caught my eye at the Reaper booth was the "Dark Maiden" below. Releasing in July for $129.00 retail, this is a massive piece. The "Dark Maiden" used to inhabit the prow of a pirate ship, but something went horribly wrong and now she is…annoyed.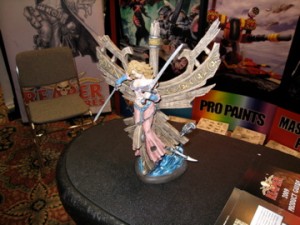 Battle Foam was new to me, but then again I am not a miniature player. They had some nice miniature carrying cases, but their major offerings are the custom foam blocks for odd sized miniatures that go in the cases. They support Warhammer, Blood Bowl, AT-43, Flames of War and several other army types off the shelf. Should you need a custom cut piece of foam, they can do that also. There is a helpful video on their website on how to create a template for their cutting machine. The fully loaded cases cost between $100 to $200.00, but given the cost of the miniatures in the case, it is probably a bargain.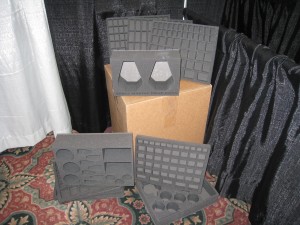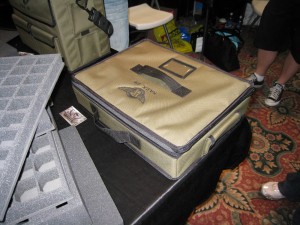 The always reliable Looney Labs did very well at the show this year with "Traitor." Coming out in June, 2009, this is a modified version of the classic party game "Werewolf." "Traitor" involves wizards, keys and, of course, a traitor. The goal is  to get a magic key to the "good" wizard. Problem is no one knows who the wizard is and there is an identical evil wizard that also wants the key. Sadly, I did not get in a game of this, but it looked like all the participants were having a great time.
Haaldaar, my co-blogger is a huge Catan geek. He sent me specifically to the Mayfair booth with a mission to discover new Catan information. I pressed for deep, dark secrets of upcoming Catan releases and came up empty. Although I did get a look at "Catan Geographies: Germany." The shots below are from that game. There was also a new release called "Pack and Stack" that involved stacking blocks on trucks. Very Tetris-like, but with board game mechanics. Martin Wallace has a new entry in the "Age of Steam" board game series entitled "Steam: Rails to Riches." There is also a 350 limited edition version of the game coming out for collectors.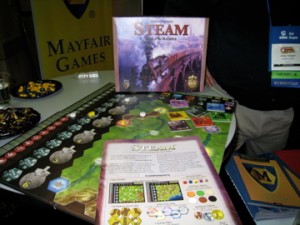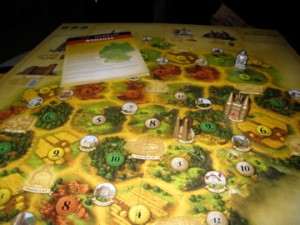 Asmodee's latest offering is "Giants." You have to move Easter Island Moais around to score points. Even though this game is out already, I had to mention it because I have a soft spot for giant statues.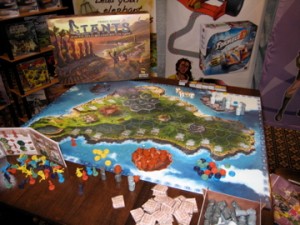 More to come! Remember, a list of all the exhibitors are available on RPGSeek.com.
Trask, The Last Tyromancer