This weekend I attended our local gaming convention. MaricopaCon is funded through Kickstarter and this is its second year. Trask and I attended last year so I thought it would make a good warm-up for GenCon in two weeks. The convention runs Saturday and Sunday, but I only attended Saturday. The selection of games available at the con was go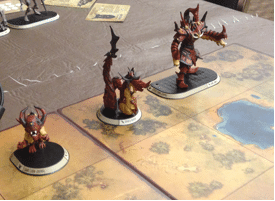 od so I got to try some new things as well as an old favorite.
First Up: Golem Arcana
Golem Arcana was successfully Kickstarted in October of 2013 and the game is releasing this month. It is a miniature skirmish game that is completely adjudicated and tracked on a tablet (IOS or Android). All the game pieces, cards and map squares are marked with microdots allowing the players to enter all their moves into the tablet via a Bluetooth wand. This actually made for rather fluid once you got the hang of using the wand. The pre-painted miniatures are very nice as well.
Next Up: Heavy Gear
This game is not new but I have never played it. Players command a team of High-tech Robotic Gears to do combat with another team of Gears. It plays like a typical tabletop war game. My group of Jaegers took on my opponents group of hunters. After pounding each with rockets and auto cannons a grenade throw from my final gear struck home destroying one of my opponent's gears instantly and securing my victory.
Next Up: Laughing Moon Crossroads
Todd Vanhooser and the Laughing Moon Chronicles RPG have been a fixture at local Cons for years. At MaricopaCon he was running a beta version of the next generation game titled Crossroads. Todd personally ran this session and Crossroads co-design Cory Beal. This was my first foray into Laughing Moon. This generation puts a western spin onto Todd's fantasy world. I found this to be an interesting blend with elements that set it apart from other western genres like Deadlands that just incorporate fantasy element into the western genre. It was also very entertaining to play game still in development with the two creators.
Lastly: Call of Cthulhu Delta Green
It has been my yearly ritual for the last 3 years to play in the Delta Green module run by Stuart (Sorry I could not remember your last name). Delta Green is a unique take on Modern Cthulhu where the investigators are clandestine members of a secret organization within the government fighting the war on "Terror". In this year's run we investigated the disappearance of some archeologists that disappeared investigating a mysterious site that defied reason. The anomaly turned out to be a failed time travel experiment from the future that was sucking the archeologists into the past. It turned out they were actually digging up their own remains.
All in all a good time was had by this con goer and I will not hesitate to back MaricopaCon again.
Werlen