Gencon 2019 Vendors Report Part 1
The titles says it all; the Gencon 2019 vendors report is all about what I found interesting in the vendor hall in between all the gaming. Pretty diverse this year with a couple of interesting surprises.
"Dungeons and Lasers" plastic tabletop scenery is a (currently live!) kickstarter. D&L is a line of sturdy, modular dungeon terrain. I got a free sample of a spru and it is remarkably sturdy. Though it resembles Dwarven Forge offerings, it is definitely build for the budget minded. Besides being entirely plastic the pieces break down for flat storage. There is also the added benefit for the walls having two sides; fantasy and sci-fi depending on your needs. The highest backer level is only $299 USD, so this is a bargain if you are in need of terrain.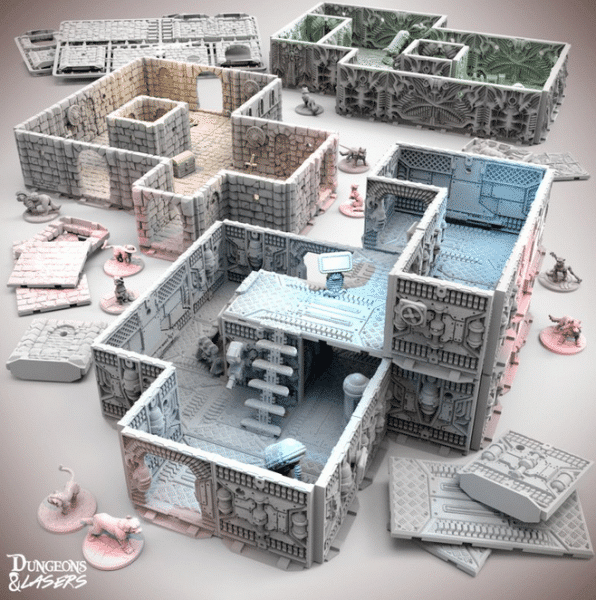 Normally I do not report on miniatures, so CMON never appears on this site, however their foray into board gaming technology is notable. "Teburu" combines RFID technology with a "smart board" and an app to enhance tabletop games.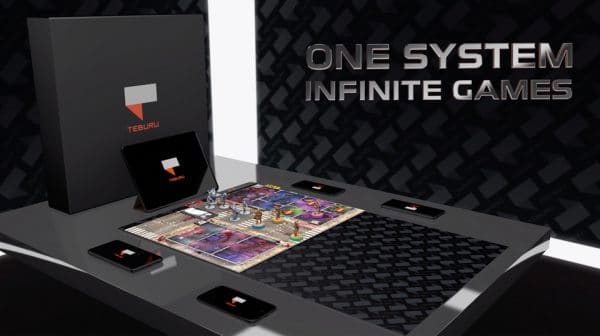 Here is a an introductory video with stylish graphics that I cannot make to make my point for me.
The board senses dice rolls and player location and feeds it to an app for adjudication. CMON made a questionable choice with the demos of this game in my opinion. They scheduled them as actual events with tickets…in an enclosed room. So either you went in blind during the ticket Hunger Games months before the game was available or you just watched from outside the booth. I watched outside the booth.
The idea interests me, if nothing else to remove "bookkeeping" activities on board games that suck the fun out of every turn and add a "blind" element managed by the computer. However, the demos I watched seemed like everyone just stared at their phones instead of playing the game. I am not sure this is a good idea in terms of human interaction, but will make an effort to get in a demo next year. I believe the price point was around $200 and the first game was a another edition of "Zombicide."

Necromech is an app-based (IOS AND Android) tabletop role-playing game. I downloaded the app and it basically pushes all the book-based rules of an RPG into an app that uses a subscription model. Frankly, this scared me off because I thought if you stop paying your content disappears. I dropped by the booth and turns out I was mistaken. You get all the content for the game up to the point your ended your subscription. Otherwise you get content updates for the life of the game so long as you keep up the subscription (59.99/year, $9.99/month). Given I never buy an RPG before playing it I will wait to get in a slot at Gencon next year before I buy in to Necromech.
I believe this model is a good one as it allows the developer to constantly update the rules/typos and keep content fresh without killing trees for paper books. I am not sure the world is ready for this just yet, but in a few years I predict this will be the norm in RPG publishing.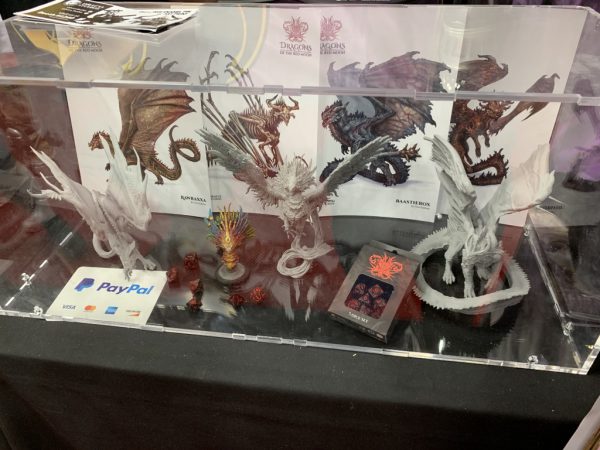 Amazing dragon miniatures! I am not even a miniatures fan and I nearly bought one. Pretty.
I have an interest in high-quality woodworking for game accessories, but this one was unique in its design. Here is what was sitting on the table.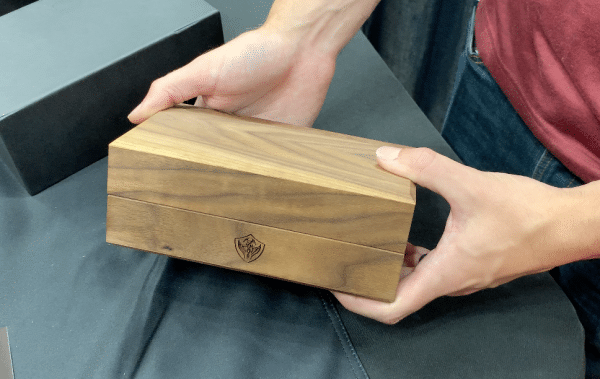 I watched the owner turn this humble box into, well, this:
One of the more cleverly designed pieces of woodworking I have ever seen. The hardwood options are varied from the common to exotic. A lovely piece for any game table. Trask may have found his Christmas present to himself….
"Stranger Things" brought a wave of 80s nostalgia (no idea why, I lived through the 1980s and they were nothing to write home about) and companies are jumping on board, notably with a "Blockbuster Video" board game and this item, the "Trapper Keeper" board game.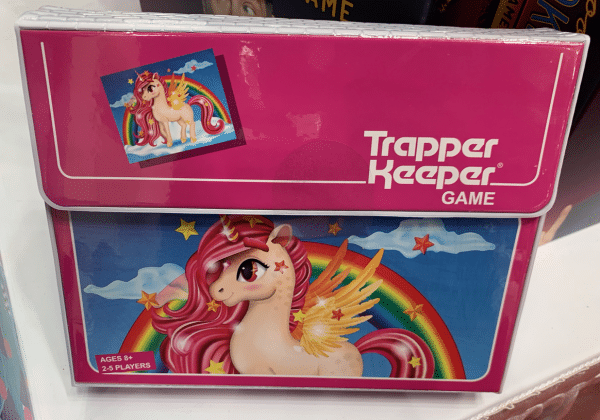 "Trapper Keepers" were all the rage among grade-school kids and came in many designs. This is just a light, set building card game in nostalgic packaging. Fun to look at, but I thought the demo I played was just dull. Included in this post as nostalgia porn only, here is the "Blockbuster" board game.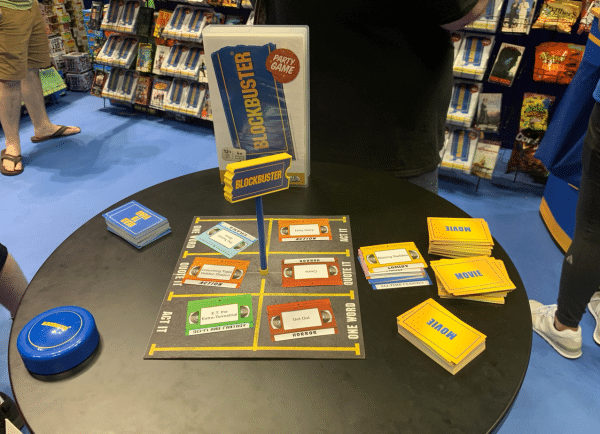 That is enough for part 1, part 2 coming soon!
Trask, The Last Tyromancer