GAMA Trade Show 2009: Crystal Caste
Crystal Caste is a long-standing vendor of dice, but they had a couple of new items that I thought worthy of a post outside my other GTS 2009 coverage.
First is the "Cyboskull." It holds dice and looks cool, which is more than enough for me. 😉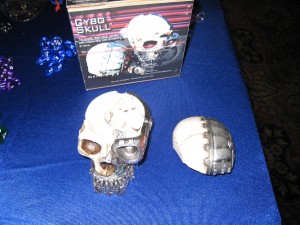 In the realm of dice, I saw a new dice set that includes some non-standard shapes for several of the traditional dice and the addition of a d3 to the set.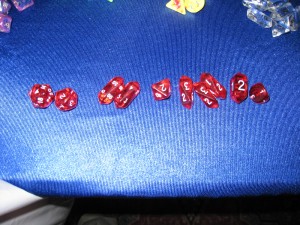 I did not get a shot of them, but a new set of metal dice with a red exterior and gold numbers will be out soon. They come in the 12mm size.
The final item I thought was fascinating and  the the primary reason for this post. A portable, collapsible game table.  Check it out.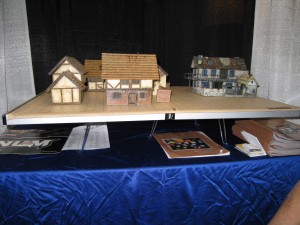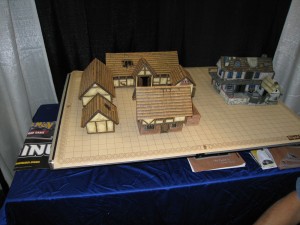 Mike, the owner of Crystal Caste, gave me a tour of the design features. First, it is lifted off of the table 7 inches,  so there is space under the table for dice, books and soda cans. Mike also pointed out that the increased height makes it easier to get the miniatures point of view for determining line of sight and a better feel for the environment "on the ground." As to stability, it has five folding legs and despite a significant amount of weight on the top, was quite stable. Mike even leaned on a corner fairly hard and the table did not flip. It folds up quickly into a small pseudo-briefcase, complete with handle and latches.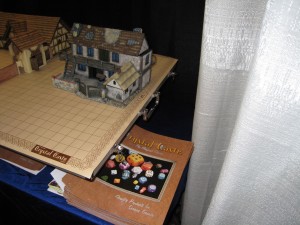 The dimensions are 24″ X 36″  and a standard "small" size battlemat from Crystal Caste fits perfectly. Mike mentioned two of the tables together handle their "large"  36″ x 48″ size battlemat.
It is an interesting idea and I am curious to see how it performs in a real game. This product is still in the development stage. They did not have an MSRP yet. I will keep you posted as information becomes available.
Trask, The Last Tyromancer