Plastic Sleeves for Board Games from Mayday Games and a 15% Discount!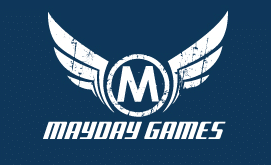 Games like Agricola, Cataan, Dominion and especially Wings of War require a lot of card handling. The problem is that cards are paper and become stained, fuzzy or otherwise damaged with regular handling. Effectively marking the cards in games that require secret hands and draws. Sadly, the more popular the game, the faster the cards wear out.
At Gen Con 2009, I found a solution. Mayday Games sells an extensive line of polypropylene/acid-free card sleeves for the unusual card sizes in many modern (and European) board games. Mayday has extensive lists of games that fit each size of card sleeve. Visit the site for more information.  I picked up a bag of "Mini Euro" sleeves for my Wings of War planes and they work great! Even better, they are dirt cheap at $1.75 per one hundred.
In a first for Livingdice.com, I contacted Mayday Games and requested special pricing for my readership. Mayday kindly agreed to provide a 15% discount off any item in their store until 12-31-09! To take advantage, enter "livingdice" in the "COUPON PROMO CODES field at checkout and click "Apply Coupon."
Oh, I nearly forgot, while your at Mayday I suggest you check out their board game kits that come with the correct sleeves and the Yucatan board, which is a framework for holding the Settlers of Cataan tiles in place.  It prevents those "table-quakes" that scramble the Cataan tiles. Here is a shot.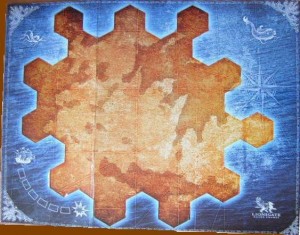 I do not receive any kind of benefit from sales using this coupon code…other than a warm fuzzy feeling that I helped my readers save 15%.
Trask, The Last Tyromancer