Exercise Equipment for Gamers: Heart Rate Monitors
Many gamers are out of shape. A trip to Gen Con proves my point very effectively.  While I am no gym rat myself, I regularly exercise and use technology to make my workouts more effective. I know this is very off-topic for the site, but I did the research on heart rate monitors for an upcoming purchase anyway and I think there are enough gamers out there in need of some exercise and guidance that they might find the information useful.
Though never in truly dire physical condition, I noticed around the age of 30 that I was growing in girth. Sensing the onset of larger pants, I decided to hit the gym. A couple of years pass and I lost some weight, but I did not really feel like I improved my overall fitness very much. Or at least as much as I expected for exercising at the gym 3-5 days per week, every week. When I exercised, I pushed fairly hard (at least I thought so). I left the gym feeling worn out and sore the next day.
Oh, I usually do bikes or elliptical machines, due to a bad knee. My workouts are mostly cardio in nature. I know I should diversify and lift some weights, but that is so dull.
One day, I ran across an article in Wired magazine that mentioned a heart rate monitor that calculated how long, hard and often you should workout. It based all of this on your age, weight and its records of previous workouts. If you work out hard on Monday, it tells you to take it easy on Tuesday or just not work out that day. The technology fascinated me, so I picked up a Suunto T4 heart rate monitor, with a coaching feature.
The T4's coaching feature impressed me. I quickly realized I over-trained, either pushing too hard or not resting long enough between workouts. Sometimes I did both! Within a few weeks it was very apparent that the HRM workouts were shorter and less strenuous than I did on my own, but I felt stronger. The unit gradually ramped up my workouts to increase the duration and intensity as I built endurance.
The workouts are both time and effort based (Suunto uses the term "Training Effect). So if you workout an hour at 65% of your suggested cardio capacity that is a TE number of 3, but 45 minutes at 80% is a TE of 3.8. (example numbers only, you numbers will vary based on many factors). These numbers determine subsequent workout schedules. Coaching made my life much easier.
Here is my T4 after nearly four years of continuous use. Note the dead heart rate monitor/watch and broken chest strap.
I have no complaints about the failures, both components gave me years of quality service, but I need a replacement. Hence the reason for my recent research on HRMs.
There are two companies that lead the HRM/training computer market, Polar and Suunto. While I have history with a Suunto product, a HRM is technology and technology evolves rapidly. I felt the need to check out the competition before deciding on a new unit.  I quickly narrowed my choices down to two options: the Suunto T4d and the Polar FT60.
Here are shots of both unit and an information sheet from the manufacturer. First up is the Suunto T4d.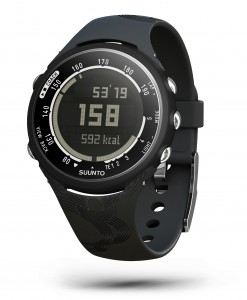 The Polar FT60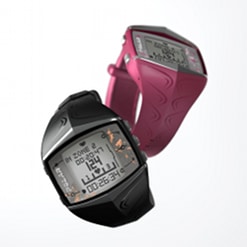 Polar FT60 Heart Rate Monitor Information Sheet
I should mention that both companies produce a wide-range of HRMs. These are both from the "middle" of the companies' respective product lines. The Polar is $239.95 and the Suunto is $219.00. Those are MSRPs, so you might find better prices out on the web. Both companies more expensive models available, but they include things like altimeters and other bells and whistles I will not use.
The units both share some characteristics, so I will only list them once
1. Chest strap
2. Download to computer program (using separate hardware, not included)
3. Training guidance/workout planning
4. GPS integration (again, with additional hardware)
5. Watch/alarm/stopwatch
6. Integration with gym equipment (Note: Polar actually has a "Polar Compatible" logo on some machines in my gym. Suunto does not. That said, the dual-band Suunto chest strap seems  compatible.)
7. Indicates calories burned and whether you are burning fat or increasing cardio performance
Now for some comments on the differences between the unit.
Polar's unit includes their "OwnZone" technology that does some pre-workout testing of your heart to decide if you are tired or stressed-out and adjusts the workout accordingly.
I really liked this feature, as it makes the workouts more adaptive and forgiving of "bad days." I actually got to play with a FT60 briefly at Best Buy yesterday and did find some things I did not like. I thought the display was not as clean as the Suunto units and  buttons on the FT60 were also a bit hard to use.
Conversely, Suunto seems to get more useful information on to the primary screen with less clutter. I am also familiar with the unit and the setup, so the learning curve is likely very shallow.
It is a tough call and I honestly believe that either one will work great, but I can only have one. I have not decided as yet and I will let you know which one  wins my heart. (Yes, the pun was intentional.)
Finally, if anyone has first-hand experience with either of these units, please drop me a line with your thoughts.
Oh, I almost forgot. A disclaimer, which is a first for Livingdice.com. Talk to a doctor before starting any exercise program and remember these devices provide guidance. They do not replace common sense.
Full disclosure: Neither Suunto or Polar has provided any incentives to me for this post and I do not receive any benefit from sales of products linked from this article. Though I must  thank the marketing departments at both companies for taking the time to provide great information and snazzy photos to a guy running a gaming news website. Thank you!
Trask, The Last Tyromancer