Phoenix Comicon 2014 Exhibitors and Vendors with Links and Descriptions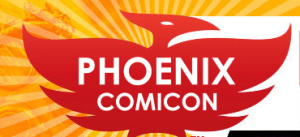 Phoenix Comicon 2014 is next week and I decided to take a look at who was setting up at the show in the exhibitor/vendor area before I show up. Sadly, the Phoenix Comicon vendor list only lists names and booth numbers but no site links or descriptions.
So I fixed it. After much effort, here is the list of exhibitors as best as I could discover through a lot of Google searching. As you will note, I got about 85% of the list and do have some "unknowns" in the list. If you have any information on these "missing links," please post a comment with any information and I will get it added.
Trask, The Last Tyromancer
2014 Phoenix Comicon Exhibitors 6/5/2014 – 6/8/2014
EXHIBITOR
DESCRIPTION
Smitty Tut Designs
Smitty Tut Designs Offers All Original Self-Made Artwork and Metalworks made by Matt "Smitty Tut" Smith in collaboration with Cole Peterson! All works of art envelope the whole nerdy/geek culture ranging from Comic Books, Super Heroes and Video Games to Horror, Supernatural and Steampunk and everything in between. Custom hand made one-off metalworks include The Thundercats Sword Of Omens, Captain America's Shield, Batarangs, Wolverine Claws and various nerdy/geeky one-off keychains, necklaces and license plate covers such as "My Other Ride Is The Death Star". Traditional/Digital Artworks include original sketches, hand drawn comissions and full color 11×17 prints as well as full color and screen printed t-shirts. Anything and everything is fully customizable- so stop by check us out, and spread the geeky love!
Zia Records
Zia Records has an amazing selection of Sci-Fi, Comic and Pop Culture Merchandise
Andy Perez
Andy Perez, indie comic and sketch card artist. Original art and prints.
(The Manly Spies)
Unknown
13th Floor Haunted House
13th Floor haunted house is the one of the top Denver haunted houses nationally known,colorado haunted houses,haunted houses in denver,denver haunted house,13th Floor Haunted House, Denver, Colorado
168 Dragon Trading
Dragons Trading has been a participator and vendor at the biggest Anime Conventions for over 6 years. Every year at popular conventions such as the Anime Expo and San Diego Comic Con, Dragons Trading brings the latest Anime collectibles and pop culture novelty items to the fans.
183 Degree Studio
The comic book studio of the decade! Artist Alfred Trujillo and Model Cara Nicole aka AZ Powergirl joined forces to bring you amazing art and photo bliss
258 West Authentic
258 West Authentic Signatures Doctor Who autographed photos, Arrow signed photos, Matt Smith autographed photos.
'68 Comics
68 Zombie Comic from Image Comics
69 Geist
Art – community of artists and those devoted to art. Digital art, skin art, themes, wallpaper art, traditional art, photography, poetry / prose. Art prints.
8-Bit Brewery
8-Bit Brewery is a new Microbrewery based around 8-Bit video games. We'll be opening in Avondale late 2014 or early 2015. Stop by our booth for a shirt or pint glass!
A2Z Games
A2Z Games opened for business in September 2012.
Aaron Lambert Art
Aaron Lambert is a digital and fine-artist specializing in comic and movie related paintings and prints. He uses a variety of styles and techniques with a bold and bright color palette which make his work pop.
Abraham Lopez
Art – community of artists and those devoted to art. Digital art, skin art, themes, wallpaper art, traditional art, photography, poetry / prose. Art prints.
AcmePrints
AcmePrints is a custom screen printer specializing in apparel printing, as well as posters, postcards, stickers & thousands of promotional products. We are one of, if not THE, greenest printer in the Southwest.
Action Lab Comics
The Action Lab is a group of mad scientists who collectively have over 25 years of comic book creating experience. After slaving in obscurity and alone for lo, these many years, these quasi-evil geniuses have now gathered together from around the globe to form a secret research and development collective devoted to world domination through the purification of the comic book art form.
Adam Beechen
Credited as: Writer
Adriano Carreon
Art – community of artists and those devoted to art. Digital art, skin art, themes, wallpaper art, traditional art, photography, poetry / prose. Art prints.
Adv of the 19XX
Dieselpunk Tales about Machines and Magic in the 1930s
Agile Pig
We create cool art for kids! When my daughter was born, I tried to find some cool, unique art for her room but could
Agnes Garbowska
MyMisiu Gazzette! Home of great all age comics and Agnes Garbowska!
Alex De Campi
Alex de Campi writes comic books, directs music videos and commercials, kicks ass, and takes names. Contact RSM Creative for bookings as director.
Alienkitty Designs
Stickers, my little pony, anime, gaming galore! Hand made items, purses, pencil pouches, small plush! I am a cheap commissioner, and will tackle any project! New products include those mentioned already! AND MANY MORE TO COME. Always cute and cheap!
Ali-Kats Curiosities
Ali-Kats Curiosities is a grandma/granddaughter ran buisness if you will. We attend comicbook conventions and craft shows and now sell on.
All About Books and Comics
All About Books and Comics with over one million comics in stock. Back Issue Comics, Super-hero Gifts,T-shirts, and specialty items!
All Knight Studioz/Brieanna Brock
All Knight Studioz was founded in 2012 by Brieanna Brock. They bring you comic enthused clothing, shoes and creator owned comics. Their first comic was 7ven Sisters and debuted last year at Phoenix Comicon.
Allied Integrated Marketing
Allied Integrated Marketing delivers effective campaigns on a local, regional and national level, leveraging our network of 21 offices in the U.S. and Canada.
All's Fair Media
All's Fair Media focuses on original comics and prints, and geeky accessories.
Amanda Francis
Unknown
Amy K. Nichols / Austin Aslan
This is the official website of Amy K. Nichols, author of young adult science fiction novels
Anabel Martinez
Digital Artist Anabel Martinez and Award-Winning Prop and Costume Maker Allen Amis team up to share their sci fi, video game, and fantasy artwork & costumes with Phoenix Comicon attendees.
Anachronistic Creations
My hand crafted items are inspired from past eras that evoke feelings of nostalga mixed with wistful memories and fanciful daydreams. Pieces often contain an element of time – such as a clock face or vintage mechanical watch parts.
Anastasia's Collectibles
Unknown
Andy Bohn
Andy Bohn is selling his creator owned series, Elvatron Chronicles, along with various sketch cards, prints, and original artwork.
Andy Kuhn
Artist
Andy Runton
Creator of Owly
Aneeka Richins
Aneeka Richins is an artist and is best known for her webcomic, NOT A VILLAIN, found at http://navcomic.com. She also writes the Chaos Gods fantasy series. She'll be offering bandwidth-friendly versions of her webcomic as well as her prose books, art prints, buttons, bags, and posters.
Angeleyes Emporium
Unknown
Angelo's Comics
Unknown
Angry Robot Books / Lee Harris
Angry Robot is a global imprint dedicated to the best in modern adult science fiction, fantasy and everything inbetween. Our book line launched in July 2009, with physical books across a wide variety of formats, e-books as standard, and with all frontlist titles as audiobooks from October 2011.
Angry Robot Books / Michael R. Underwood
Angry Robot is a global imprint dedicated to the best in modern adult science fiction, fantasy and everything inbetween. Our book line launched in July 2009, with physical books across a wide variety of formats, e-books as standard, and with all frontlist titles as audiobooks from October 2011.
Animetasia Inc
Animetasia Inc provide wide range of collectible toys. Brand names such as Lego, Mattel Brands, DC Universe, Star Wars, Transformers, and etc.
Ant Lucia
Ant Lucia has worked in the field of Illustration and design for the past 12 years. Best known for his digitally illustrated series entitled "Spookshow Pinups". A combination of classic monsters and their "cheesecake" pinup counterparts. Check out more old school pinup poster art at AntLucia.com
Antickquities
Affordable steampunk accessories for ladies and gents! Pocket watches, hair pieces, chain maile creations, DIY components, and all manner of interesting bits and baubles!
Apocalypse Too
Apocalypse Too is a family-operated crafting experience. We love all things scifi, comics, and beyond! Check out our website!
April Reyna
indy-published comics, prints, sketches, and sketch cards…
Aprilynne Pike / Janni Lee Simner
Author of Earth Bound
Arizona Browncoats, The
Are you a Browncoat? So are we! We have Firefly/Serenity related merchandise. We also sell other Whedonverse related items as well as items outside the verse. All fandoms are welcome here! The best part? All our profits go to charity!
Arizona State Library, Archives & Public Records
Spark a Reaction at the Arizona State Library booth. Watch a demonstration of a 3D printer and sign up for a summer of Literary Elements.
Armand Villavert
Artist
Arrowsmith Studios
Arrowsmith Studios is a small group of creators that have come together primarily to create the webcomic Goblins of Razard and other art projects.
Art & Illustrations by Samantha Ashley Violette
Samantha was born in a snowy town on the lucky day of November 11th. Shortly after that, the little snow bunny was transplanted to the dry desert. Despite growing up in the desert for a majority of her life, she never did get acclimated to the scorching heat and still isn't to this day.
Art of Ramona, The
The Art of Ramona creator of Metallic Fantasy web comic and the Art of Ramona store. www.ramonar.com Fran Makes it she thinks it she creates it!
Artemis Entertainment
Creator & Author Tiffany Dang has published Justice Angel comic book Volume 1 Issue 1, 2, and limited edition of Issue 3 for purchase.
Ash Ave Comics & Books
Ash Avenue Comics & Books has been a fixture for comics fans in the valley for ten years. We carry a wide selection of new comics, both mainstream and indy, mini-comics, magazines, toys, t-shirts, and a massive selection of graphic novels. Our indy comics selection is the best in town, hands down! Come on in, and check out Tempe's best comic store!
Ashleigh Popplewell
Ashleigh Popplewell Ashleigh-Michelle artist illustrator drawing painting fan art professional freelance pop art sketch card
Ask Studios
Architectural studio (this is probably the wrong site, but it was all I could find)
Aspen Comics
Damsels in Excess comic publisher
ASU School of Earth and Space Exploration
ASU School of Earth and Space Exploration
ASU SEDS
SEDS is an independent, student-based organization which promotes the exploration and development of space. SEDS pursues this mission by educating people about the benefits of space, by supporting a network of interested students, by providing an opportunity for members to develop their leadership skills, and inspiring people through our involvement in space-related projects. SEDS believes in a space-faring civilization and that focusing the enthusiasm of young people is the key to our future in space.
Aurora's Creations
Wedding Decor and so much more.
Autumn Fox Creations
costume accessories of Asian, steampunk, and anime influence.
Autumn Frederickson
Autumn has been creating fantasy worlds since early childhood. After moving to Los Angeles with her buddy, the pink haired monster Freddy Scribbles, she launched Daydreams & Giggles in March 2012. Since then, Autumn and Freddy have hit the comic-convention circuit, traveling from coast to coast whilst peddling their wares. Crayon scribbles of unicorns gave way to stylized paintings of caped heroes and other popular characters. Her ever growing brigade of watercolor Lemonheads has become increasingly popular with children and adults alike.
Available by Phoenix Comicon
Phoenix Comicon is the signature pop culture experience of the southwest. June 5 -8, 2014 at the Phoenix Convention Center.We present the chance for fans like yourself to meet with your favorite creators, actors, authors and get their autograph (and have your photo taken with them!).
Avatar Press
Publisher of "God is Dead: The Book of Acts"
Awesoos Entertainment LLC
Awesoos provides the ultimate photo entertainment experience by arming their guests with a barrage of custom handcut "power-up" graphics and composing unique nerdtastic scenes certified for serious personal bragging rights. We don't need any fancy green screen or CGI – we will just Awesoosirize it!
AZ Avengers
Independent Comic Book Publisher
AZ Corpse Crew
AZ Corpse Crew is an entertainment/Cosplay group. Consisting of monsters, zombies, ghouls and vampires. We are GDigger's army of the UNDEAD!
AZ DUI Team
The Phoenix Arizona DUI laywer you can trust. Brian Sloan and the AZ DUI Team can help you understand your rights and responsibilities if you have been charged with a DUI. Call 602-DUI-TEAM Today.
AZ Justice League
We are a (non-profit) Charity Costuming Group
We help raise funds for Local charity groups by contributing and making appearances in costume to fundraisers and events. (ie: The American Cancer Society Relay For Life, Children's Miracle Network, Children's Hospitals such as Phoenix Children's Hospital, University Medical Center, Tucson Medical Center, etc., Kids Need to Read, etc.
AZ Paranormal Investigation & Research Society
Welcome to Arizona Paranormal Investigation & Research Society your source for discounted paranormal investigation equipment. We are authorized resellers for PhantomLites, K2 meters,Digital Dowsing, Apparition Technologies and DAS/Pro-Measurement products
AZHP
AZHP is a business that provides Console, Arcade, and PC Video Gaming services at events and conventions in the US including organizing, promoting, staffing and running tournaments.
Bad Idea Brofist
We will be selling buttons, plushies, posters, and wood burnings, all related to various games, anime, comics, sci-fi, and movies.
Badger Creek Studios
Beautiful hand painted fantasy and celtic art on drinking horns. Food safe coating inside and out.
Band of Thieves
Musicians
Baron's Beauties
Toys & Accessories: Pirate, Steampunk, Geek, Patches, Parasols, Pockets, Puppets, Goblet Covers, Fans, Jewelry, Silk Sashes, Walking Sticks, etc. Featuring Gryphon Song Gems: Celtic Carved Gems and Jewelry
Beth Sotelo
My collection of random, grumpy drawings. This is what I accomplish when I should be doing other things.
Bianca Thompson
Pin-up artist
Big Chris Art
BIGCHRIS is a professional graphic artist with an emphasis on color illustration. His resume reflects an extensive and remarkable assortment of artistic outlets. BIGCHRIS has lent his distinctive "DarkPop" style to a variety of projects over his 17 year career.
Big Dog Ink
Comic publisher
Bill Farmer
Bill Farmer is a Digital Colorist. He has colored comic books for BOOM! Studios, Top Cow and most recently Dark Horse Comics.
Billy Tucci
William (Billy) Tucci is the award-winning creator, writer and artist of the graphic novel series Shi. Through Billy's own company, Crusade Fine Arts, the multi-Eisner Award nominated Shi has been printed in four languages and has sold more than 4 million comic books.
Blade daddy
Seller of sharp, pointy metal things called swords.
Blake Henriksen
Blake Henriksen is a freelance illustrator and concept artist who has worked on Star Wars The Card Game, The Lord Of The Rings Card Game and Warhammer The Card Game. He will be selling high quality art prints.
Bookmans
Celebrate pop culture and embrace your inner geek at Phoenix Comicon! Visit the Bookmans booth for a rad experience. Give the prize wheel a spin or snap a photo in our Retro Video Game photo booth. Exclusive t-shirts and bags will be for sale at our retail table.
Boom!
Publisher of comics such as Savage Brothers and Daymen
Bowie Art
Artist?
Brad Dwyer
After discovering punk rock in his teenage years, Brad Dwyer played in a variety of loud, obnoxious bands before eventually applying the same D.I.Y energy and aesthetic to self-publishing autobiographical mini-comics (in addition to occasional stories of fiction).
Brain Damage Films
Horror films
Brandon Peterson
The Blog and Gallery of Brandon Peterson.
Bret Blevins
After cartooning for a local newspaper, Blevins became a professional comic book artist in the early 1980s. During that time, Blevins drew Marvel Comics adaptations of films such as The Dark Crystal, Krull, andThe Last Starfighter. Blevins was a guest artist on a number of titles before becoming the regular artist of The Bozz Chronicles, which was published under Marvel's creator-owned Epic Comics imprint.
Brett Booth
Brett currently works for DC Comics drawing Teen Titans. Some of his past works include art for Justice League of America, The Larfleeze Christmas Special, Laurell K. Hamilton's Anita Blake: Vampire Hunter, Backlash, Fantastic Four: Heroes Reborn, Thundercats Dogs of War and various others. He also, when the mood strikes, works as a paleoaritst, with artwork appearing on BBC news, Fox News and scientific papers. He currently resides in the Desert SouthWest, with his wife Jess and his dogs.
Brett Weldele
Brett Weldele is an Eisner-nominated comic book painter and New York Times Bestselling Author. He has been published by nearly every major comic book publisher in the US, and is available in several languages around the world. Probably best known for co-creating the hit comic book, THE SURROGATES, which was also adapted into the 2009 film starring Bruce Willis. Brett enjoys working on his own projects like SPONTANEOUS and THE LIGHT as well as commercial gigs like HALLOWEEN, SE7EN, 28 DAYS LATER and SOUTHLAND TALES.
Brian Augustyn
Brian Augustyn is an award-winning comic book editor and writer. His most notable works are The Flash from 1989 to 2000, The Justice League franchise from 1992 to 1996 and Impulse from 1995 to 1996. Brian also wrote DC's first-ever "Elseworlds" graphic novel, 'Batman: Gotham by Gaslight' in 1989; this was followed by a sequel in 1991. He has written (or cowritten) many comics and graphic novels over a 28 year career. JLA Year One, Crimson, Out there, The Imperial Guard, BPRD, Go-Boy 7, and hundreds more.
Brian McClellan / Sam Sykes
Brian McClellan is the author of The Powder Mage trilogy, an epic flintlock fantasy series from Orbit books. He studied writing under Brandon Sanderson and is an avid reader of fantasy and science fiction. His hobbies include tabletop and computer gaming, making homemade jam, and keeping a hive of honeybees. He lives in Cleveland, Ohio with his wife, two dogs, and cat.
Brick By Brick Design
David Wong of Brick By Brick Design has been doing conventions for over 23 years suppling original artwork and art prints to the masses. Residing in Sacramento Ca as a comic and fantasy artist.
Brick Cave Media
Brick Cave Media works to take the ideas and efforts of creative people and manifest them into products and services that can be enjoyed by all. The mission of BCM is to effectively support the creative endeavors of talented individuals that they may realize a benefit beyond the creative process. We leverage technology, and the changes in Media availability of the last 10 years to make a market for the endeavors of our artists. Travel through and visit each of the subsites we maintain and you will see how dynamically we are making a difference in the way people can access their entertainment.
Brose Brothers' Productions
Brose Brothers' Productions brings you the works. With clockwork steam powered weaponry, gear to carry all your necessities and fine jewelry in, we have what you're looking for. Plus newly printed original art designed by the Brose Brothers' themselves.
Bryan Q. Miller
Bryan Q. Miller is an American television and comic writer most notable for his work on the CW's television series Smallville and DC's comic book Batgirl.Miller began work on Smallville as an unpaid intern during Season Five, a job he held for two seasons before being hired as a Writers' Assistant in Season Seven. After completing the WB Writers' Workshop, he was promoted to Staff Writer for Season Eight. Before the show ended, he served as the show's Executive Story Editor.
Cake Shop Couture
Cake Shop Couture has been my labor of love since 2008. Something that started off as a hobby soon expanded and was in demand for my unique clothing and accessories. My accessories are influenced by Asian street fashions, while my clothing is also influenced by Asian street fashions and American Comic Cons.
Camilla d'Errico
Camilla d'Errico eschewed a 9-to-5 job for a career in comics upon attending her first San Diego Comic Con in 1998. She has been drawing comic books since 2001, while attaining her Illustration and Design diploma at Capilano College in North Vancouver. Her first professional comic book project was with Seattle and New York based Committed Comics, for the series Threads. She then took on the role of lead penciler for the four-part mini series Zevon-7. When Zevon-7 creator Quenton Shaw launched QEW Publishing in 2004, Camilla's creator-owned manga series, Burn, was added to the studio's project base and was subsequently published by Arcana Studios in May 2008.
CANDLE COMICS
Candle Comics can give you super powers with our green screen photo booth.
Cape and Cowl Collectibles
We specialize in new and vintage toys/collectibles from Marvel, DC Comics, Star Wars, He-Man & The Masters of the Universe, Godzilla, Transformers, Teenage Mutant Ninja Turtles, G.I. Joe, WWE and many more!
Cards Games Comics
Unknown
Carissa Creveling
Fantasy illustration (prints, paintings, sketches)
Carnal Comics
Carnal Comics is an adults-only comic book imprint created in 1992 which has so far been published by three companies: Revolutionary Comics, Re-Visionary Press, and Opus Graphics.
CAT WANTS IN
Creators of the comic ANGELWOLF bringing more than a few twists to the werewolf, vampire, zombie, angelwolf and giant lions genre. Issues 1, 2 and 3 will be available with variant editions and some other surprises including poster teasers for our upcoming series DARK 30.
Cat's Eye Curiosities & Felicia's Fine Crafts
Unknown
Cats Meow, The
It's a fun little booth that carries a variety of home made accessories as well as artwork. From hats to key chains to full size prints, we've got it all. An example of the artists works can be found here: http://psychoseby.deviantart.com/ and sketch commissions will be available throughout the event.
Ceph Ink / Anie Miles
Unknown
Chadwick Haverland
Chadwick Haverland is a freelance artist/illustrator specializing in creating highly detailed sports art, portraits, pinups sketch cards and more using graphite and a variety of mixed media in his creative process. Chadwick is an officially licensed artist for The Upper Deck Company, Leaf Trading Cards, Larry Fitzgerald and Marshall Faulk among other athletes, entertainers, companies and entertainment properties. Others that have commissioned him to create exclusive work include Unstoppable Cards for The Night of the Living Dead and Cryptozoic Entertainment for AMC's The Walking Dead. Past events that have showcased Chadwick Haverland art include Larry Fitzgerald's Celebrity Server event, Marshall Faulk's Celebrity Extravaganza, SDSU's Aztec For Life Homecoming Celebration, Michael Finney's Dry Heat Classic. Well known collectors who own or have commissioned Chadwick Haverland Art include 2011 MLB World Series champ Allen Craig, Larry Fitzgerald, Kevin Sorbo, Ryan Williams and many others.
Chaos in Color
Tickle your funny bones at Chaos in Color with artwork featuring good humoured magic and mythology. We are the exclusive source for posters and limited edition prints from independent artist Annie Dunn. Stop by to meet Annie and check out our gaggle of friendly skeletons, chaotic cats, and other oddities.
Charity Art Auction
Unknown
Charlie Ross
Canadian actor Charles Ross may have the best job in the world: professional Geek.As writer and performer of One Man Star Wars and One Man Lord of the Rings, he has toured the globe for the last 11 years, delighting audiences with his unique and frenetic solo shows. Born in a northern British Columbian town (closely resembling the Shire), Charlie spent his early years longing for galaxies far, far away. It was the discovery of a passion for acting (and a move to more southerly climes) that brought this geek-at-heart back to earth.
Cherry Comics
Adult comics
Chibi Essence
Long ago, when the Earth was very young, and still quite formless, there was a flicker that became a spark, and thus the Chibi Essence were born.Long before there were people and animals, the planet already teemed with life.Mother Nature surveyed the Earth, and animated the essences of all things, so that they could protect the planet.The Chibi Essence were the soul and spirit of all things that were forming on Earth.Kibuclu was the 1st Chibi Essence that Mother Nature breathe to life.

He was the essence of life. The world was alive. The air talked to the sea. The ground talked to fire. Like all children, the Chibi Essence loved to play.

The Chibi Essence welcomed and celebrated the coming of humans, as they did all life. They helped the humans grow and flourish.

Chris Claremont
Writer Chris Claremont has encountered more success than most writers ever dream of. His stories have achieved best-seller status, won numerous awards, and are trend-setters for the industry. Although best known for his work on Marvel Comic's X-Men series, he has written other seminal characters such as Batman and Superman; originated several creator-owned series; is published throughout the world in many different languages; authored nine novels. His papers are in the Rare Book and Manuscript Library at Columbia University, in New York. His work has touched millions.
Chris Duffy
Chris Duffy draws a lot of comics. He edits them too.Sometimes he is paid to write or edit. DC Comics paid him to be an assistant/associate editor for about 3 years and for writing many Scooby-Doo comics, one issue of Superman Adventures, and a story in Batman Chronicles. And for writing much of the big Bizarro Comics anthology. Marvel Comics paid him to write an issue of What If? starring the company's two most famous moustachioed heroes, Dr. Strange and Iron Man. Nickelodeon paid him to be an editor at the wonderful, wonderful Nickelodeon Magazine for 13 years–he was the head comics guy there.
Chris Marzuola
Original art and prints available along with published work that will be signed onsite. Commissions will be done on a first come first serve basis. Stop by, say hello and see what's new and exclusive for the show!
Chris Roberson
Chris Roberson's writings include the novels Here, There & Everywhere, The Voyage of Night Shining White, Paragaea: A Planetary Romance, X-Men: The Return, Set the Seas on Fire, The Dragon's Nine Sons, End of the Century, Iron Jaw and Hummingbird, Three Unbroken, and Warhammer 40K: Dawn of War II, and the comic book series Cinderella: From Fabletown With Love and I, Zombie. His short stories have appeared in such magazines as Asimov's, Interzone, Postscripts, and Subterranean, and in anthologies such as Live Without a Net, FutureShocks, and Forbidden Planets.
Chrissie Zullo
Chrissie Zullo is a comic book artist whose notable works include the covers for Cinderella: From Fabletown with Love. She works on pencils and traditional media and colors her work in Photoshop. She names James Jean as among her influences, and her work has also been compared to that of Tara McPherson.
Christian Beranek / Kelci Crawford
Christian Beranek is a writer, producer, musician and consultant. She has worked in comics with such companies as Zenescope, Markosia, Image, and IDW. From 2000 – 2008 she co-ran Silent Devil with her family. In 2008 she signed a producer deal with Disney to launch Kingdom Comics. In 2010 she helped launch the successful website The Webcomic Factory. Currently Beranek is focusing her time on creating her own graphic novels.
Christian Comic Arts Society
The CCAS has provided opportunities for fellowship and mentoring among Christian comic book professionals and enthusiasts for over 20 years.
Christopher Herndon
Christopher Herndon has been feeding himself by way of the funnybook industry for over a decade. He is the co-creator of the acclaimed series Living With Zombies but has professionally drawn everything from extinct animals, to grotesque monsters, to sassy ladies, to gun toatin' cowpokes, to the Teenage Mutant Ninja Turtles. Most recently he has undertaken the gargantuan task of illustrating the Terra Tempo series. This has given him the great opportunity call on his love of science to educate and entertain those young and old about the real life monsters living in our Earth's past. Smilodons, Mammoths, and Dinosaurs. Oh MY! His work may be found in numerous comic books, album covers, games, magazines, and natural history museums.
Christopher Mitten
Originally from the cow-dappled expanse of southern Wisconsin, Christopher Mitten now spends his time roaming the misty wilds of suburban Chicago, drawing little people in little boxes.He has contributed work for Dark Horse, Oni Press, DC Comics, Wildstorm, IDW, 44FLOOD, Image, and Simon & Schuster.
Chuck BB
Chuck BB is the Eisner award winning artist & Co-Creator of the Black Metal graphic novel series published by Oni Press. He is also the creator of the comic strip Stone Cold Lazy published monthly in the pages of Decibel Magazine (Americas premiere and ONLY dedicated extreme music publication). He has been published by the likes of Marvel Comics & IDW Publishing. His only vices are brutal extreme metal and kitty cats.
Chuck Wendig / Stephen Blackmoore
Chuck Wendig is a novelist, screenwriter, and game designer. He is the author of the novels BLACKBIRDS, MOCKINGBIRD, THE BLUE BLAZES, THE CORMORANT and UNDER THE EMPYREAN SKY. He is an alumni of the Sundance Screenwriter's Lab and is the co­author of the Emmy­nominated digital narrative COLLAPSUS. He lives in Pennsyltucky with wife, son, and two dopey dogs. You can find him on Twitter @ChuckWendig and at his website, terribleminds.com, where he frequently dispenses dubious and very­ NSFW advice on writing, publishing, and life in general.
Classy Prints
Ink Patch sells the best home made art prints in Phoenix! All art is created by local artists Charlie Bink and David Jackson.
Cody Vrosh & Binary Winter Press
Geek ties and shirts
Collector's Paradise
Retail store
Colllectors Marketplace
The Collectors Marketplace is a 7000+sf Toy and Collector's Mall at 20th St. & Indian School Road, just one light east of the I-51 in the heart of Phoenix! Additional free parking at the business complex behind our building.
Coloring Squared LLC
Selling math fact pixel art coloring books, coloring packets and T-shirts.
Comic Collector Shop
Historic Comic Book Store and gaming
Comic Madness
Specializing in hard to find and new comics , variants and dealer incentives from the last 3 years. Large selection of recent comics for only $1 and variant comics for only $5. Big selection of blank covers for sketches.
Comics N Stuff
We have the largest selection of comic books and collectible toys in San Diego. Stop by to find your favorites.
Contact Lense Co., The
Unknown
Corvink / L.A.W.L.S.
A highbrow Victorian aesthetic w/ a lowbrow sense of humor. Comics, Art, and Apparel by Denis Caron. Official Site: http://corvink.co/ Facebook: http://facebook.com/CORVINKco Twitter: http://twitter.com/CorvinkCo
Cosplay & Fan Gear, LLC
We are a cosplay design studio based in Phoenix, Arizona, operating worldwide. We provide specialized services including custom cosplay costumes and cosplay accessories. We also create buttons, stickers and pixel art in various mediums. Furthermore, we offer professional seamstress services including dress making. We love anime, video games, comic books and more; as a result everything we make is a labor of love and care. We put our best into every product with the client as our number one focus. Each item is custom made for you, delivered right to your door via USPS Priority Mail.
Cosplaymoomoo
High quality wigs, In house design tee shirt, Anime sun glasses
Courtney Leigh Creations
Costume designer/cosplayer and owner of Courtney Leigh Creations. I am here to make friends, get creative and have fun doing what I love! 😛 Email me @ cleighcreations@gmail.com if you have questions!
Cox Communications
TV, Phone, Internet, Home Security and Tech Solutions services from Cox Communications. Cox helps you bring your digital life to life.
CoZtek
We create add ons for scifi / steampunking Nerf guns as well as other accessories. Also unique acessories, weapons and apparel
Crafty Coyote, The
The Crafty Coyote is a fun and diverse art company, featuring everything from tiny top hats, to hand knitted amigurumi, original artwork and jewelry. Her art ranges from digital to traditional, and there is something for everyone to find at this booth. Get Crafty with the Coyote!
Creeping Violets
Goggles, Foxtails, Accessories, Grab Bags & More!
Cremona Publishing
Writer and Creator of Comics, videos, and general fun fun fun
Crescent's Creations
Comic books, super heroes, supernatural, steam punk, horror, and general geek culture is abound at Crescent's Creations, with indie comics and games for sale, as well as buttons and jewelry to suit all your needs. Have a custom order? This is the place to go!
Critical Care Comics
CRITICAL CARE COMICS is a charity organization dedicated to delivering donated comic books to children in medical facilities around the valley. Thanks to our generous donors, we have been able to visit many ailing children and bring them a smile… if only for 28 pages.
Cross Art
We are a group of individual artists with the love for video games, animation and comics.
Cross Country Collectibles
Selling action figures, custom decals, plush, & collectible toys for all ages.
D Eclectic Gifts
An eclectic collection of gift items at affordable prices. Coming soon my personal line of custom made jewelry.
D. H. Smith
D.H. Smith is an Albuquerque artist, specializing in oil, acrylic, and watercolor. He is best known for his realistic take on popular and cult 80's and 90's cartoons.
Dan Jurgens
Dan Jurgens is an accomplished writer and artist who both writes and draws the adventures of the comic book industry's most legendary characters. His storytelling talents have breathed life into the most noteworthy properties from DC Comics, Marvel Comics and more. Dan has also created numerous characters that have become enduring staples in their fictional universes while stretching to other media as well.
Dan Parsons
Dan Parsons started out in comics in the late 1990s working part-time writing and illustrating his creator-owned series Savage Planet and Harpy while employed as a research scientist at Johns Hopkins Medical Center. In 2002, he began working steadily for Dark Horse Comics, penciling and primarily inking titles such as Star Wars: Republic, King Kong and Star Wars: Jedi. More recently, Parsons has been part of the creative team that introduced the acclaimed Star Wars: Legacy series and has been a regular inker on Knights of the Old Republic, Clone Wars and other Star Wars titles
Dan Wickline
Dan Wickline is a published writer and photographer. Born in Norwalk, California, he currently resides in Los Angeles with his wife Debbie, dog Artemis and three cats: Tiger, Panther, and Crash. Dan has written for Image Comics, IDW Publishing, Humanoids Publishing, Zenescope Entertainment, Avatar Press, Cellar Door Publishing and Moonstone Books. Recently Dan has written the re-launch of ShadowHawk for Image Comics and the Sleepy Hollow and Lovecraft/Wonderland mini-series for Zenescope. He also has written the screenplay for Shelter Me, an episode of the Metal Hurlant Chronicles starring James Marsters and Michelle Ryan.
Danni Shinya Luo
Danni Shinya Luo is a Fine Artist who also does works in the Comic industry. She is represented by La Luz de Jesus Gallery on Hollywood Boulevard in Los Angeles. Her paintings have been in exhibitions in the states as well as oversea. They were also featured in numerous magazines and blogs. Luo's comics works include cover art and guest pages for MARVEL Comics, ZENESCOPE Comics, and CENTURY GUILD. She has 2 limited edition books "BREAK THE ICE" and "UN PETIT CATALOGUE" and a hardcover "SOFT CANDY" through the publisher Last Gasp.
Dark Goddess Creations
Unique, eclectic jewelry and costume accessories. We specialize in recycled old jewelry and broken watches turning them into new creative accessories. We have a full line of real burlesque corsets that are steel boned and busked. If you are looking for something one of a kind and unique, please contact us for custom orders!
Dark Horse
Dark Horse Comics is the third-largest comics publisher in the U.S., known for such titles as Star Wars, Buffy & Hellboy.
Darrell Driver Fine Art
Darrell is proud to say that he is a self-taught artist. He creates through very late nights determined to fulfill his passion for art.
daves comics
Comic books
David Beaty
Unknown
David Harrigan
Online Portfolio of David Harrigan
David Lee Summers / Joe Nassise
David Lee Summers is the author of seven novels and over sixty published short stories. His writing spans a wide range of the imaginative from science fiction to fantasy to horror. David's novels include Owl Dance, a Wild West Steampunk adventure, and Vampires of the Scarlet Order, which tells the story of a band of vampire mercenaries who fight evil. His short stories and poems have appeared in such magazines and anthologies as Realms of Fantasy, Cemetery Dance, Human Tales, Six-Guns Straight From Hell, and Apocalypse 13. In addition to writing, David edits the quarterly science fiction and fantasy magazine Tales of the Talisman and has edited three science fiction anthologies. When not working with the written word, David operates telescopes at Kitt Peak National Observatory.
David Petersen
David Petersen is the creator of Mouse Guard. He enjoys fantasy, folklore, myth, and legend. Even more than that he loves to draw and write about it. A steady diet of cartoons, comics, and tree climbing fed his imagination and is what still inspires his work today. David won the 2007 Russ Manning Award for Most Promising Newcomer. In 2008, David won the Eisners for Best Publication for Kids (Mouse Guard Fall 1152 & Winter 1152) and Best Graphic Album – Reprint (Mouse Guard Fall 1152 Hardcover). David and his wife Julia reside in Michigan with their dog Autumn.
David's Doodles
Self published art books, art prints and unique animal illustration apparel
Dawn McTeigue
Dawn McTeigue: Artist Website: https://www.facebook.com/DawnMcteigueArt JP Roth: Rothic Novels Website: rothic.com
Debbie Leather
We sell Coats, Chaps, Boots, Helmets and much more.
Decobot
Destined Legends is designed to give you the ultimate RPG videogame experience in a tabletop card game. This card game includes all of your favorite RPG elements leveling up, killing creatures for experience, looting, and even summoning powerful Dragons to fight by your side.
Del Rey
Del Rey Books is a branch of Ballantine Books, which is owned by Random House and, in turn since 1998, by Bertelsmann AG. It is a separate imprint established in 1977 under the editorship of author Lester del Rey and his wife Judy-Lynn del Rey. It specializes in science fiction and fantasy books, and formerly manga under its (now defunct) Del Rey Manga imprint. It publishes the Star Wars novels under the LucasBooks imprint.
Delilah S. Dawson / Leanna Renee Hieber
Delilah S. Dawson is the author of the steampunk paranormal Blud series for Pocket, the upcoming paranormal YA Servants of the Storm and the Delinquent series for Simon Pulse, and a variety of short stories and comics, including a short story in the Carniepunk anthology and a novelization of Valiant's Shadowman.
Denae Frazier Studios
Denae Frazier is a Pin-Up / Comic Book / Sketch Card Artist that's worked in the industry since 2009. Denae will be selling her comics, prints, sketch cards, and original artwork. You can follow Denae on her fb page: www.facebook.com/DenaeFrazierStudios and/or dA page: www.denaefrazierstudios.deviantart.com
Dennis Calero
Dennis Calero is an American comic book artist and illustrator, known for his work on titles such as X Factor, Legion of Superheroes, and Kolchak
Denny Ricelli
Unknown
Department of Zombie Defense
We are an elite organization dedicated to the preservation of human life and the extermination of all zombies!
We are highly trained agents specializing in counter zombieism and zombie defense.
Derek Dahlberg
Prints and original artwork by Derek Dahlberg! Featuring his original web comic, NORM, updated every Sunday!
Derrick Tipton
Derrick Tipton is a comic/pinup artist and The creator/artist for Spiral Ink Comics' newest title "DarkLight".
Desert Sky Games
Desert Sky Games is a hobby and trading card shop. We carry board games, trading card games, pre-owned video games, and a in store we have a vintage arcade!
Desudesu de Studio
Artist's studio
Devastator, The
The Devastator is a quarterly comedy magazine, filled with artists and writers from The Daily Show, The Onion, Adult Swim, Marvel, DC, Fantagraphics and more!
Diablo Productions
Diablo Productions is a publisher of graphic novels, comic books, prints and t-shirts. We specialize in scy-fy, horror and humorous material. Our popular and hilarious "Heros & Villians" prints and t-shirts are some of the most popular items at the Phoenix Comic Con.
Diabolic Duo Productions
Unknown
Diana Levin Art
Gothic Fantasy Artist Diana Levin official website and gallery includes Gothic Fantasy Art, Dark Faerie Paintings, Twisted Fairy Tales and Handmade Jewelry.
Dimension Decals
Dimension Decals is a company started by me almost two years ago to provide
the fans a visual stamp that they could have to show their pride in whatever passion
they have be it Comics, Sci-Fi, Anime, RPG's, Movies ,Video Games, Sports ETC…
DINOSAURS vs. MARSBOTS
No one expected the Martians' plans to annihilate the human race. But what the Martians never expected was f**king dinosaurs.
Dirt Cheap LLC
toys, trade paperbacks, action figures
Django Wexler / Jason Hough
Django Wexler graduated from Carnegie Mellon University in Pittsburgh with degrees in creative writing and computer science, and worked for the university in artificial intelligence research. Eventually he migrated to Microsoft in Seattle, where he now lives with two cats and a teetering mountain of books. When not planning Shadow Campaigns, he wrangles computers, paints tiny soldiers, and plays games of all sorts.
Dollipop Cosmetics
We sell all natural, handmade, eyeshadow and more! Our shadows are so skin safe you can sleep in them! We offer a huge variety of shades! We will also have cosplay makeovers at our booth again this year! Stop by and say hi!!
Don Rosa
This is Don Rosa's OFFICIAL Facebook page, but he is not the webmaster and he is not posting the messages. Your webmaster is his appointed representative, Anders Christian Sivebæk, a long time fan and friend of Don.
Donna Cook
Donna Cook signs copies of her fantasy adventure, Gift of the Phoenix. This captivating debut is delighting general readers and fantasy fans alike. Magic, adventure, mystery, romance, Gift of the Phoenix does not disappoint. Go to giftofthephoenix.com for excerpts and reviews.
DoodleBug Buttons and Art
DoodleBug offers an array of buttons, custom art, and prints. Samantha Yedor, the owner of DoodleBug Company creates new designs for every convention in order to ensure satisfaction to everyone. Everything and Anything you can think of could be put on a button or print with DoodleBug.
Douglas Paszkiewicz
Douglas Paszkiewicz is a veteran in the comic book industry, having done work for Image, and DC Comics, Mad Magazine and Topps Mars Attacks, while keeping his own Independently Published work Arsenic Lullaby at the top of the heap in popularity and critical acclaim. His cartoonish yet skillfully precise drawing style is immediately recognizable no matter where they are featured.
Dr. Mutato
Jorge Baeza is a Graphic Designer / Illustrator from El Paso, TX and a self-confessed Sci-fi & Saturday morning cartoon buff. These interests have manifested themselves in publications such as "Geek monthly" (US) and HD Review (UK) as well as games, websites, packages and all sorts of wacky prints.
Dragonforge Ironworks, Extreme Lifestyle
Unknown
Drakey Art
Drakey Art features original dragon art and fantasy works by Jay Nixon. Enter the world Jay has created, a fantasy planet inhabited by dragons who battle for control of their world. Drakey Art offers prints of all sizes and merchandise featuring the dragons and their world.
Dread Fleet
An Arizona Non Profit Organization that performs at conventions, festivals and other events all around phoenix.
Drink N Draw Art by Renee Meredith
Drink-N-Draw Art by Renee Meredith is an on-line gallery that offers multimedia artwork with a little **sparkle**.
D'Vyne Wrytes
Handcrafted blank page books, made with genuine leather binding and parchment finished paper.
Easley's fun Shop
We are a family owned business that offers costumes and costume accessories to help complete your look!
East Valley Krav Maga
East Valley Krav Maga offers Krav Maga, Heavy Bag Fitness and Kids Self Defense classes at our Tempe location.
Ed Piskor
Ed's Exclusive comic strip at Boingboing.net. Click above to read Ed's more longform works like Wizzywig, and Deleterious Pedigree.
Ed Robertson Comics
Long-time comic book collector turned seller who along with my wife sell everything from $1 books to $1000 books. Great books; better prices is our focus.
Edge of December
Webcomic dedicated to fun, excitement, and a little mystery. Edge of December follows the journeys of Kieron Alsmith, Trife Eidolon and James "Baron" Kuldunov, surrogate brothers who are trying to find their place in the world.
Elisa Wikey
Elisa Wikey is an artist who draws things, as her tagline of 'Elisa Wikey Draws Things' would suggest. Her work is acerbicly cute with a dash of popular culture. She has been illustrating for many years and looks forward to meeting all your bright shining faces.
Elizabeth Breitweiser
Harvey Nominated color artist, Elizabeth Breitweiser, earned widespread recognition for her work on Marvel's Winter Soldier, HULK, Agents of Atlas, and Captain America series'. She now works with with industry luminaries like Ed Brubaker on his "Velvet" and "Fatale" series', and Robert Kirkman on the upcoming "Outcast" series, all from Image Comics. She founded the Breitweiser Haus studio with her creator/illustrator husband in 2012, with an eye towards creating original content and servicing Industry leading clients.
Ell et Alia
Unknown
Elueens Comics
Unknown
Elvis Knievel Art
Intergalactic Weaponry Specializing In Ray-Guns, Future Folk Art Sculptures, Prop Art, Costuming Weaponry and Fine Art. Clairvoyant, Savior, Audiophile, Drummer, Skate/Snowboarder and Jr. Gastronomist. Custom and commissioned work accepted.
Em2a Studios / EmaCartoon.com
Unknown
Emperors Toys
Star Wars toys and Lego minifigure's
Entity Eye Entertainment
Entity Eye Entertainment is an independent production company that creates, develops and produces projects and motion pictures for an expanding global audience.
Epic Justice Collectible
Unknown
Eric M. Esquivel
Eric is an author, screenwriter, and journalist whose previous comic book work includes stories for the ADVENTURE TIME, BRAVEST WARRIORS, SONIC THE HEDGEHOG, and WONDERLAND franchises, as well as the original series BLACKEST TERROR, BOO!, CALABRESE, and LOKI: RAGNAROK AND ROLL
Eric Mengel
Unknown
Erin Lausten
Erin Lausten is a local author of Fantastical and Adventurous tales. Her explosive and quick paced plotlines are sure to entice a broad range of readers. Her favorite question is "Why not?" Join her, if only for a story or two, in her flights of fancy and 'what if' scenarios.
Erin Lee Abrahamson
Unknown
Ethan Russell Erway
Ethan was born in Flagstaff, Arizona. He served in the United States Air Force as an Intercontinental Ballistic Missile Technician for four years, and has worked in the avionics industry and Christian ministry. The premier of his first MICHAEL BELMONT novel has marked his entrance into the world of professional writing.
Ethan Van Sciver
Unknown
Evil Robo
Evil Robo Productions is committed to creating high quality stories and artwork. We are a group of driven men and women who share the love of comics and narrative art.
Evo Anime
AE aims to be the place where anime fans can look to for news, reviews, episode blogs and any other information that is related to anime. We hope to provide anime fans with a place where they can look up and anime and find out if it's worth watchin
Ex-Boyfriend
Unknown
Fakku
Unknown
Fanciful Gift
www.PandaHat.com is your the premier animal hats, Kigurumi and cosplay wigs provider. Our mission is to hats the joy to every corners of the world.
Fangoria
FANGORIA sliced its way onto the scene in 1979, becoming the only national publication devoted to the modern horror genre. Three and a half decades later, FANGORIA is still the number one authority on all things scary!
Fantastic Visions Design
Express your inner geek with fandom-inspired items (Doctor Who, Harry Potter, Superheroes, Fantasy, Fairy, Steampunk, etc.) such as custom phone covers (Android & Apple), sculpted jewelry, Steampunk feathered hair accessories, and dragon & phoenix jewelry!
Fat Rabbit Farm
Fat Rabbit Farm is a magical, floating kingdom inhabited by spontaneous and adventurous
friends, including a fluffy bunny obsessed with sweet treats, a pirate bunny looking for the next thrill, a quiet but brave little turtle, and a vegetable yelling hybrid yeti bunny.
Felipe Echevarria
Always unique, always quality. The latest in original art, books, and prints by comics artist Felipe Echevarria. Stop by for sneak previews of my upcoming hand-painted and hand-drawn projects.
Ferguson Capital Holdings Corporation
Unknown
Fez-o-Rama, LLC
Makers of fine hand-made embroidered velvet fez hats.
Firebird Leather / House of Loli
Firebird Leather – House of Loli – Elegant Adornments for the Eclectic. Artistic seamstress crafting custom accessories and costume pieces for distinguishing tastes. Handcrafted pieces including cute fabric coin and kiss lock purses, Gothic Lolita bonnets and Steampunk top hats.
FireChilde Glass Studio
FireChilde Glass Studio is a private studio at the base of the Superstition Mountain. We specialize in flameworked glass pendants and marbles with comic book and Sci-Fi themes.
Firefly Cargo Bay
Firefly Cargo Bay is your purveyor of shiny fan designed items for not a lot of coin.
fit2btied clothing
Fit2btied Clothing offers a unique line of swimwear. Our "wearable" art features super hero and video game inspired swimsuits, including our sexy Spiderman bikini and our best seller The DR WHO TARDIS swimsuit.
Francis Manapul
Francis Manapul is a Filipino-Canadian comic book artist.
Freddie Williams II
Freddie E. Williams II is an American comic book writer and artist. Best known for his work on DC Comics' Robin, and for working almost entirely in Digital format.
Fugitive Toys
We offer the largest selection of Funko Pop Vinyl figures (Over 300+). We also specialize in Blind Boxes, Hello Kitty wallets, and Plushies.
Fun Costumes
Fun Costumes is one of the largest costume shops in Arizona! We have over 15,000 costumes and accessories available to rent or purchase. We're open year-round with the best selection of kid's through adult plus-size costumes.
Furry Feline Creatives
Furry Feline Creatives is the character design studio and lifestyle brand that was started in 2012. that embraces the message of Individuality, Family and Love through their characters and work.
Game On
The largest set of game stores in Northern Arizona serving all your gaming & comic needs!
Gamechurch.com
GameChurch.com exists to highlight creativity in the fastest growing artistic medium today–videogames.
Gamers Trading Post
Prescott's Largest card and board game store.
Everything from Magic the Gathering, D&D, to tabletop warfare!And now join GTP GAMERS CLUB! Playing every game imaginable!
Gary Harper
Military Historian and international weapons expert for motion picture and television, Gary is best known as the Gatling gun expert for such movies as The Last Samurai and as consultant for movies, Master and Commander and 3:10 to Yuma. Mail Call, starring R. Lee Ermey. Recently, Gary and his production company, Harperhaus, was Firearms Expert for all of Spike TV's Deadliest Warrior, Season 3. This included him as on-air Teddy Roosevelt historian and Gatling gun expert for the episode, Teddy Roosevelt versus Lawrence of Arabia. Gary's expertise with military history and weapons has made for the greatest of experiences and He was also Master Armorer for the History Channel's series, adventures.
Geddy's Moon by John Mulhall
Geddy's Moon is John Mulhall's debut novel. In addition to being an award-winning video and event producer, John is also the author of several short stories, plays and a collection of poetry.
Geek Asylum
*COMMIT YOURSELF TO AWESOME!* Check out our d20 necklaces, Steampunk earrings & bobby pins, Star Wars jewelry, Zombie brains necklaces, and our geeky themed 8-Bit Hair Bows! Show off your GEEK PRIDE!
Geek Chic Design
Unknown
Geeksville, AZ
Unknown
Gem & Bead Mall
Unknown
Gerimi Burleigh
Unknown
GI Joe Vs Transformers
GI Joe Vs Transformers is a specialist headquarters for all things Joe and Transformer! We carry an extensive inventory of figures and merchandise from the 80s to the present. "Yo Joe Until All are One!"
Gifts and Blessings
Unknown
Ginger Rabbit Studio
Small press self-publisher of comic books from writers Giulie Speziani & Rob Harrington
Gini Koch
Gini Koch (born Jeanne Marie Gerrard on January 25, in California), is a science fiction, fantasy, and horror writer based in Phoenix, Arizona. She is best known for the Alien Series (informally known as the "Katherine 'Kitty' Katt" series) novels, published in the United States by DAW Books. She speaks frequently on what it takes to become a successful author and other aspects of writing and the publishing business.
Glitch Gaming Apparel
Glitch Gaming Apparel is the premier brand for video game t-shirts and apparel. The Glitch brand has been created specifically for the gaming community and is determined to produce the coolest gaming apparel on the planet. The Glitch company is 100% all about video games and the company plans to produce highly creative and unique apparel products for all gamers around the world.
Gotham City Comics and Coffee
Gotham City Comics and Coffee. Best of Phoenix award winning comic book shop. Vast variety of comics, toys, statues, and collectibles. From vintage to modern we have great selection!
Gravity Doll
Gravity Doll is a small business offering handcrafted clothing, accessories and artwork. We specialize in custom made corsets.
Greg Ham
Unknown
Greg Horn
Greg Horn is an American comic book artist best known for his work as a cover artist for Marvel Comics and various other publications. Working primarily as a digital painter, he is well known for his pinup paintings of female characters.
Greg van Eekhout
Greg van Eekhout is a science fiction and fantasy writer. His "In the Late December" was nominated for the Nebula Award for Best Short Story.
Gren Radcliff
Gren has been a wide variety things since publishing his first comic in 2001: cosplayer, puppeteer, fashion show director, toy shop owner, live music engineer. Every interest he has always brings him back to writing comics though.
Grendinesupreme
Welcome to Grenadine Supreme! A place for dolls like you have never seen before and won`t be able to find anywhere else.
Grindhouse / Shadoworks
GRINDHOUSE® — Horror, Sci-Fi and Comic book themed skateboards, longboards, snowboards, T-shirts, gear and more! Our booth will also feature exclusive branded tie-in film and comic book products!
GudFit Entertainment
Adventures of Dorse and Doose childrens book 1 and 2 The Super Newts comics 1 – 4 gudfit.com/productions Art of AJ Moore (Prints of popular characters form Comics, Movies, Games, Anime, TV, etc) facebook.com/ArtistAJMoore
H.L. Martin
H.L. Martin is the sole creator/writer/artist of the Fallen, Inc. comic series. Besides the books she also produces merchandise based on the series. Such as The Fallen, Inc. Tarot Deck.
Half Man Half Monkey All Hero
Weekly webcomic following a minimum wage employee and his escaped genetic experiment monkey man friend, wasting time in a trailer in the Nevada Desert.
Half Price Books
Unknown
Harley Yee Rare Comics
Half Price Books: One of America's favorite independent booksellers, Each of our retail locations showcases a unique collection of new and used books, audio books, music, on CD, LP/Vintage Vinyl, and cassette; movies on both DVD and VHS, games, gift cards, nostalgia and ephemera. We pay cash for books, CDs, cassettes, LPs, videos, DVDs, and audio books all day every day. Shop Half Price Books for great deals every day!
Hawk & Croc
Hawk & Croc is an action-comedy webcomic that the titular characters' adventures as they save the world from all kinds of nasty baddies, like a half-avocado/half-octopus monster, a sub-optimal league of ninjas, and a random supervillain or two. Read it weekly on www.HawkAndCroc.com
Heather Brewer
Heather Brewer was not your typical teen growing up. She wore black, danced under full moons and devoured every book in sight.She hasn't changed much.Today, Heather can be found wandering cemeteries, lounging on her coffin couch, devouring every book in sight, and attending renaissance faire in costume (and in character).When Heather's not writing, dressing up, or reading, she's hanging out with her Minions, whom she adores right down to their lil black hearts.
Henry Cesneros
While studying Art History and the University of Texas, Henry Cesneros, became intrigued with the concept of found art. Henry utilizes mundane garage items such as spark plugs, motorcycle bike chain, nuts, bolts, nails and screws, which have been previously discarded to produce common identifiable objects.
Herb Trimpe
Herbert "Herb" Trimpe is an American comic-book artist and occasional writer, best remembered for his work on The Incredible Hulk and credited with the co-creation of the X-Men's Wolverine in the early 1970s.
Hero Art
Free card making, scrapbooking and craft ideas with rubber stamps, clear stamps and cling stamps — Hero Arts
HERO Initiative
The Hero Initiative is the first-ever federally chartered not-for-profit corporation dedicated strictly to helping comic book creators in need. Hero creates a financial safety net for yesterdays' creators who may need emergency medical aid, financial support for essentials of life, and an avenue back into paying work. It's a chance for all of us to give back something to the people who have given us so much enjoyment.
High Castle Traditional Crafts
High Castle Traditional Crafts offers handwoven dice bags and tartans; sci-fi/fantasy woven jewelry, key chains, and dog collars; Manga; altered mash-up toys; pendants, pins, steampunk jewelry and clothing; and mitt'n hats.
Hobbyfan.com
Japanese Imported Anime Toys, Statues, Plush Collectibles.
Holt & Currie
We are a team of artists who make everything ourselves by hand. Susan makes the Vented Hats and other SteamPunk related jewelry. Marlie makes the high end, handcrafted leather bags, satchels, books, and watercolor paper inside the books.
Holzheimer's
Holzheimer's Distribution© has offered rare collectibles for the past 35 years. With most of its sales coming from conventions. With have a huge selection of photographs, autographs and other oddities. If you do not see it please feel free to email us.
HOT LAVA!!! Industries
Unknown
Hotflips
We are Mainly a wholesale supply company for all kinds of Pop Culture products. We have our own brand of Comic Book bags & backing Boards as well as Top Loaders with a Thicker Guage than anyone else. We carry other supplies as well like Itoya profolios, E.Gerber Mylars & Mylites2, We want to carry what is the Best in the business, that is why we made our own brand
Howard Lyon Fine Art and Illustration
Howard's work can be found at www.howardlyon.com. Prints of his painting are for sale. Howard has worked for many clients over the years, including: Wizards of the Coast, Nintendo, Lucas Arts, Blizzard, Magic the Gathering, World of Warcraft collectible card game, Dungeons and Dragons, Dragon Magazine, Dungeon Magazine
Htavos
Kooky Plush and Art by Sovath Sin
Hyde Komiks Ink
Unknown
Iguana Comics & Buttons
Unknown
Imaginarium Galleries
We are proud to offer our original, patented, hand crafted animated shoulder puppets at Phoenix Comic Con! For over 35 years we have been handcrafting our unique creations. Stop by and see our newest designs crafted exclusively for Phoenix Comic Con 2014!
Inaris Whimsy
My items are geek based. Whether from an anime, game, to general overly cute products, there is usually something that will catch the eye of ones inner geek.
Indigenous Narratives Collective
Unknown
Infinite Frequencies
Infinite Frequencies offers a Hubble Telescope inspired collection of art glass jewelry pieces. Each piece contains the ephemeral colors and shapes of distant nebulas and galaxies. We also offer stunning steampunk inspired pins and brooches.
Ivy Doomkitty
Ivy is an International Costumer/Cosplayer, Host, Artist, and Figure Model for comic book artist/writer, Frank Cho, based in Los Angeles. She is also an avid gamer on both PC and Xbox 360. Ivy has been attending conventions for many years, before deciding to take the plunge by showing her fandom through cosplay.
J Hause
J Hause is a freelance illustrator and concept artist, currently haunting Austin Texas with his wife. He received his special ghost training at Swindon College School of Art (and ghost stuff) in the UK and has since been working freelance for various indie games.
Jake Parker
Jake Parker is an illustrator based in Utah. For the last 15 years he has worked on everything from animated films to comics to picture books. He has lived in six states, working at the best studios with the most amazing and talented people in the country. Now he freelances out of his home studio.
James A. Owen
Owen self-published the black-and-white fantasy series Starchild under his Taliesin Press imprint in the 1990s. He then changed his self publishing to Coppervale Press for Starchild: Crossroads, then went to Image Comics for the start of Starchild: Mythopolis, before returning to self-publishing. After the turn of the century Owen reinvented himself as a novelist — creating a fantasy series titled Mythworld that met with much success in Germany — and magazine editor. In 2003 Coppervale Press relaunched two classic newsstand magazines, the fine arts-oriented International Studio and the fiction periodical Argosy.
James O'Barr
James O'Barr, is the award-winning creator of "The Crow," and writer of two hit series currently from IDW Publishing, entitled "Curare" and "Skinning the Wolves."He likes to lament that he was born in a trailer in Detroit just in time to see Marilyn Monroe and John Kennedy die, but claims no responsibility for either. He spent his first seven years in an orphanage and foster care where he spent most of his time drawing.
Jamie Tyndall
Jamie Tyndall is a Canadian comic book artist known for his depictions of sexy, strong female characters. He is the penciler and inker, and sometimes colorist of his very detailed work. Come by our booth to browse a vast selection of artwork and art books.
Jamie Wyman Reddy / Zachary Jernigan
After a misspent adulthood pursuing a Music Education degree, JAMIE WYMAN fostered several interests before discovering that being an author means never having to get out of pajamas. (However, she can eat/spin fire, tell you a lot about auditioning to be a Blue Man, and read/write in Circular Gallifreyan.)Hi! I'm Zack, a 33-year-old writer from Northern Arizona. My first novel, No Return, is a science fiction/fantasy tale filled with sex, violence, looming middle-age angst, and people in weird skintight costumes (including one capricious god).
Jason Brubaker
Unknown
Jason Gonzalez
Unknown
Jason Metcalf
original comic book art gallery of Jason Metcalf – super heroes fantasy pencil ink and color artwork.
Jason Palmer Studios
Jason Palmer Studios. Licensed Serenity Artwork. Firefly. Battlestar Galactica.
Jason Pederson
Unknown
Jason Worthington
Unknown
Javier Avila
Javier Ávila is an Artist specializing in painting large scale Pop Art inspired portraits. Javier is based in New York.
Jay Company Comics
Jay Company Comics is a family run and operated comic book retail organization that focuses on the hottest collectibles in the market. Jay Company was founded by brothers, Bill and Jimmy S. Jay, in the spring of 1996, as they established an extensive mail order company and quickly became the #1 largest convention dealership in the nation. For nearly a decade, you can visit our family at the Jay Company booths at the San Diego Comic Con International, all Wizard World Conventions, and other shows throughout the country.
Jaye Wells / Kevin Hearne
Jaye Wells is a USA Today-bestselling author of urban fantasy and speculative crime fiction. Raised by booksellers, she loved reading books from a very young age. That gateway drug eventually led to a full-blown writing addiction. When she's not chasing the word dragon, she loves to travel, drink good bourbon and do things that scare her so she can put them in her books. Jaye lives in Texas.
Jay's Junque
Jay's Junque (based in Yuma) is your place for vintage and newer action figures and toys, both loose and sealed. This includes Marvel, MOTU, TMNT, Star Wars, and Transformers, to name a few. Jay is willing to trade for or buy 80's and older toys in good condition.
Jean's Beads
Hand crafted glass art for jewelry or display.
Jefbot
The true sci-fi adventures of a nerd in Hollywood
Jeff Pina
Jeff Pina moved to Phoenix 12 years ago from La Quinta, CA. He met his wife, Tricia, in college and she supported him in launching his first book, Dr. Oblivion's Guide to Teenage Dating in late 2005. He has been making comics since. Jeff does the art chores on the weekly web comic Drunk-Robot with collaborator Brian Powell. He also has two other self-published series Imaginatives and Monkey in Space that he fits into his schedule.
Jeffrey J. Mariotte
Jeff Mariotte is an author who lives in Arizona with his wife, author Maryelizabeth Hart, and family. As well as his own original work, he is best known for writing novels and comic books based on licensed properties.
Jen Broomall
I'm Jen Broomall (Jenevieve for long) and I'm a housewife, mother and ninja artist. Currently I set up shop in a small town in Alabama and am a Cover Illustrator and Character Designer for Big Dog Ink. I have also drawn covers for Aspen and Zenescope.
Jennifer's Place
Unknown
Jenny Parks Illustration
Illustrator of cute, fuzzy and nerdy things.
Jeremy Whitley
Jeremy Whitley is the creator of the original comic series Princeless and The Order of Dagonet.His work has been nominated for two Eisner Awards, Five Glyph Awards, and numerous other honors.In addition to his original creations, he has also been a regular writer for both the "NFL Rush Zone" comic from Action Lab Entertainment and the "GlobWorld" comic series.
Jerry Pesce
Digital Art Prints, Magnets, METAL Bookmarks and Collectible Trading Cards.
Jessica Feinberg
Jessica C. Feinberg is a writer/artist best known for dragons, clockwork, fantasy, and wildlife paintings. She just released Dragon Scale, a 200 page guide to dragons, and also sets of matching playing cards, jigsaw puzzles, art prints and more. See her work at http://www.artlair.com
Jessica Grundy
Jessica Grundy art and illustration…offering prints and original work by Jessica Grundy. Jessica Grundy is a children's book illustrator artist and author from Huntsville TX who specializes in the creepy and cute.
Jim Cheung
Jim Cheung is a comic book artist best known for his work on series such as Scion from 2000 to 2004, New Avengers: Illuminati from 2005 to 2006 and Avengers: The Children's Crusade from 2010 to present. In 2005, he was named one of Marvel Comics "Young Guns" for his potential to be "a future superstar pencillier." Cheung currently illustrates for the miniseries Avengers: The Children's Crusade.
Jim Hanna / Jon Goff
Unknown
Jim Zubkavich
Jim Zubkavich is a writer, artist and art instructor based in Toronto, Canada. Over the past ten years he's worked for a diverse array of publishing, movie and video game clients including Disney, Warner Bros., Capcom, Hasbro, Bandai-Namco and Mattel.
Jingxion Guo
Unknown
J-List
J-List is a fun online shop located in Japan, offering anime plush toys, bento boxes, Hello Kitty ice cube trays, Japanese snacks, PC dating-sim games, T-shirts with messages in kanji, and our patented "Wacky Things from Japan" attitude. We also have a popular blog, Twitter, Facebook page, Tumblr and so on.
Joe Corroney
Joe Corroney has been providing Lucasfilm with official Star Wars artwork for books, games, trading cards, comic books, posters and magazines since 1997. Other comic books he's illustrated include Star Trek, GI Joe, Fallen Angel, 24: Nightfall, Doctor WHO, Angel and Spike Vs. Dracula for IDW Publishing, Buckaroo Banzai, Kolchak The Night Stalkerand The Phantom for Moonstone Books and Crimson Dynamo for Marvel Comics. Currently, he's providing cover art for IDW's new True Blood series and BOOM! Studios' Farscape comic books, developing his creator owned comic book series, Death Avenger and continuing to create new Star Wars artwork for Lucasfilm.
Joe Harris
Joe Harris is the creator and writer of myriad comics and graphic novels such as the hit Image Comics environmental sci-fi series, Great Pacific, and the fan-favorite, monthly paranormal investigations of Agents Mulder and Scully in The X-Files: Season 10 for IDW.
Joel Gomez
Joel got his start at Top Cow Productions as a background artist on titles such as Witchblade, The Darkness, and Tomb Raider before working at Aspen Comics assisting on Soulfire and Iron and The Maiden. He was then hired as a staff artist at Wildstorm Productions where he worked on Nightmare on Elm Street, Texas Chainsaw Massacre, Wetworks, and Lost Boys. Joel has also worked on Authority: The Lost Year, Rift:The Telara Chronicles, Reverse Flash and Detective Comics.
Joey Lee Cabral
Proud creators of awesome books like Robin Hood STEAMPUNK, Kause Of Death, Red Bratva.
John Chihak
John Chihak is the creator of the slice of life action punk epic, Youth in Asia, it's spin­off The Book of Grrry, Fuzzyface: THe Agnew Chainsaw Massacre 3 and his personal sketch book, Bedhead.
John Eaves
John Eaves has had over 20 years experience in cinema and television scenic art, model making, and illustration production. He is perhaps most famous for his work on Star Trek where he worked on the television shows Deep Space Nine and Enterprise as well as the four Star Trek movies featuring The Next Generation cast.
John Giang
John is an acclaimed Concept Artist, Art Director, and Illustrator who has contributed to everything from comic art to graphic design to major motion pictures. Some of John's concept art has been used in development by Lego, Platinum Studios, Bioroid Studios, ImagineFX, and Stan Lee's POW Entertainment.
John Layman
Comic book writer and letterer, John Layman currently writes the comic series Chew. Layman started writing comics full-time in 2002, mainly for Marvel Comics. He's also been an editor for the DC Comics branch Wildstorm.
John Scalzi
John Scalzi is a writer. He's best known for writing science fiction, for which he won the John W. Campbell Award (2006) and has been nominated for the Hugo Award for best novel (2006, 2008, 2009) and best novella (2010) and been awarded Hugos for best fan writer (2008), best related book (2009), and Best Novel for Redshirts in 2013.
Jon S. Lewis
Jon Samuel Lewis is an American writer best known for the acclaimed Grey Griffins series published by Scholastic's Orchard Books. After selling nearly a million copies in the original trilogy, Lewis and his writing partner, Derek Benz teamed with Little Brown to produce the Grey Griffins Clockwork Chronicles .
Jon Sanchez Creative
I am an illustrator, screen printer, gig poster artist from Albuquerque, NM. I have limited edition, hand-pulled screen printed posters available.
Jon Schneep
Jon Schnepp is an American Director, Writer, Producer. Jon has made original programming for Cartoon Network / Adult Swim, FX, MTV, Nickelodeon, SpikeTV, Magnet Releasing, and Comedy Central.
Jonathan Bolerjack
Unknown
Jordan Summers / Marsheila Rockwell
Jordan Summers finished her first book in 2002. It was a finalist in the 'Daphne Du Maurier' contest the same year. She went on to sell eight fantasy books to Ellora's Cave Publishing and has enjoyed success with her Atlantean's Quest series. In 2003, she entered the Lori Foster/ Kensington Brava contest and won the Reader's Choice
Joye Company
Unknown
JPNTOYS / NEXTEP
JPNTOYS. enter site. Your No.1 Source for Japanese Anime Source.
Judsey
Jud Lively and Lindsey Woodward come together to create JUDsey, an illustration and fine art business.
Julie Fletcher
Video game, TV, anime, and pop culture related original art and prints. Commissions available!
Juniors
Unknown
Jusscope Press
Unknown
Justin Chung
Illustrator Justin Chung with actor/model Victoria Paege. Pin-up, sci-fi, fantasy, horror and comics art. Limited edition prints, trading cards, sketch cards and more! Details: JustinChung.com
Justin Peterson
Unknown
JWi Studios
JWi Studios is the artwork and publishing platform for John Wilkins, illustrator. Working in many arenas for nearly three decades in Colorado and Texas within the amateur, freelance, and professional spheres, John specializes in classic-style original creations and fan art in ACEO and frame-able formats.
Karen Hallion Illustration
Artist, Illustrator, Part-Time Jedi.
Katelyn McCaigue
Art work by Katelyn McCaigue
Kathyloo
Unknown
Katie Cook
Katie Cook is a comic book artist and writer that lives somewhere in that state that looks like a mitten. Her writing for the pop-culture phenomenon comic tie-in to My Little Pony: Friendship is Magic is gaining her headlines this year… But it's her work for Star Wars, Marvel, the Jim Henson Company and more that have made her a popular name.
Keen's Kozy Korner
A collection of knitting, painting, and generally crafty cosplay and home items every nerd can enjoy.
Ken Kristenson
Kristensen received an MFA in 2008 from Columbia University Film School. While still in film school he was selected to both the Sundance and IFP labs, and worked as an associate producer under Gary Winick (CHARLOTTE'S WEB) and Mark Waters (MEAN GIRLS).
Keomaka LLC
Unknown
Kevin Coulston
Kevin Coulston is a local to Phoenix comic creator. Known for his all-ages comic "Dylan McVillain – A Super Villain with the Best Intentions" and his pop-culture parody "Stale Bacon".
Kevin Maguire
In 1987, Maguire was the artist on the re-launch of Justice League written by Keith Giffen and J. M. DeMatteis. The two writers and Maguire reunited in 2003 for the Formerly Known as the Justice League miniseries and its 2005 sequel, "I Can't Believe It's Not the Justice League" published in JLA Classified. Maguire's collaborations with Giffen and DeMatteis also include Defenders and Metal Men back-ups in the latest volume of Doom Patrol.
Kids Need to Read
Unknown
Kif's
Unknown
Kimzar Kollectables
Gi joe action figures and play sets (new and vintage) marvel and DC action figures and play sets legos
Kingdom of Umbria
Unknown
Kipsworld
Kipsworld is based out of San Diego, CA and features the art of Kip Mussatt. All his work is created in the tradtional style with pens, ink, paint. View his work at www.kipsworld.org
Know Ones Designs
AA64 KnowOne's Designs: If you need something for your cosplay or film, stop by. Everything from custom fabrication to DIY kits! AA63-1 SHANNWHICH: The Art & Craft Of Shannon O'Connor: Cut paper illustrations, Shannicatures & Prints. AA63-2 Project Hero: A non-profit, charity boosting organization comprised of volunteer costumers and artisans.
Kodykoala Customs and Toys
Kodykoala Custom Figures and Toys is the place to go to find unique video game figures and toys. As seen on Kotaku and other gaming websites, Kodykoala creates one of a kind treasures that any gamer would love. Come see what his imagination has inspired.
Kostya Komardin
Unknown
Kozak Komiks
Kozak Komiks is an Arizona-based comic group. Started in 2008 by Alec Kozak (artist, writer) with comics Virus and Kozak Komiks Presents Shakespeare, the group now includes his brother, Stephen Kozak (writer, editor) and Patrick Schlotterer (colorist). This year at the 2013 Phoenix Comic-Con, they will debuting their latest issue of their most popular series, Second Star; an epic, gritty tale of Peter Pan and Modern Warfare full of action, adventure, and happy thoughts.
Kris Neri / Sisters in Crime
Kris Neri writes the Samantha Brennan & Annabelle Haggerty magical series, featuring a questionable psychic who teams up with a modern goddess/FBI agent. The lastest in the series, MAGICAL ALIENATION, won a New Mexico-Arizona Book Award in the fantasy category, and was a Lefty Award nominee for its humor.
Kristen Denton
Kristen Fitzner Denton is an accomplished visual artist who has worked in all manner of media including feature film, TV, comics and video games. In comics she's worked on classics like Casper, adapted books like the Boxcar Children, to collaborating on projects with industry legend Stan Lee. Her work on IDW's GRAVESLINGER led to a Harvey Nomination.
Kubert School
The Kubert School, based in Dover, NJ offers students a high quality and challenging education in Cartooning and Graphic Art.
Kyla's Keepsakes
Unknown
Kyle Stephens
Kyle Stephens is an American writer best known for his work on Unbound: The Awakening and Trapped in Decay; both of which were published by Syndicate Press. Kyle is an Arizona local who has been writing for over 15. He had dabbled in everything from short stories and poetry to comics and novels. Currently, Kyle is working on the novelization of Unbound: The Awakening as well as the comic form of the story.
L.E. Modesitt, Jr.
L.E. MODESITT, JR. is the bestselling author of over sixty novels encompassing two science fiction series and four fantasy series, as well as several other novels in the science fiction genre.
Laminartz
Unknown
Larry Nemecek
He's worked 20+ years in "Trekland," so that's the name of his brand—and now, native Okie Larry Nemecek's latest credits include the new Amazon maps/book hit "Star Trek: Stellar Cartography" and appearing as Dr. McCoy in the first two episodes of indie online hit Star Trek Continues, remaining a creative consultant. Best known as author of the classic "Star Trek: Next Generation Companion" and longtime editor of official ST Communicator magazine and Fact Files UK and Japan, Larry still writes his "Fistful of Data" column for Trek Magazine, guest-blogs at startrek.com, shares often on podcasts and the CBS Trek Blu-ray documentaries, plus released two editions on CD from his own hundreds of hours of remastered archival Trek interviews as the "Trekland: On Speaker" series.
Laughing Moon
Unknown
Laura Knatt
Laura Knatt (online alias "Taiki") is a comic artist and graphic designer from Tempe, AZ.
LeatherDiceBags.com
LeatherDiceBags.com creates handmade customized leather bags perfect to protect and display dice, tokens, jewelry, collectibles, and other small items. Stop by our table to feel how soft they are for yourself and take a look at our other custom creations while you are there.
Leeters
Unknown
Left Hand Asylum
Unknown
Lego
The Lego Group is a family-owned company based in Billund, Denmark, and best known for the manufacture of Lego brand toys. The company was founded in 1932 by Ole Kirk Christiansen.
Len Wein
Wein's first professional comics story was "Eye of the Beholder" in DC's Teen Titans #18 (Dec. 1968), where with co-writer and fellow future-pro Marv Wolfman he introduced the male character Starfire who was eventually renamed Red Star.
Leo Leibelman
Unknown
Leprecon, Inc.
Leprecon, Inc. is an Arizona non-profit volunteer corporation that exists to promote science fiction and fantasy with a special emphasis on SF/F art. It sponsors the annual LepreCon science fiction and fantasy convention and also sponsors occasional special events including the CONflagration gaming convention.
Level Up Studios
Video game and internet culture goods, made with experience!
LIGHT SCULPTURED ART
ILLUMINATED LIGHT SCULPTURED POP ART SIGNS
Lightspeed Fine Art
We specialize in exclusive Sci Fi art work from popular films and tv series such as Star Trek,Babylon 5 and Star-gate. Many of our pieces are signed by actors and include certificate of authenticity.
Linda Andrews
Linda Andrews started writing a decade ago to escape the redundancy of her day job as a scientist and never thought to actually combine her love of fiction and science. DOH!
Little Vampires
Unknown
Livio Ramondelli
Livio draws and paint things for various studios, but mostly IDW Publishing. He is currently working on "Transformers: Monstrosity" with legendary Transformers writer Flint Dille and Blizzard creative director Chris Metzen! Livio's other credits include the series "Transformers: Autocracy", "Transformers: Chaos", and various other covers for IDW.
Lobo Anime & Comics
Lobo Anime & Comics carries a variety of action figures and statues. We will have a large selection of Star Trek, Star Wars and Super Hero toys as well as Transformers and GI Joe
Looking Glass Wars
Publisher of THE LOOKING GLASS WARS and HATTER M
Lowbrow llc
T-shirts, stickers and posters
Madame M
Madame M Presents a menagerie of monsters and misfits with a myriad of mischievous merchandise and many "M" things. + Creepy, yet cute books, toys, art prints, housewares, clothing, and jewelry.
magdalena peach
Unknown
Magic and Monsters
Mag Peach clothing co. Sells clothing and accessories featuring twisted interpretations of the devices of war. Shirts and accessories.
Magical Makes
Providing supplies for young wizards and timelords since 2010!
Magnus & Loki
Unknown
Make-A-Wish Foundation
Unknown
ManaOverdose
ManaOverdose is based in Southern Arizona and is known for painting anime characters on pants. ManaOD also offers Shirts, Bags, Manga Necklaces, Emoticon hair clips, and Buttons.
Mantecoza
Unknown
Marat Mychaels
Unknown
Mardi Gras Costume Shop
Mardi Gras Costume Shop is Arizona's largest year-round professional resource for costume sales and rentals. Conveniently located in Scottsdale we've been serving the valley since 1974. In addition to our vast selection, we specialize in imported masks, steel boned corsets, Ben Nye makeup, wigs and lots of accessories.
Mark Bagley
Mark Bagley was born to a military family in Frankfurt, Germany. He had always wanted to break into the comic book business. At age 18, he joined the military so that he could qualify for the G.I. Bill and go to art school.
Mark Dos Santos
Mark Dos Santos began his artistic career in Newark, NJ. When he was older he joined the army and traveled to many exciting and exotic new places like South Korea and Kansas. The skills he'd acquired as a child proved useful in his new venture. Many field marches were avoided as his talents were put to use painting common room walls.
Mark Evanier
Born 3/2/52 in Santa Monica, California. Mark is one of those people who made the long, hard struggle to Hollywood all the way from West Los Angeles. "Evanier" (pronounced ev-uh-near) is not French; it was probably made up by some Immigration Officer at Ellis Island one day who said, "Hey, here come some more Jews! Let's give them real stupid last names!" He prefers being on a first name basis with everyone if only because "Mark" is easier to spell.
Mark Greenawalt
Mark Greenawalt fantasy illustration and body painting art has been featured on Lady Death and Villikon Chronicles covers and he's painted at the Playboy Mansion and many conventions throughout the world. Digital paintings in hyperrealistic style combined with stunning conventional art and photography.
Mark Rude (Duck Castle Press)
Mark Rude is a writer and illustrator from Phoenix, Arizona. He is the author of the Cindra Corrina fantasy series beginning with "The Gold Cat's Daughter," and the urban fantasy satire "Devon, The Demon Duck From Hell." He also contributed artwork to Kim Harrison's "The Hollows Insider" by HarperCollins Press.
Mark Winters
Unknown
Matthew Dow Smith
Matthew Dow Smith (sometimes credited as Matt Smith or Matthew Smith) is an American comic book artist.
McNastee
Rapping Screaming Graphic Designer from OK residing in AZ
Media Collectibles
Selling dvd movies, star autographs, photos, movie posters, colored contact lenses, movie props.
Megan Missfit
Sci-fi, fantasy and Gothic inspired artwork, prints and originals by Megan Wyreweden.
Melanie Rawn
Melanie Rawn, American novelist born 1953, is the most successful of several writers who have attempted to relocate dragons similar to those deployed by Anne McCaffrey within the tradition of high fantasy (to which they ought, in theory, to be far better adapted than to the realms of interplanetary romance).
Metro 13
Metro13 produces the fine quality, one-of-a-kind sci-fi and fantasy themed apparel. Original designs printed on ring-spun, high quality cotton. We use discharge printing methods to get the highest print quality that produces designs soft to the touch.
Michael A. Stackpole
A New York Times Bestselling author, Michael A. Stackpole is best known for his work as a science fiction and fantasy author and game designer. He is also an advocate for digital publishing.
Michael Bradley, Author & Susanne's Treasures
Unknown
Michael C Hayes
Unknown
Michael De Alba Art LLC
Michael De Alba Art LLC is Awesome!!! We offer original art and art printed on T-shirts.
Michael Golden
Artist/writer/creator Michael Golden, is a legend in the comic book industry, but one that has never stopped adding to his legacy as a storytelling professional. Co-creator of the X-men's Rogue character, Spartan X and Bucky O'Hare, Michael is known worldwide for his groundbreaking work on "The 'Nam," "Micronauts," "G.I. Joe Yearbook," and "Dr. Strange, " among MUCH more, and is counted as one of the best cover designers and illustrators in the business.
Mickey Chaney
Spiral Ink Comics is an Independent Comic publisher founded in 2013 by creators, Rob Hicks, Derrick Tipton, Mickey Chaney, and Jawara "JJ" Shelton. Spiral has "Thinner", a web based comic by Mickey Chaney, which features a vigilante style anti-hero set in Chicago, who's taking matters into his own hands, violently.
Microsoft Gaming
Unknown
Midnight Toys
Original rock band from Sunny Devon
Mike Baron
Mike Baron broke into comics with an illustrated text piece in the 1974 debut issue of Marvel Comics's Comix Book. In 1981, he published his first formal comics script with Nexus, the science fiction title he co-created with illustrator Steve Rude; the series garnered numerous honors, including Eisners for both creators. A prolific creator, Baron is responsible for The Badger, Ginger Fox, Spyke, Feud, and many other comic book titles.
Mike Debalfo
Mike DeBalfo is a freelance illustrator best known for his charming and flirty "good girl" brand of pinup art. Since 2009 Mike has been working professionally in the comic book field illustrating numerous memorable covers for companies such as Zenescope Entertainment, Big Dog Ink, Aspen Comics, Lady Death, Zombies Vs. Cheerleaders and more.
Mike Grell
Mike Grell is a legendary artist who has worked on many titles including Legion of Super-heroes, Green Arrow, Green Lantern, Warlord, and his own Jon Sable. Mike has also just completed the New Jon Sable Freelance "Bloodtrail" Mini-series in 2006. Mike is now accepting commission art requests. You can view a few samples of Mike's work at the bottom of this page.
Mike Huddleston
Mike Huddleston is an award-winning American comic book artist, illustrator and concept designer. Currently living on Chicago's north side, Mike produces work for companies such as DC Comics, Vertigo, Image Comics, IDW, Adhouse Books, Hallmark Cards, Warner Bros. and Toyota.
Mike Kessler
Unknown
Mike Manley
Unknown
Mike Maydak
Unknown
Mike McKone
British born comic book artist Mike McKone is perhaps best known for his work on Teen Titans and Fantastic Four. Interested in comics from an early age, particularly Fantastic Four, McKone got his start in the industry after showing his portfolio to an editor for DC in London in 1988.
Mike Miller
Unknown
Mike Renzine
Mike Renzine is an artist that has done covers for Zenescope and worked in association with Heavy Metal on "Art of 88" Digger T Mesch's compaion book for the debut of his short film "AGENT 88." Currently Mike is producing a calendar for charity organizations.
Mike Trcic
Michael Trcic Fine Art
Mike Vasquez
Among other things I am Freelance Artist and Illustrator and my name's Mike Vasquez! Ive had the opportunity and pleasure to have worked on many great licenses including Adventure Time, Star Wars, Marvel, DC, The Walking Dead, Lady Death and so much more!
Miss Alanius
Steampunk and Lolita clothing and accessories
Mitch Breitweiser
Widely recognized for his iconic work on Marvel's "Captain America," Mitch Breitweiser catapulted to art stardom in 2005 with his work on "Drax the Destroyer." Mitch spent most of the next decade illustrating some of Marvel's mightiest heroes.
Modelers or Mice
Unknown
Moko Press, LLC
Robin Dempsey and Cory Childs formed Moko Press to pursue their creative projects. We specialize in culturally and psychologically rich fantasy stories. Discover our current series "LeyLines," a unique graphic novel with an immersive world and intriguing characters! Please stop by for a free sketch!
Moments in Metal
Moments In Metal is located in Albuquerque, NM and specializes in custom impact engraving and full color custom sublimation.
Monkey Minion Press
Monkey Minion Press is a husband and wife team that makes nerdy necessities for your nerdy home! Art, Books, Magnets, Buttons, crochet dolls and the home of the original Geeky Greeting Cards! Come get your geek on!
MONSTER HIVE
MONSTER HIVE is a collective of friends who make comics: Grayling, Messenger, Slightly Damned, The Good Life, Lunavis, and Within a Mile of Home.
Morgan Beem
Freelance Artists offering commissions, prints, zines, anthology comics and other art merchandise! Ranging from mainstream to Indie styles, featuring both black and white and colored work.
Musetap
Unknown
Mysterious Galaxy
Mysterious Galaxy — books of Martians, Murder, Magic and Mayhem (with occasional Masks, Matchmaking, and Munchkins). A specialty genre store in Southern California with a focus on SF, Fantasy, Mystery, Suspense, and Horror. At PCC we offer books by attending authors, some physically, some immediately available for your ebook reader!
Mythical Gardens, LLC DBA Witches Gifts
From enchanting fairy dust, steampunk pendants, beeswax candles, to bewitching amulets our handmade creations will bring magic into your life.
Nani ? Wear
We are a husband & wife team who started Nani?Wear after we realized there was no one making anime goodies. So, we started to make them ourselves.
National Comedy Theatre & Bella & Bruiser
Bella & Bruiser offers unique, hand made items for unique, hand made kids (newborn to 6t) as well as accessories, toys, art, nerd soap and more. National Comedy Theatre presents hilarious, spontaneous, improvised comedy including the Spoof-N-Cinema Movie Mash Ups. Visit our booth for tickets, more information and fun.
Neenerbot Shop, The
The Neenerbot Shop is the home of the art of illustrator Jeannine Schafer. Prints, shirts, books, and original art featuring cute, cuddly and quirky characters.
Nei Ruffino
Nei Ruffino is both a well known colorist of books such as Red Hood andSoulfire, and breakout penciler for Big Dog Ink's Legend of Oz covers, and Zenescope's monster slaying Unleashed.
Neko Press
Neko Press is owned by Billy Martinez, a San Diego, California artist with a new take on today's Popular art.
Nerd Dollz
Unknown
New Eden Publishing
New Eden Publishing has a brand new family book series called Holiday Heroes, created by Anita Shepherd with illustrations by Jim Hanna. Follow two young men through five funny and light-hearted adventures as they help holiday characters save their post of duties and the holidays as well.
NIGEL SADE Fine Art
Unknown
Nightstalker press / Maria's bracelets & more
Nightstalker Press/Maria's bracelets & More Author Gary A Wilson features Sci Fi action adventure & South West steam punk novels. Maria R Wilson offers one of a kind, custom made jewelery adn other hand crafted items.
Nik's Pix
Nik's Pix is your total BookMark Station! We offer hundreds of different bookmarks & prints for the Sci-fi & Sports lovers, TV shows & Movies, books, games & more! We have treasures of the sea; jewels, maps, & hair pieces that appeal to steampunk, princess, & ladies of the 'con.
Ninjabot, The
The Ninjabot: We are all about Geeky, Nerdy, Artsy Prints & and more!
Norm Rapmund
Norm Rapmund is an inker who made a name for himself during the early years of Image Comics on such titles as Brigade, Supreme and Bloodstrike. From there, Norm moved to Marvel where he worked on several titles including WOLVERINE, FANTASTIC FOUR & ROGUE. He later became known for his work with penciller Ian Churchill on COVEN, LIONHEART, SUPERMAN/BATMAN, SUPERGIRL and TITANS.
Nostalgic Enterprise
Comics and Films Publisher & Distributor.
notworthasketch
Brandon James is an Arizona local artist. He has recently put out his own book Catalyst that can be
NSNart
NSNArt.com has plenty of cutting edge comic art for sale from today's hottest comic artists.
Odd Truth
Odd Truth Inc. is a media production company, founded by Nicolas Dedual, specializing in comic books, video games, animation and other forms of storytelling.
OGREshop
OGRE SHOP is a place that was discovered in the mind of a young artist by the name of Arlyn Pillay. Visit his website www.OGREshop.com for more info =)
Oh, Hell Comics
Unknown
Onigiri Amigurumi
Extensive collection of Anime, SciFi, Super Hero and Pop Culture items.
Onrie Kompan Productions, LLC
ONRIE KOMPAN PRODUCTIONS, LLC creates new and innovative intellectual properties featuring high quality production techniques.
Orange Crows
Come visit the Orange Crows booth and check out the original action/adventure manga series written by James Perry II and published through Tokyopop! Along with Orange Crows volume 1 and 2, there will be tons of posters and other goodies related to Orange Crows, and other popular comics and anime!
Orbital / Primeval
Orbital / Primeval is an independent publisher for games, comics, and other media for storytellers in Phoenix, AZ. Stop by and check out our imaginative stories!
Oribtal Decay Comics
A futuristic world where narcissism and self-gratification are the driving force of space exploration. Also, there's blood and sex.
Origami Owl Custom Jewelry
Origami Owl is a social selling jewelry business. Create a Living Locket with custom designed charms that tell the story of your life and represent the things you love.
Outbreak Arms
We are a local gun store who love comicons. We carry a everything from t- shirts to walking dead to holsters to complete that cosplay attire.
Ovi Demetrian Jr / Indie Aisle
Hacktivity is an indie comic about a group of hacker activists taking on the NSA. In a connected world where a person's private info is accessible as digital data, who should be responsible for protecting it? Watch the trailer at hacktivitycomic.com.
Paige Braddock
Paige Braddock knew at the age of 7 that she wanted to be a cartoonist. Early in her career she worked as an illustrator for several newspapers, including The Chicago Tribune and The Atlanta Constitution. In 1991, she began crafting her long-standing comic, "Jane's World," the first gay-themed work to receive online distribution by a national media syndicate. She launched her own publishing company, Girl Twirl Comics, in 2001 to make the strip available in comic shops and bookstores.
Pak Rat Collectibles
Comics, toys, necklaces, steam punk items, Airsoft guns, Nightmare before Christmas, been in the business 41 years.
Paranoid Onion
A student group working on real student projects!We hold tryouts every Friday by appointment (e-mail tryouts@paranoidonion.com) and we accept all levels of talent, but we want to make sure that you agree with our mission statement and style.
Pastella
Unknown
Patrick Finch
Unknown
Patrick Rothfuss / Badali Jewelry
Patrick Rothfuss was born in Madison, Wisconsin to awesome parents who encouraged him to read and create through reading to him, gentle boosts of self-esteem, and deprivation of cable television. During his formative years, he read extensively and wrote terrible short stories and poetry to teach himself what not to do.
Paul & Storm
Unknown
Peculiar Magpie, The
Welcome! We are dedicated to providing you with the most interesting curios available in the 21st century.
Perk at Work
Perk at Work is a comic strip. I have books.
Peter Orullian / Wesley Chu
Wesley Chu's best friend is Michael Jordan, assuming that best friend status is earned by a shared television commercial. If not, then his best friend is his dog Eva who he can often be seen riding like a trusty steed through the windy streets of Chicago.
PH Factor/Three Ravens Books/Artistic Intentions
Unknown
Phil Hester
Phillip Hester has been writing and drawing comics for over two decades, beginning while still a student at the University of Iowa. He established himself in the world of indie comics with the Eisner Award nominated series The Wretch, and broke into the mainstream with a long run as artist of DC's Swamp Thing with writer Mark Millar.
Phoenician Pictures
Unknown
Phoenix Comicon Artist Alley
Phoenician Pictures presents The Sting Chronicles, a local web-series and artist Danielle Pajak Illustrations.
Phoenix Comicon Authors
Unknown
Phoenix Comicon Publishers
Unknown
Phoenix Comicon Reserved
Unknown
Phour Nyne Studios
Phour Nyne Guy. Illustrator + creator = Artist.
Pigtails and Combat Boots- Geek Art by Lisa Sikorski
Art prints, plushies, jewelry and whatever other crafts I randomly make, all inspired by geek/pop culture, comics, sci-fi, horror, and general geekiness.
Pixel Paladins
Pixel Paladins is a group of artists who like translating their favorite things (games, comics, cartoons, films, etc.) into pixelized art pieces using melted plastic beads as a medium. They are always available for commissions and up for challenges.
Pixy Cakes, LLC
Pixy Cakes, LLC is a cupcake and specialty cake store.
Planet Neo
Unknown
Poetic Earth Leather Journals & Bags
Unknown
Pop Culture Museum
Unknown
Pop Shop
Comicon buttons and souvenirs under $12.
PosterParty
PosterParty features an awesome selection of Movie, Comic and Pop Culture Posters. We also have a similar variety of Buttons.
Power Morphicon / Robo Toyfest
Unknown
Project Epiphany
Quartet of artists from the Southwest, making original comics and traveling the local Comic and Anime convention circuit.
Psychofuckomics
Unknown
Puppet Pie
Come see all kinds of puppets handmade right here in Phoenix, Arizona! Puppet builder, Stacey Gordon, has 15+ years of experience building puppets for all kinds of projects. Stop by to say hi & watch the world-famous 10-Second Puppet Show!
Rachel Deering
Unknown
Radi Lewis
Radi Lewis is making his return to the Phoenix Comicon and he's bringing the 3rd installment of his hit series TechWatch right along with him. This indie writer currently has a title that is distributed through Diamond Comics; he recently finished a comic for Department of Public Works & Transportation in Arlington TX; and is currently working on a mobile video game.
Radian Helix Media
Unknown
Radiant Grey
Unknown
Raven Gregory
Raven Gregory is Executive Editor and Staff writer of Zenescope Entertainment. In 2003 Raven self published the indie hit THE GIFT which was soon picked up by Image Comics. Following the success of THE GIFT Raven went on to co-created and write THE WONDERLAND TRILOGY and GRIMM FAIRY TALES MYTHS AND LEGENDS for zenescope entertainment.
Ray Fawkes
Ray Fawkes is a Toronto-based fine artist and writer of comics, graphic novels, prose fiction, and games. Ray's work ranges in styles from introspective, dreamscape narrative to bombastic slapstick.
Rayanna Pearl Jewelry
Unknown
Red Nebula Studios
Unknown
Renee Witterstaetter
Renee Witterstaetter is the author of "Excess: The Art of Michael Golden," "Tex: The Art of Mark Texeira," the critically acclaimed "Nick Cardy: The Artist at War," "Dying for Action: The Life and Films of Jackie Chan," "Kerry and the Scary Things," "Nick Cardy: Wit-Lash," and much more.
Retro Dynamite
Comic Fashion for women
Reynolds Advanced Materials – Phoenix
Moldmaking and Casting materials for special effects, props, costuming, and model making.
Richard Huante Design & Illustration
Glendale, Arizona's Richard Huante specializes in fantasy illustration and retro themed graphic designs.
Risen Phoenix Studios
We are a small indie game studio based in Ivyland, PA just north of Philadelphia.
Rob Hicks
Spiral Ink Comics is an Independent Comic publisher founded in 2013 by creators, Rob Hicks, Derrick Tipton, Mickey Chaney, and Jawara "JJ" Shelton. Bringing you only the best in indy comics, Spiral's line up consists of: Rob Hick's "Hooded Cobra", a book featuring all the espionage, alien tech, action, and sexy ladies you've come to expect from Mr. Hicks.
Rob Osborne
Unknown
Robert (BobtheArtist) Luedke
Robert(BobtheArtist)Luedke is a multi-award-winning graphic novelist, storyboard artist and illustrator. His eclectic selection of TV-Movie based character prints & posters are always a highlight of any convention.
Robert Elrod
Unknown
Robert Venditti / Van Jensen
Robert Venditti is the New York Times best-selling author of The Homeland Directive and the sci-fi graphic novel series The Surrogates, the first installment of which was adapted into a feature film starring Bruce Willis and Ving Rhames.Van Jensen is the writer of Pinocchio, Vampire Slayer and Green Lantern Corps and The Flash for DC Comics. As a journalist, he has served as a magazine editor and newspaper crime reporter, and still writes the occasional freelance piece. He grew up outside a village in western Nebraska but now lives in Atlanta, Ga., with his wife and dog.
Roman Dirge
Unknown
Ronald C Tobin LLC
Selling copies of my book, A RUBY FOR VICTOR, and related short story books written by me. Join in the Plaz Seschni series.
Rosanna Rocha Cosplay
Hi, I'm Rosanna! This is my page for all my cosplaying. I sew, craft, and build. Your support means so much! Please say HI!
Ross Demma
Unknown
Rothic
Unknown
RottenPumpkinStudios
Unknown
Ruth Thompson Fantasy Art
Unknown
Ryan Cody
Ryan Cody is a freelance artist and writer based in Northern Arizona. Current & past work includes: Masks & Mobsters Vol.1, Popgun Vol.3, andOutlaw Territory Vol.3 for Image Comics; Atomic Robo: Real Science Adventures Vol.1 for Red 5 Comics; the pulp adventures series Doc Unknown; an upcoming stint in Dark Horse Presents and numerous sketch-covers for Marvel Comics & Hero Initiative.
Ryan Quackenbush
Unknown
Ryan Winn
Unknown
Sam Laggren
Unknown
Samurai Comics
Unknown
Sarah Wilkinson Art
Unknown
SCAD Alumni
Unknown
Scary cute ltd
Alyssa draws stuff and Forrest is charming. Alyssa draws heavily from old school video games and a fountain of awesomeness located in her backyard. We don't know where Forrest draws from…
Scentsy
Scentsy is a company that makes a wickless candle system. We make warmers with a light bulb inside to melt our scented wax. This is a safe way to have great fragrance in your home without the worries you have with candles. We have other fantastic scented items as well.
Scorpious Dance Theatre
Formed in 1999 by choreographer, Lisa Starry, Scorpius Dance has been a constant presence in the metropolitan Phoenix arts community since its inception. A Vampire Tale, is tersely touted as "the 'Nutcracker' of Halloween" and is the requisite haunt of the fall season.
Scott Blair
freelance illustrator and graphic artist specializing in fantasy, science-fiction and movie art.
Scott Godlewski
Scott Godlewski is co-creator of the action anthology Mysterious Adventure Magazine and a freelance illustrator, having most recently been published in Dracula: The Company of Monsters for BOOM! Studios.
Scott Kolins
Unknown
Scott P. Vaughn
Unknown
Scott Zambelli
Unknown
Scrap Pictures
Scrap Pictures is a comic book publishing studio that produces adventure and fantasy comic books that are fun for all ages!
Scribbled Hollow, The
The Scribbled Hollow – Books, Art, and Community.Currently we have children books from two publishers – Usborne and Kane Miller.We also have a state of the art low maintenance self-watering aeroponic gardening system and whole food nutritional supplement for your health.
Sean Sautter
Local Phoenix, AZ artist.
Sean Sautter, born and raised under the Arizona sun, has practiced drawing for as far back as his brain can carry him. As a young boy, Sean struggled with reading but his imagination came to life when his parents bought him his first comic book. Not only did it help him read better, but it turned him onto his love for comic books and comic style art, which is the style he stuck to and continues to practice with today.
Sebastien Millen
Unknown
Serkworks
Serkworks specializes in the development of highly stylized character driven illustration and design, creating eye-catching visuals and concepts for television, film, print and multimedia projects!
Shades of Shadow Concepts
Unknown
Shannon Denton
Unknown
Shannon Messenger / Suzanne Young
Shannon Messenger graduated from the USC School of Cinematic Arts where she learned–among other things–that she liked watching movies much better than making them. She's studied art, screenwriting, and television production, but realized her real passion was writing for kids and teens.
Shark Robot
Our great t-shirts are guaranteed to make you awesome and tough!
Shawn Gorritz / 3QuarterMoon Creative, LCC
Unknown
Shelby Robertson American Dischord
Shelby Robertson American Dischord. Art Prints, Comics, Sketch Books and Original Art will be available as well as Phoenix Comic Con exclusive print packs and raffle prizes!
Silk Road, The
Unknown
Sina Grace
Sina Grace is a writer and artist known for his contributions to several Image Comics titles, including the retro gamer romp BURN THE ORPHANAGE, the gothic-tinged NOT MY BAG, and providing art on THE LI'L DEPRESSED BOY. He works in coffee shops all over Los Angeles, CA.
Skahfee Studios
Typography and character portrait prints by digital artist Scott Smith
SkeltonArtist
Deryl Skelton's Home Page with Artist Biography, Comic book Skelton original art, advertising art, illlustration, painting & editorial cartoons & storyboards
sketch-o-holics of albuquerque
Collection of artists based in Albuquerque who will be selling prints and original comic art
Skull Jammer Productions
Unknown
Skull Meat Co.
Unknown
Skullastic
Create Your Own Notebooks and Sketchbooks at SKULLASTIC! Choose cover art, coil color, paper style and we make it for you. Just $5 each!
SoCalGaming
Unknown
Sonny Strait
Most recognized as the voice of Krillin on the wildly popular, animated TV show Dragonball Z and as an illustrator for, arguably, the most famous, independently published comic book series Elfquest. Sonny Strait has over 20 years of experience in the arts.
Sour Apple Gallery
Sour Apple Gallery is an Arizona company started by published artist, David Lizanetz. The gallery features his limited edition, signed and numbered superhero artwork prints, with comic page backgrounds! Look for many new heroes in 2014. Visit DavidLizanetz.com or facebook.com/sourapplegallery for more information.
Sparkle! Designs
Unknown
Spencer Brinkerhoff
icensed Lucasfilm artist Spencer Brinkerhoff III started his illustration career in 2008 at the Star Wars Celebration in Japan. He has also worked as one of five illustrators for a Star Wars Artist series on Zazzle, created an anniversary print for Back to the Future, shot, edited, and starred in a video contest to win a restro-modded Trans Am from Mr. Burt Reynolds, and is hosting a pilot for a new TV show.
Spiral Ink Comics
Unknown
Stan Lee Collectibles
Unknown
Star Wars Neighborhood
Unknown
Starlit Skies
Original Handcrafted Elf, Fairy and Steampunk Ears, Jewelry and Accessories, by Cynthia Ann McDonald of Starlit Skies, using the finest quality Sterling Silver, Brass, Copper, Natural Stones and Swarovski Crystals.
Starz Karaoke LLC
STARZ KARAOKE – Arizona's Best Karaoke Experience Where You're The Star. Cosplay Karaoke Come Join Us And Sing You're Favorite Song. Drawing for a FREE Private Karaoke Party plus other great prizes.
Steam Crow
Steam Crow makes monster goods to make you happy. Local PHX Arizona grown!
Steampunk Village
Unknown
STL Ocarina
STL Ocarina offers a wide variety of ocarinas.
storyofthedoor.com
Lots of posters of pretty animals may be found at this booth along with books from the webcomic Toilet Genie.
Stuart Sayger
Stuart Sayger is best known for his moody and expressive style, inks, gouache, chalk and oil pastels are standard when creating his comic book pages. He first broke into the industry as the creator of SHIVER IN THE DARK, producing the comic independently from start to finish.
Studio Chiri
Studio Chiri is headed by fine artist and illustrator Laura Rollins. She is a certified Copic artist and has a BFA from Arizona State University. She specializes in fantasy and manga illustrations, as well as fine art in a variety of mediums.
Studio Fugazi
Studio Fugazi is a multi-purpose art and design studio offering a wide range of products, from illustration to multimedia presentation to video and film.
Stylin' Online
Stylin Online is a large T-Shirt store with thousands of exclusive tee shirts and hard to find novelty T shirts from the best movies, comic books, anime.
Subtle Geek, The
Geek props and products.
Sugar Fueled
Sugar Fueled / Michael Banks is a artist from Orlando, Florida who specializes in pop surrealism, lowbrow oil paintings and comics filled with cute, big eyed characters and animals in colorful, candy filled scenes.
Suits, The
Unknown
Super Mercado Comics
Creator of Buffalo Speedway, Pantalones, TX, Throne of Secrets, Rocket Salvage, Monster Job Hunter and Sci-Fu
SuperHeroStuff.com
SuperHeroStuff.com has the largest selection of superhero t-shirts, hoodies, hats and more featuring your favorites from Marvel, DC, Star Wars and more!
Sushi You Can Hug
We make cute Asian food and pop culture inspired art items. Plush, buttons, accessories, and art.
Sweet aromas of Scentsy
My Scentsy Family Business, Scentsy warmers and fragrances and Grace Adele
Syndicate 1138 Comics
Syndicate 1138 Comics was built to hold a group of creator owned books by Bryan bg Graham including: Section 1138, Parallels, Parallels Past and a few more in the works! Syndicate 1138 Comics strives to bring creative stories filled with heart, excitement, adventure and social issues all with a sense of humor! We believe you should party like it's 1987!
Tales Told, LLC
Unknown
Team Legend
Featuring the release of indie comic, Legend! Purchase your first issue of the gripping tale of Amara Asher as she struggles to defend against the coming Darkness! If you enjoy mythological lore, suspense and action, this story is for you!
Ted McKeever
Ted McKeever's first published work appeared in 1986, when Vortex Comics published the first 5 parts of his unfinished series Transit, establishing his trademark style. This was followed in 1987-1988 by his 12-part series Eddy Current (Mad Dog Graphics), a 12-hour book centering on an escapee from an asylum — obsessed with the exploits of the superhero "The Amazing Broccoli."
Tee Turtle
TeeTurtle sells ultra soft, cute, funny, shirts, including pop culture parodies and mashups. Buy today and see what the buzz is all about!
Terence Brown II/ Denny from The Room
Artwork by comic book artist and illustrator Terence Brown II. Requests, commissions, prints available through IM or emailing terrybrownart@yahoo.com.
Thieves Den
Costumes, leathers accoutrements, hats and all of your Steampunk needs.
Things I Like
Unknown
Thunderskull Press
Unknown
Tiki Machine, LLC
Unknown
Tim champion
Tim champion artwork
tim vigil
Unknown
Times Forgotten
Unknown
Todd Nauck
Todd Nauck is the artist of the newly announced Marvel Comics series, Nightcrawler with legendary X-Men writer, Chris Claremont. Nauck is also the artist of the series Invincible Universe and Guarding the Globe for Walking Dead creator, Robert Kirkman's Skybound imprint at Image Comics.
Tom Budzak
Handmade porcelain wares with pop icon imagery by local ceramic artist Tom Budzak. Star Wars and Doctor Who inspired flasks, mugs, art, plus much, much more. One of a kind works that are all dishwasher, microwave and food safe. Visit www.tombudzak.com for more information.
Tom Deadstuff
Phoenix artist specializing in paper mache. My products include zombie pinatas, purses, dolls, piggy banks, marionettes, and 3D relief paintings. Slightly macabre.
Tom Leveen
Tom is the author of four young adult novels: SICK (a YA zombie novel), PARTY, MANICPIXIEDREAMGIRL, and ZERO (an ALA/YALSA Best Young Adult Novel for 2013). His fifth book, RANDOM, will be released in August. Tom brings 22 years of theatre experience as an actor and director to both his writing and classes on writing and publishing.
Tom Scioli
Tom Scioli is a Pittsburgh-based cartoonist. He is the creator of the graphic novel, American Barbarian, and the webcomics, Final Frontier and Satan's Soldier. He's also the co-creator of Image Comics' Eisner-nominated series, Godland, and is the creator of the Xeric-winning The Myth of 8-Opus. He's done artwork for the comics series Captain America, The Incredibles, Elephantmen, Freedom Force, and The Fantastic Four.
Tony Moore
Tony Moore is an American comic book artist, whose work consists mainly of genre pieces, most notably in horror and science fiction, with titles such as The Walking Dead, Fear Agent, and The Exterminators.
Tony Parker
Tony Parker is an Eisner nominated artist, illustrator and college professor. He has worked for nearly every major US comic company (Marvel, DC, Dark Horse, Image, BOOM!, IDW, and Aspen), as well as Nike, Games Workshop, and private corporate clients. He has done comic work for Mass Effect, Godzilla, Conan, and Warhammer (Fantasy and 40K).
Top Cow
Unknown
Top Shelf
Complete online catalog of underground books, comics, minicomics and posters, including the Top Shelf Anthology.
Topato
Topatoco is where you go to get merchandise from good webcomics! All original ideas. Helping advance the quality of humor in our society by selling you things.
Tor Books
Tor Books is one of the two primary imprints of Tom Doherty Associates LLC publishing company, based in New York City, US.
Toy Anxiety
Unknown
Toy Wizard Toys / Game Over Games
Toy Wizard Toys, Specializing in toys and collectibles from the 70's, 80's, 90's and today. Game Over Games, Specializing in vintage to modern video games, systems and accessories.
Toysbot.com
Toysbot.com is an online toys, action figures, dolls, and collectibles shop. We offer a wide range of toys, action figures, collectibles, dolls, die-cast cars, statues.
Travis Hanson / Bean Leaf Press
Travis Hanson is an Eisner-nominated, fantasy illustrator with a huge imagination. For the last 15 years he has worked in comics, children's art, RPG fantasy, and games; and fans from conventions also know him for his simple fun illustrations that encourage the basic human need for creativity.
Twiggs & Berries
Twiggs & Berries offers a wide selection of original codpieces from royal to wild to everything in between. Come crown your family jewels with one of our handmade, one of a kind codpieces and experience the super human transformation after trying one on. Definitely a must see!
Tyler Crook
Unknown
Tyler Lamph
Creator, writer & illustrator of the independent comic, SEVEN. Tyler Lamph's twisted & hyper-detailed art will leave your brain salivating for more. Follow Tyler Lamph on Instagram for frequent updates: @tlamph
UAT
Unknown
Ultrasabers
Ultra Sabers is the one stop shop for all your lightsaber needs! We make the highest quality, brightest, most durable & most affordable custom lightsabers.
Umber Designs
Unknown
Umbrella Corporation Arizona Hive
Umbrella Corp: AZ Hive is a costuming charity group dedicated to Resident Evil and the AAWL.
Umicorms
Umicorms.com. Indie comic books, tasty prints, commissions.
Urbanmyth Studios
Founded in 2009, Urban Myth Studios' mission is to produce a diverse nexus of stories and characters. Believing in "creativity without limits or boarders", the studio members have a goal to create the highest quality books that their imaginations can birth. Here you can check out behind the scenes stuff like concept art and sketch work, and also the occasional mini web comic!
UZA
Unknown
Val Hochberg
Val Hochberg is the artist and writer of the popular webcomic series MYSTERY BABYLON.
Valiant Entertainment
Unknown
Vampie Oodles
We invite you to inspect the multifarious world of VampieOodles.com! From our handcrafted elegant novelty raiment to artifacts from bygone eras, we have provisions for all and sundry. Specializing in leather accoutrements for steampunk, cosplay & tribal habiliments.
Vanquish Studio
Vanquish Studios, South Florida's most advanced private recording facility. Our uncompromising commitment to your personal creativity coupled with our passion for cutting-edge technology and technique produces unrivaled professional results.
Vantage: Inhouse Productions
Unknown
Victor Moreno Design
We design collectible art prints and merchandise based on film and popular culture. A 2012 New Times, Best of Phoenix winner in collectible movie posters and design, we also run Cult Classics AZ, the Valley's leading monthly retro film event series in Tempe!
Vivek Tewani
Vivek J. Tiwary is a New York Times bestselling author and an award-winning producer of Broadway shows, film, television, and graphic novels.He is the producer and writer of "The Fifth Beatle," a New York Times best-selling graphic novel based on the life of Beatles' manager Brian Epstein. "The Fifth Beatle" has secured unprecedented access to Beatles' music and a feature film is in development to shoot in 2014. "The Fifth Beatle" will be produced by Academy Award-winning producer Bruce Cohen (AMERICAN BEAUTY, MILK, SILVER LININGS PLAYBOOK.)
Voyage Trekkers
We are a local sci-fi comedy web series about the worst star ship crew in the galaxy. This is our third year at the Phoenix Comicon.
Vysitor Consoles
Unknown
WanabiEpicDesigns
WanabiEpicDesigns has a drive to create works and merchandise that is designed by fans for fans of many fandoms! We offer buttons, cellphone charms, tote bags and custom t-shirts! The possibilities are endless and we never know just what we'll try to create and come up with next!
Wanzie Art
WANZIE ART – "VISIONS OF THE SUBCONSCIOUS MIND" – WANZIE is an Abstract Graphic Artist based in Los Angeles creating imagery deeply rooted in Arcane Symbolism, Esoteric Spirituality, BioMechanical Surrealism, Archetypal Metaphors, and Tribal Abstraction that resonates across all forms of media and cultures. His art acts as a medium, or conduit, to extract the thoughts, allegories, and emotions vastly hidden in the subconscious mind of the viewer. Offering original artwork and commissions on aluminum panel, concrete, acrylic, canvas, and high-quality prints at Phoenix ComicCon and online at WanzieArcanum.com
Watto Distinctive Metal Wear & Watto's Wife
Handmade metal accessories – belt buckles, money clips, key chains and chains with a rocker edge based on tattoo imagery. Handcrafted by Jon WATTO Watson.
Wayne Gardiner
Wayne Gardiner is the creator and writer of Knightingail comics. Knightingail is being published by Big Dog Ink. Come by the booth at PCC to meet Knightingail and her friends in person and pick up some great exclusives, including a special variant for the upcoming Knightingail: Dawn of Destiny mini-series.
Welovefine.com
Unknown
Wendy and Richard Pini
Wendy Pini née Fletcher, and Richard Pini are the husband-and-wife team responsible for creating the well-known Elfquest series of comics, graphic novels and prose works. They are also known as WaRP.
Wes Huffor Artwork
Wes Huffor is a Southern Californian comic artist best known for visceral, seductive, and pathological crime and horror storytelling.
Weston Ochse
Weston Ochse is the author of twenty books, most recently two SEAL Team 666 books, which the New York Post called 'required reading' and USA Today placed on their 'New and Notable List of 2012.' His first novel, Scarecrow Gods, won the Bram Stoker Award for Superior Achievement in First Novel and his short fiction has been nominated for the Pushcart Prize. His work as appeared in comic books, and magazines such as Cemetery Dance and Soldier of Fortune.
Whilce Portacio
While attending his very first Comicon in 1985, Whilce Portacio started his career in the comic book industry when then Marvel Comics editor Carl Potts offered him an inking job. That job was inking over Art Adams on his first book "Longshot".
White Falcon, The
The White Falcon: The Awakening is an adventure, fantasy story available online at Barnes and Noble, Amazon and Kobo ebooks. For an autographed copy go to our shop on our website www.thewhitefalcon.com or visit us at our table AA3.
Wicked&Glitter
Unknown
Willow Springs Soap
We offer a large selection of "Geek" soaps and other natural products. The best slogan we live by is, "It's Great to be a Geek! Just not to smell like one!" Be sure you don't miss out on your geek Soap!
Wolfsisters Creations
A collaborative creative studio featuring the art of Sandra SanTara and Christy Grandjean. Specializing in Visionary, Fantasy and Anthropomorphic art sold as prints, t-shirts, banners and jewelry.
World Famous
Unknown
World Famous Comics
World Famous Comics is among the Web's first, largest and most frequented destinations for comic book and entertainment fans. WFC also appears at conventions, where fans can view and purchase a variety of comic book, sci-fi and fantasy art, obtain autographs and collectibles from featured artists and pop-culture guests.
World of Rynaga – Specimen Design
Specimen is founded by Eric Torres and based in Phoenix, AZ. This small company is focused on creating scarcity, crafting discoverable products that delight and inspire others.
Worlds Edge, The
Unknown
www.bryanfyffe.com
I create books and prints and original art concerning monster, robots and animals.
Yuan Twins, The
Comic artists
Yvonne Navarro
An American author who has published over twenty books, the titles AfterAge, deadrush, Final Impact, Red Shadows, DeadTimes, That's Not My Name and Mirror Me were solo novels, or fiction created solely by her. Her most recent works Highborn and Concrete Savior are part of The Dark Redemption Series. She lives in Arizona and is married to author Weston Ochse.
zacfinger.com
Minizines and handmade t-shirts and jewelry relating to sci-fi, cyberpunk and futuristic themes.
Zenescope
Zenescope Entertainment is a comic book and graphic novel publisher headquartered in Horsham, Pennsylvania, co-founded by Joe Brusha and Ralph Tedesco in 2005. Zenescope publishes full-color action, fantasy, and horror titles.
Zeroes for Hire
ZEROES FOR HIRE is the graphic novel created by Mark Mather and Brian Essig-Peppard – written and illustrated by Brian Essig-Peppard. It dives deep into the white-knuckle, larger than life, and hilarious lives of a band of globetrotting misfit mercenaries! Brian will be promoting the franchise and available for commissions!
Zolgar's Forge/Airship Sleipnir
Airship Sleipnir and Zolgar's Forge come together to bring you awesome Steampunk goods gathered through time and space. Also, hand made goods and leather awesomeness.
ZOMs – Plush Zombies
They're cute, they're cuddly, and they're hungry… for braaaaaaains! The ZOM plague has begun. Watch out–they'll steal your heart, along with a few other choice body parts. Get T-shirts, buttons, prints and stuffed zombie plushes! ZOMs – Plush Zombies. They'll love you, to death.