Aces and Eights Reloaded–The Kickstarter
The Aces and Eights Reloaded Kickstarter just went live and I am honestly shocked.  Shocked because, while "Aces and Eights" hit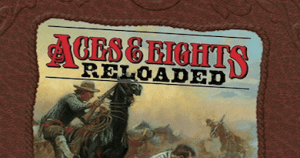 my game table years ago, it was one of those games that just seemed to…fade..away. It did not get a dramatic cancellation or sold off to another company. Books just stopped.
That said, Kenzerco jumped into the Kickstarter world with "Aces and Eights Reloaded," the second edition. The Kickstarter already surpassed the funding goal of $20,000 and will fund in 40 days. I expect this KS will go fairly high as this game as amazing appeal, both in terms of them and presentation. Truly of the most attractive RPG books I ever saw on a game table.  The leather-bound (fake leather, but looks good) in particular caught my eye. The KS also includes the option to pick up the super-delux version of the book. I especially enjoyed the option to get your picture in the main book. I look good in a cowboy hat.  Kenzerco threw in a lot of the extra books and the skirmish game as well. The Kickstarter looks quite tempting…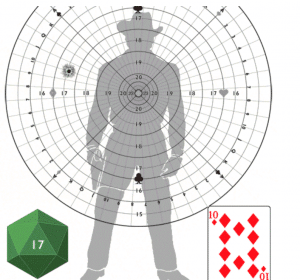 Unless the mechanics change significantly (and the summary suggests they do not) I recommend you check out my review of the first edition "Aces and Eights" game I wrote up a few years ago.  The "shot clock" and the setting appear the same, so it is a good introduction. One thing to keep in mind is this game is the most lethal game I ever played. Period. It makes "Boot Hill" look like a game of flag football! Still, it was a hoot to play and "Westworld" does open up some options for a setting….
I am already well-supplied with first edition "Aces and Eights," but I look forward to checking this one out when it hits the shelves.
Trask, The Last Tyromancer