Fakiness: Bring Back Tripping in 4th Edition!
This post is not about old vs new school. It is not about game balance or appropriateness. Nor is it about ho accurate the rules are in simulating "reality" in 4th Edition Dungeons and Dragons. It is about fakiness.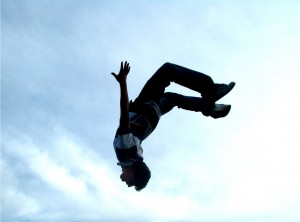 "Fakiness" is my term for the ability of any role-playing game to accurately simulate the completely unreal fantasy worlds that players aspire to experience. If you are playing in the standard elf-ridden, high magic, medieval England clone, then the role-playing game system needs rules to accommodate the tropes and trappings of that world, such as elves, magic, impossible combat maneuvers and other feats of derring-do.
These rules allow players to experience the world that lives in their heads, based on their personal experience and cultural inputs, like movies and books. Should the game system omit a key point, say magic as an example, the game is worse for it.
Herein lies my complaint; why the hell can't I trip anyone in 4th Edition? Wait, before you start flaming me in the comments about how you can trip in 4E, read on. I do not want to hear about some "Dragon Magazine" article, supplement or feat that allows a "once per encounter" trip attempt by a specific character. I want every single character to have tripping. Look at the source material! Virtually every movie or book in the fantasy genre has at least one character at some point in the story tripping a bad guy at a critical moment. Usually the tripper is a non-combat character who just gets lucky, saving the designated hero in the process.
Fakiness demands that the peasant child should be able to trip the villain as he runs past to slay the designated hero. What are beautiful, but non-combatant princesses to do without a comely leg to hinder an attack? What about the dark stranger with a mission that does not want to reveal himself to the PCs just yet? How can he help them in combat? Easy, stick out a leg and foil a back-alley ambush.
All of which is impossible in 4th edition without a specific character class or a feat chain. I am especially annoyed because of the list of "universal" combat maneuvers that all PCs get.
PCs may:
Bull Rush
Grab
Charge
A halfling can try to grab a mighty knight, but he cannot trip him? Where is the fakiness in that? Yes, I know trip is relatively powerful, since it can limit actions in the next round. In the overall structure of a 4E combat, I cannot fathom how it would make a huge difference. It costs the victim a move action to stand up, annoying certainly, but not game breaking.
Let us all inject some fakiness back into our 4E games and bring tripping back to the table.
Trask, The Last Tyromancer