Trion Worlds v. Palladium Books Trademark Counter-Suit
The lawsuit filed by Palladium Books against Trion Worlds over the "Rifts" trademark case is over. The judge dismissed it last week for lack of jurisdiction. This week we see movement on the counter-suit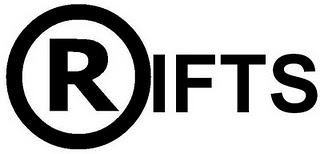 filed by Trion Worlds against Palladium Books regarding the same trademark in a California court. Trion argues that the trademark "Rifts" on video games is not a valid trademark. Specifically, Trion contends that Palladium provided insufficient evidence that they produced digital games based on the "Rifts" trademark to the USPTO to sustain the trademark.  In fact, Trion uses the word "fraud" several times to describe the evidence Palladium provided to the USPTO . Here is what Trion asked for from the court.
A. For a declaratory judgement that:

1. Trion Worlds has not and does not infringe any of Palladium Books' rights in the Marks and has not and does not engage in any false designation of origin or unfair competition under 15 U.S.C. & 1114, 15 U.S.C & 1125; and

2. Palladium Books' '353 Registration is merely descriptive, lacks secondary meaning and is not entitled to trademark protection under the Lanham Act or common law.

B. For an order canceling Defendant's Registered Trademarks Nos. 2,045,806; 3,036,181; and 3,213,944 under 15 U.S.C & 1064 and 15 U.S.C & 1119.

C. For costs;

D. For such other and further relief as the Court may deem just and proper.
The Trion requests are broad and potentially very damaging to Palladium. The first request kills any hope of a re-file of the Palladium lawsuit. Secondly, stripping  trademark protection altogether completely eliminates any future issues with the trademark for Trion and the final request asks Palladium for court costs.  Orders granting the first two are bad for Palladium, but paying Trion's court costs (the cost of which is unknown) is a potentially painful penalty to Palladium.
Here is the original filing.
Trion_Worlds_Palladium_Books_Countersuit
I will continue to monitor the case as it proceeds.
Trask, The Last Tyromancer