Palladium Books v. Trion Worlds Inc. Rifts Trademark Case Resolved!
Update: The judge signed the order today. The case is dismissed!
After months of wrangling, the trademark case between Trion Worlds Inc. and Palladium Books is effectively over. For those just joining this legal party, Palladium Books sued Trion Worlds Inc. over its use of the term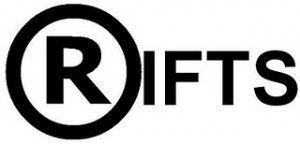 "Rift" in the new MMORPG "Rift: Plane of Telara."  Trion Worlds counter-sued.  You can read the story from the beginning by starting from my first post on the issue.   Today, Trion Worlds Inc. and Palladium Books submitted a "Joint Stipulation of Dismissal" to the federal court.  Here is the full text of the very short filing.
Pursuant to Federal Rule of Civil Procedure 41(a)(1), the parties to the above action hereby stipulate that this action and all claims and counterclaims should be dismissed with prejudice, with the parties to bear their own fees and costs.
Assuming the judge approves, this will end the lawsuit.  Since both parties requested the dismissal, I find it highly likely that the court will approve. I am very curious about what the final settlement entails. Since there is no more lawsuit, whatever negotiations took place between the parties is likely to stay secret forever. I expect some press releases from both parties after the judge signs off on the dismissal. I will keep you apprised if I hear anything.
Trask, The Last Tyromancer