New Wings of War Revised Deluxe Set is My Next Game Purchase
I am a big fan of "Wings of War" and Nexus Games has  a new version of the basic set on the way.  Oddly, I never bought the basic set when it first came out. I just bought some planes and used a friend's basic set for the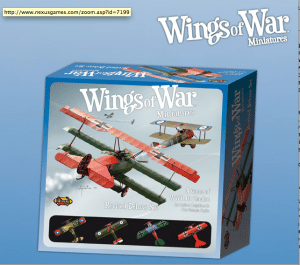 rules. After two major "Wings of War" battles at Gen Con and countless skirmishes at home, I now feel the need to acquire the new Deluxe set.  The rules and cards are nice, but I do not have any of the included models, especially the "Red Baron" on my airfield. This item is a very easy sell for me.
If you are not familiar with this game, I highly recommend you check it out. Wings of War combines dead simple tabletop miniature mechanics with fast-paced aerial combat.  If nothing else, the miniatures have great utility for early twentieth century  role-playing campaigns or even steampunk. Might make a fun "Call of Cthulhu" encounter…
I leave you with a few shots of the included  miniatures.
Last, but far from least is the Red Baron himself!
Trask, The Last Tyromancer