2010 Holiday Gamers Gift Guide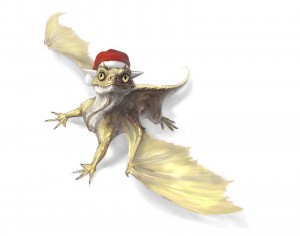 The Holidays are upon us! Need that last-minute Christmas idea? Need to find something fun to spend your Hanukkah gift card money on? Or are you like me and just buy yourself what you want for the Holidays? Well we are here to help. Below are my top picks for some great games that may have missed your radar.
For Under the Tree
Dungeons & Dragons: Castle Ravenloft Board Game by Wizards of the Coast.
This game had given me mixed emotions this year. I was excited when It was first announced, for it was Ravenloft, the world I love the most. I was upset when I first found out the game was based on D&D 4E rules, because I thought I wanted a different board game experience then that. However, I was re-excited when I actually played the game, because it is GOOD! The modified 4E rules makes an excellent boardgame. Its fully customizable and easy to design your own adventures or create your own components. It is a great board game to bridge the gap between your RPG friends and your Board Game friends. And best of all, you can play it as a 1-player solo adventure. And the game actually works really well in this mode (though I found it sad that I had no one to brag at, after i landed my killing blow). This is a Co-Op game, which is the hot stuff now. This game is definitely worth a grab.
Shootin' Ladders: Frag Fest by Smirk & Dagger Games
Now to the opposite of the co-op game, a backstab and kill all your friends game. Take a first-person-shooter video game, rip it out, throw its essence into gingerbread men, and throw them on the old-school Shoots-and-Ladders board, and you have a recipe for cookie carnage. I first played this game at GTS this year, then again at Gen Con. This game blew me away (literally). A great party game or a "waiting for the rest of your friends to show up" game. Basically, everyone assumes the role of a gun-toting gingerbread man on a conquest to be the last-cookie-standing. You pick up equipment and ammo along the way, and take cover behind obstacles on the board where possible. Everyone has a small character sheet, similar to MechWarrior, that tracks damage to parts of the body. The best part, when you deliver the killing blow to one of those body parts, the part is ripped off the character sheet and given to you as a souvenir. I love the small of frosting in the morning! It smells like…[sniff, sniff]… victory.
Stocking Stuffers
Poo: The Card Game by Wildfire LLC (Published by Sandstorm Productions LLC)
Poo is one of those games that I constantly look for. Games that gamers can play with there non-gamer friends/family and both parties enjoy it. And what can be more fun then monkeys throwing their feces around the table? In this fast-paced card game, each player takes the roll of a monkey, with the cleanest monkey being the winner. There are poo throwing cards, defense cards, cleaner cards, and event cards. You will be playing this game in minutes, and playing for hours. Great for kids and great for parents.
Back to the Future: The Card Game by Looney Labs
In celebration of the 25th anniversary of Back to the Future (dang, has it been that long?), Looney labs has taken the engine of their popular Chrononauts time-travel game and repurposed it for B2TF. The idea behind this game is that you have a timeline of events laid out on the table. You are a descendant of one of the characters in the movie, and you have to alter this timeline so important events happen in your favor. The first to do this wins. This game covers the entire timeline of all three B2TF movies, and is a lot of fun to play as a fan.
Digital Gifts for Friends Far Away
Age of Cthulhu: Horrors from Yuggoth by Goodman Games
Earlier this year, I reviewed volume 3 of The Age of Cthulhu line, Shadows of Leningrad and found it to be a fantastic supplement. I am pleased to say that volume 4, Horrors from Yuggoth, stays true to its lineage. Designed to run on Chaosium's BRP system and the Call of Cthulhu RPG, this chapter brings you to Norway on an international rescue mission to find famed arctic explorer pilot General Umberto Nobile. Set in the 1920's this adventure is colored with real historic elements. But in that history, you have all the intrigue, adventure, and Cthulhu culting that you have come to love in this series. While available in book form, it is also available in digital form for easy gift-giving.
Freeport Companions by Green Ronin Publishing
In the times of 3.x D&D, the world of Freeport was one of my favorite locals. Pirates, Blunderbuss, and Krakens, oh my! Well this world is still alive and well. Designed to work with their The Pirate's Guide to Freeport book (which is a good gift as well), their companion books are designed to bring these rules and mechanics to various game systems. Currently available are Companion books for 3rd Era, True20, Savage Worlds, Castles & Crusades, and now Pathfinder. I applaud Green Ronin for taking their great product and giving it life in many other systems. All of these products are available in PDF format.
I hope all of readers have a save and enjoyable Holiday season. Please post in the comments what kind of gaming gift you are passing around your table this year?
Stuart