Game Day Report – The Dragon Age RPG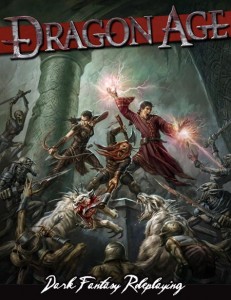 I am in love! Maybe it is a Valentine's hangover? Nope. Maybe it is the beautiful Arizona winters? Nah. Maybe it is puppies and kittens, unicorns and rainbows? Oh heavens no. It is sword and steel! It is blood and vengeance! It is the coming of the Blight! It is the Dragon Age Roleplaying game! I have spent about 12 hours over the last few weeks playing with the new RPG love of my life!
There has been no hiding my passion for the Dragon Age video game. After the game, I moved into the novels and graphic novels. I dream of one day seeing the Realm of Fereldon on the Silver Screen! Yet, with all the Dragon Age in my life, I never tried out the RPG. And shame on me, I listened to the naysayers. "This is too simple of a game" or "This is a game to get beginners into the RPG hobby" were frequent summation of this game.
Friends, this is NOT TRUE. Well, at least not fair, as a beginner can very easily play this game. DA:RPG's beauty is in its simpleness. It is a very powerful, flexible, and adaptable system, set in an amazing world! I don't understand how being simple is a bad thing for a game? For starters, I was able to sit down and make a character in about 15 minutes. 10 of those minutes was me pondering my many choices of a background. And in another 10 minutes I picked up  the rules. Never read the book, don't even own the book (yet). And I have easily played through several games with no issues.
I will review the material in-depth once I am able to spend some quality time with the book and the rules. But, at its core, there is really just one primary mechanic. You are doing something, so you roll your skill for it. Fighting, climbing a mountain, tracking a grizzly bear uphill through the woods after a hard rain using only the smell of its poop. Whatever you want to do, it is the same mechanic.
And here is the important thing people. This is the part that ticks me off when someone writes-off a game for being too "simplistic". This is a ROLEPLAYING game. The idea is to role-play, get into the story, tell your tale in a shared experience, use your imagination. If you have no imagination and need to rely on rules to help you play, maybe you need to re-think your choice of hobbies? The more rules you have, the more the rules get in the way. This does not happen at all in Dragon Age. With a table full of people who never played before, do you know how many times we had to stop and look up a rule? Well, not zero, but it should have been. It was once. But that is only because we forgot the cardinal rule. I think the rule was tripping or disarming or some other combat tactic. We didn't know how to do it, so we looked through the book looking for the rule. WRONG. We forgot the skill system. We just need to roll an appropriate skill vs the targets skill. But still, 12 hours of gaming, and only 1 stop to look in the rule book? Try that with any other RPG and a table of newbies.
I look forward to my next game day with Dragon Age. Green Ronin has done a fine job with this RPG, and I look forward to the next box-set coming around March with  the release of the next Dragon Age video game installment. As I said, I am in love. I will most definitely be talking more about Dragon Age RPG in the future.
Stuart