GAMA Trade Show 2011 Exhibitor Coverage – Part 13
Today's GAMA Trade Show 2011 exhibitors include Green Ronin, Bandai, Three Sages Games, Gamers Rule, and Cactus Game Design Company
Green Ronin had a nice spread of all there recently released books.  And they seem to have new stuff around every corner.  Most exciting (to me at least) was the Dragon Age RPG: Set 2. Expect full coverage of this when it comes out. Also coming soon is the 3rd Edition Mutants & Masterminds Game Master's Guide, DC ADVENTURES: Heroes & Villains, Vol. I, and exciting things for the A Song of Ice and Fire RPG.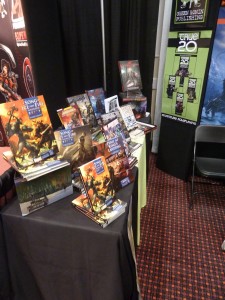 Bandai has the Naruto CCG set #20 that just released (I love the tag line.  "Where the fiercest ninjas are also the sharpest dressers) , #21 in May, and Chibi Tourney Pack #3 in July (great artwork on this one). Their hottest new release, Resident Evil [Deck Building Game] is not starting to come back in-stock at retail stores after selling out their initial run. There will be a new expansion coming out this month, and another in June (in this one, if you die you can come back as a zombie).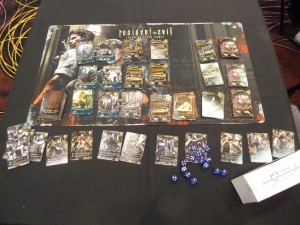 TSG's has a new addition to their plastic (foam backed) mapping tiles Mystic Woods (outdoor encounters, small cabin, skeleton of a dragon) and a Gigantic Cavern set. And of course, all of the sets use the same background so they mix and match well with their previous sets.
Gamers Rule
Gamers Rule has a new expansion for their Dungeon Deck Quests cards. If you are not familiar, this is a seven deck system that can create an adventure on the file in 30 seconds for any Fantasy RPG with dungeon delving. You flip the first card for a lure on why the PCs are there, the 2nd is the entrance card that describes the approach, the 3rd card is the overall atmosphere of the dungeon, the 4th card describes the rooms, the 5th card has a map, the 6th card is the challenge involved, and the final card is the treasure.  You just have to add the appropriate combat stats for the challenge card depending on what game you are playing. Their first expansion adds more advanced (high level) challenges.  The second expansion is just more cards for the decks.




Cactus Game Design Company
Cactus focuses on Christian Games. They have built up impressive partnerships, having Christian/Bible versions of Catan, Blink, Apples to Apples, Guesstures, Outburst, Scattergories, and more.  Their newest game is Bible Taboo. The Redemption Trading Card Game has a new booster coming out at their national tournament in August.
The next post on Monday is the "Best of Show" announcement! Stay tuned!