Review: Custom Dice Tray from Dwarvensweatshoppe.com
I have a problem with my dice. Notably, they are all made of metal. Heavy metal.  Specifically, my dice bag is all Crystal Caste Dwarven Metal dice.  I cannot use plastic/ceramic dice anymore. They feel cheap and bounce too much. The only downside is that metal dice can damage a table.
Normally this is not an issue when throwing them around at a game store. Cheap plastic tables are very forgiving of dents and scratches. Recently, I started playing in a home game at Haaldaar's house and he has a very nice table. A "do not scratch the table or my wife will kill you" table. We use coasters for our drinks.  Coasters! Oh the horror!
Such is the price of playing in Haaldaar's game. Rather than risk his wife's wrath, I borrowed one of Haaldaar's "off the shelf" dice trays. It is nothing special, just an octagonal wooden box with green felt.  Growing weary of this boring dice tray, I ordered up a custom dice tray from www.dwarvensweatshoppe.com . It arrived today and this is my review.
Note: Dwarven Sweatshoppe only accepts email orders. Click the link above to get the email address.
Full Disclosure: I paid full retail for this item and do not receive any benefit from either clicks or traffic that result from this post.
Upfront Review: Amazing craftsmanship! I am stunned by the quality I got for only $30.00 + shipping!  This dice tray is worth every penny. I would happily pay more for this lovely piece of woodwork.  If you need a dice tray, forget the green felt crap you see in game shops. Pay the extra money and get something worthy of your dice!
Read on for the full review: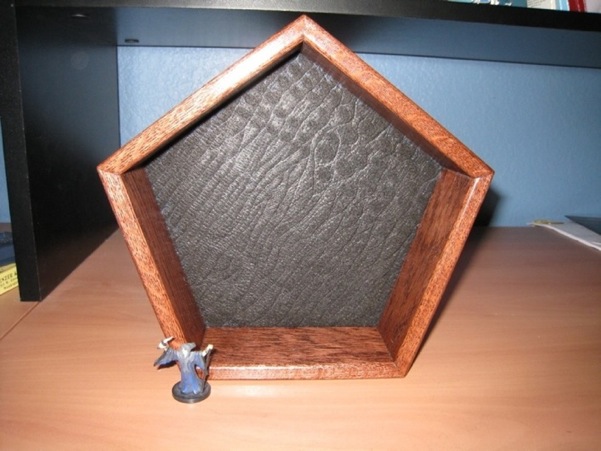 I included a standard 28 MM miniature for scale.
The walls are 2.5 inches ( 6.35 cm) tall and 1/4 inch (.635 cm) thick. The base and sides are solid and "feel" like quality wood. The tray weighs about a pound (.45 kilogram.) The tray is about 8 inches (20 cm)  long and 8 inches (20 cm) wide.
The felt looks odd because I chose the "black alligator" felt from the many options available on the website.  The wood is oak with  the "red mahogany" stain  option and is actually much darker than depicted. The flash lightens the wood color quite a bit. Check out this link for all of the options available. There are too many to list here!
Obviously, this is the "5-sided" shape, but 4, 6 and 8-sided styles are also available.
I should also mention that they offer some versions with designs carved in them. Not my style, but they looked interesting.
The bottom has a blue felt covering to protect your table.
As a child my father was a woodworking hobbyist, so I have some knowledge of woodworking. I could never actually do it, but I know good work when I see it. Take a look at this joint between two sections of the outer wall.
I know there is a seam at this joint, but I was very hard-pressed to find it. I really am quite impressed with the workmanship. In terms of durability, the wood is stained and coated with polyurethane. I threw some of my metal d20s at it and could not dent or scratch it. This bodes well for the lifespan of the finish.
The only negative that I should mention was a 6-week lead time between my order and delivery. Dwarven Sweat Shoppe indicated they were behind due to high order volume after the summer convention season. They did keep me up to date as to the status of my order and notified me when it shipped.  Considering the quality of this hand-made item, the wait was well worth it.
This is an impressive gaming accessory and is an amazing bargain at $30.00 + shipping.
Trask, The Last Tyromancer