Metamorphosis Alpha Arrives from Lulu
The  Metamorphosis Alpha game itself is all that I expected, pure old-school gaming. This is not really a review, just a report on the whole Lulu experience. Honestly, the production quality is much better than expected. My experience with print-on-demand ranges from acceptable to awful, so the quality of this book is a nice surprise. The color cover is a bit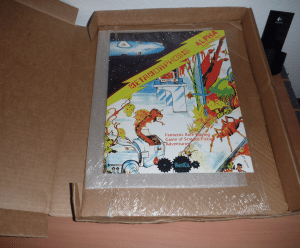 fuzzy, but the interior pages are razor sharp and very clean. Oh, check out the the apocalypse resistant packaging Lulu uses. Metamorphosis Alpha   arrived inside a box and shrink-wrapped to another padded piece of cardboard. I think it could survive reentry! A bit much for a 32-page book, but at least it arrived in flawless condition.
If you are a Metamorphosis Alpha fan and want a copy that you will not feel bad about losing in a tsunami of soda, then the Lulu Metamorphosis Alpha edition is a must-have item.
Trask, The Last Tyromancer.