Dungeons and Dragons Character Builder Beta is Out–A Solution Looking for a Problem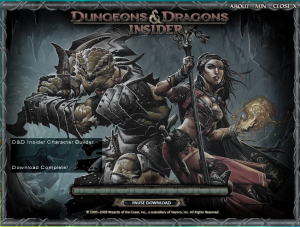 The Dungeons and Dragons Digital Insider Character Builder Beta released today.  I downloaded the package and created a character with it. Here is my first impressions.
It installed after about 20 minutes (mostly the .net install) and I was able to easily create a human fighter in about 5 minutes.  It works as advertised and produced a nice character sheet, but the interface seemed a little clumsy to me. Too much clicking to confirm your selections.
Functionality aside, I just do not think the software is really necessary or even a "nice to have" item.  "Wizards of the Coast" worked very hard making 4th Edition characters simple. So simple that having software to create a character is like building a robot to tie your shoes. Sure you could do it, but why?
I suggest you check it out for yourself and draw your own conclusions. The 3.5 OGL rule set's incredible complexity demanded this level of automation(Herolab), but I do not see the value under 4th Edition rules.
In the interest of full disclosure, I am an avowed 4th Edition skeptic  when it comes to the Wizards subscription pricing model. So take everything I say with a grain of salt on this issue.
Trask, The Last Tyromancer