Flogging a Dead Orc–When to End A Boring Combat Encounter
The  dead minions lie piled high in pools of blood.  A battered PC party stands before the wounded demon lord, weapons ready. Sensing defeat, the demon lord moves to his profane circle of power and begins healing.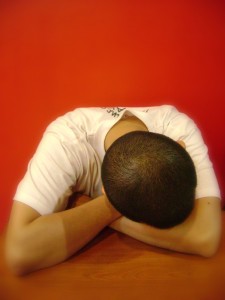 The battle continues…the players groan.
Combat is an integral part of many role-playing games.  It adds an element of risk, tactics and randomness to an otherwise sedate hobby. There is, however, the possibility of too much of a good thing. More precisely, combat encounters that go from challenging to tedious in a few short rounds. Often it is not the fault of the DM when the encounter goes stale. A combination of bad luck, bad encounter design or unforeseen game mechanics can make a good combat go bad.
Here are my thoughts on how to identify when an encounter goes flat and possible solutions besides just "calling it."
I refuse to set a "10 round" limit on an encounter. That is too arbitrary and many systems just take longer than others. Instead, I suggest that certain characteristic clearly mark when the encounter needs a "nudge to completion" from the DM.
Combat encounters are all about winning. Therefore, every round their must be a winner. One of the main reasons players lose interest is when they do 10 points of damage per round and the bad guy regenerates 10 on his turn.  Endlessly pounding on a bad guy with no results is disheartening and most importantly, dull.  Even if the bad guys wins for a few rounds, at least that will focus the player attention better than a dull status quo round.
Change is good in a combat encounter! Keep some variety flowing and keep the players motivated and interested.  I played several encounters where the monster, clearly doomed and incapable of significant threat to the PCs, insisted on fighting to the death. Normally this is fine by me, but game mechanics (insubstantial/regenerating creatures) greatly limited our damage. Many rounds later, with little threat of them damaging any PC, the entities died. For DMs, when there is no threat to death to the PCs, move on to something else.  Even if you want the PCs to expend resources during the adventure, do not make the players spend three hours of real time for the sole purpose of draining their healing potion supply.
Power/resources expenditures are also a great way to gauge how much longer the combat encounter should last. When the PCs are down to throwing rocks and harsh language at the enemy, a good DM will end the encounter. Not to pick on 4th Edition Dungeons and Dragons, but the extremely limited encounter/daily powers make for  incredibly dull combats after about 10 rounds. I played in a couple of games where most of the combat was every player using the same "at-will" power, over and over again. They simply had nothing else left.  Other systems have more options in terms of attacks, but you get the idea.
This last item is a personal pet peeve. It is so simple, yet I have countless examples of module writers and DMs repeating this mistake over and over again.
They make the monsters too hard to hit.  PCs that optimized their characters for combat have a blast. The remaining players sit on their hands for 3 hours during the combat waiting to roll a natural "20." This being the only way to hit the monster. Do not make your players go watch TV, keep them in the game. You are the DM, fudge the numbers and make the game fun!
Bottom line is that the DM needs to take control and really manage more than the NPC hit points. They need to manage the entire table so that everyone has fun. As long as you do that, everything else will go just fine.
Trask, The Last Tyromancer