The GAMA Trade Show 2014 Begins This Week
The annual gathering of hobby game retailers in Las Vegas begins tomorrow at the Game Manufacturers Trade Association Show  at Bally's casino. I covered the show for the past few years, but this year I am not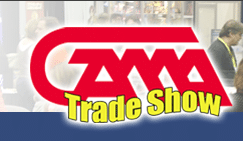 attending.  Which is a shame because, so far as I know, I am the only person that actually covered every vendor at the show and not just the "big" announcements from the top 5 manufacturers. This year is sure to be especially bad for smaller exhibitors because the 100-foot-tall radioactive juggernaut of doom is arriving: 5th edition Dungeons and Dragons (or whatever Wizards call it).
Wizards of the Coast is sure to "win" the show with a first look at the new books and miniatures for the latest iteration of D&D.  Sadly, there are many more vendors that the gaming journalism community simply ignores because their products do not draw enough eyeballs to a site. Fresh ideas be damned!
I cannot really do anything about it this year, but at least I can repost the list of attendees.  Take a look and see if your favorite companies are exhibiting.
Perhaps I can attend next year and give these companies the attention they deserve.
Trask, The Last Tyromancer
1-A Games
602
Konami
206
8th Level Entertainment
622
Koplow Games, Inc.
320
ACD Distribution
307
Krazy Kinfolk
619
Acrylicos Vallejo SL
319
LightSpeed
129
Action Sports Cards & Collectibles
228
Lion Rampant Imports
326
Alderac Entertainment Group (AEG)
120
Lock 'n Load
225
All Over the Board Games

525
Looney Labs
227
Alliance Game Distributors
205
Magazine Exchange, Inc.
429
Arcane Wonders
110
Maranda Enterprises, LLC.
533
Ares Games SRL
323
Mayfair Games
201
Asmodee Editions
502
Mirror Box Games
611
Atlas Games
513
Monster Protectors
116
Baksha Games
334
Monte Cook Games
318
Battle Foam
510
Mr. B Games
608
Blue Orange Games
422
MYNDzei Games
523
Bushiroad
112
Nested Egg Gaming
531
Catalyst Game Labs
220
Ninja Division
601
Chaosium Inc.
532
North Star Games
415
Cheapass Games
515
OffWorld Designs Inc.
124
Chessex Manufacturing
  91
Outlaw Miniatures
417
Chivalry Games
621
P.O.W.E.R. Core Games
418
Christian Haven
620
Paizo
102
Collins Epic Wargames
516
Palladium Books
332
Common Ground
528
Passport Game Studios
133
CoolMiniOrNot
501
Pastimes
514
Critical Success
614
Peachstate Hobby Distribution
419
Cryptozoic
101
Playford Games
527
Crystal Caste
108
Playroom Entertainment
410
CrystalCommerce
403
Power 9 Pro
613
Cubicle 7 Entertainment
121
Publisher Services, Inc. (PSI)
125
Dapper Devil
234
Queen Games
315
Days of Wonder
308
Q-Workshop
520
Eagle Games
126
R & R Games
333
Eden Studios
610
Red Raven Games
130
Edutainment
526
Sign in Blood, LLC
530
E-Figures
236
SMART Toys and Games Inc.
507
Enter-Play
426
Southern Hobby Distribution
219
Existence Games

618
Star City Games
433
Fantasy Flight
231
Steve Jackson Games
123
Flying Buffalo
512
Stone Blade Entertainment
137
Flying Frog Productions
411
Strange Magic Games
420
GAMA
100
StuntKite Publishing
521
Games Salute LLC
412
TableTop
434
Games Workshop
301
Tasty Minstrel Games
336
GameStation
606
TCGPlayer.com
324
Gen Du: The Gentleman's Duel
617
Trippie Games
612
Gorilla Games
237
Twilight Creations Inc.
600
Greater Games Industry
331
Upper Deck
215
Green Eye Games
626
USAopoly
524
Green Ronin Publishing
518
Victory Point Games, LLC
425
GreenBrier Games
321
WarPath Game Distributors
432
Griggling Games Inc.
609
Warlord
430
GTS Distribution
131
White Wizard
616
Hairbrained Schemes
233
Wizards of the Coast
  90
Hawk Wargames
517
WizKids
209
Hobby-Q/Reaper Miniatures
118
WorldWise Imports
111
IDW Publishing
327
Wyrd Miniatures
106
Iello
107
Z-Man Games
203
Imbalanced Games
607
ZiKo Games
624
Impressions
115
Zvezda
506
Japanime Games
500
Jasco Games
427
GAMA Service Provider Kiosks
The Legend Group
Reg Desk
Service Tables
Homeland Security
Reg Desk
KC Store Fixtures
GAMA Programs
Reg Desk
Beckett Grading Services
Cynergy Data
Reg Desk
OOMBA