GAMA Trade Show 2011 Vendors and Exhibitors Link List–Updated
Next month is the Game Manufacturers Association trade show, covering all aspects of gaming from card and board games to role-playing games and game printing. So, it is time again for my yearly link list of all the exhibitors.   This year's list of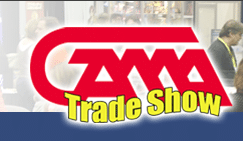 exhibitors is  shorter than last year's list. Shorter than I expected, but more companies will finalize plans in the coming weeks, so the list will grow.  The usual suspects are in attendance (WOTC, Wizkids, Wyrd) , as are some new faces I have never seen at the show before.   New companies are always exciting and I look forward to checking out their wares.  In an interesting coincidence, Outrider Hobbies and Battle Foam are both in attendance as well. Given their legal entanglements last year it could  be interesting.
As usual, I am missing some company's sites, so if you know the link for a missing link, drop me a comment.
Also, if any attending exhibitor would like to put up a small banner and not a text link, please contact me.
See you in Vegas!
Update: GAMA released an updated list and I have added them here as well.
If you find this list useful, please take a moment to visit the sponsors that made our coverage possible.
Trask, The Last Tyromancer
Action-Sports
Active Mind Games AMG
Armstrong Forensic Laboratory Inc ( This not a game company.   I investigated and AFL performs CPSIA toxicity testing for imported toys, in addition to their normal work.)
Bereb Enterprises
Cepia Games
Cleveland Kids LLC
Digme Productions
Face to Face Games
FaceEater
Gamebrotherz
Gamers Rule
Gamestation
Glowfly
Gorilla Games
Greater Games Industry Catalog
Hobby Manufacturers Association
MERCS
Owl's Nest Games LLC
RPS Games Ltd.
Smart USA
Square Shooters
Time Warp Publishing
WildThing Games
Wizards of the Coast 215
Wizkids 419
Zoki Games