For-Profit Conventions and Volunteer Staff–The End of an Era?
Conventions, once the realm of a few friends and a horticultural hall are now monstrous, thriving businesses. The advent of  for-profit gaming and comic book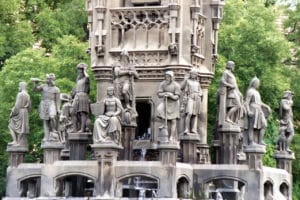 conventions brought about an era of unprecedented growth and scale to the gaming/comic convention scene. Professional management combined with passionate volunteers produced amazing conventions and events.  Everybody was happy. The production company made money and the volunteers got some perks for helping out.
Not that I am particularly prescient, but several years ago I mused that the volunteers might revolt once they figured out how much money some conventions were pulling down and they were slaving for t-shirts and a free badge. This conflict has come to pass.
Emerald City Comicon and WOTC both have pending lawsuits from volunteers claiming they are actually "employees" and should be treated as such.  "Employee" is a very specific term that has  responsibilities for the employer and stiff penalties for failing in those responsiblilites.  There is real money at stake in the lawsuit, as there are thousands of potential "employees" that might claim back pay or fines. The article notes that San Diego Comicon is a non-profit, so it does not run afoul of these issues.
This article arose from an email sent today by Phoenix Comicon. Here is the full text:
Square Egg Entertainment, dba Phoenix Comicon LLC, Partners with Blue Ribbon Army Social Club

Blue Ribbon Army, a 501(c)(7) nonprofit social club, creates committee to organize and staff Phoenix Comicon, Fan Fest, and Keen Halloween

Phoenix, AZ December 29, 2016:  Earlier this year, principles at Square Egg Entertainment and Blue Ribbon Army met to discuss a possible partnership for event planning, promoting Blue Ribbon Army, and offering added incentives for those currently assisting with Phoenix Comicon. In response to these meetings, Matt Solberg, Matt Hinds, and Jen Hinds collectively formed a social club and applied for 501(c)(7) status for the Blue Ribbon Army Social Club, incorporated March 15, 2016. Board members of the social club are Matt Solberg, Joe Boudrie, and Matt Hinds. Matt and Jen Hinds are the President and Vice President of the club, respectively.

The Blue Ribbon Army is a social group primarily dedicated to creating a safe, geek-friendly atmosphere where like-minded individuals can meet new friends. The Blue Ribbon Army, in accordance with federal guidelines for nonprofit social clubs, will charge membership dues, will host a minimum of one social event per month, will participate in community events, and will host fundraisers for its chosen charities.

One of the community events in which the social club has elected to participate is Phoenix Comicon, and has formed a committee to that end. Square Egg Entertainment will no longer recruit its own staff for its event production. Anyone interested in helping to support this event, and all staff for Phoenix Comicon, will be members of this committee, and of the social club. Participating on the Phoenix Comicon committee is not a requirement of membership in the Blue Ribbon Army, and membership is not required to join the Blue Ribbon Army Facebook group.

This change does not affect panelists, guests, vendors, or sponsors, though any of these are welcome to join the social club and we encourage corporate memberships.

Square Egg Entertainment and Blue Ribbon Army look forward to a long and successful partnership and to our first joint event. Blue Ribbon Army membership information, benefits, and events are available on the website at

www.blueribbonarmy.com

.
Phoenix Comicon appears to be concerned enough about volunteers becoming employees  to join forces with a group that  is "in accordance with federal guidelines for nonprofit social clubs." Which creates the odd situation of volunteers paying yearly dues to join a group so they can volunteer at Phoenix Comicon and work for free.  Additionally,  "Matt Solberg" is listed as a board member for the "Blue Ribbon Army" and as the owner of "
Phoenix Comicon, LLC
."  Both groups share the same mailing address as well. The WOTC link above mentions that a WOTC employee also sits on the board of the  volunteer organization that subsumed the "Magic: The Gathering" judge cadre.
There is nothing inherently sinister with this as both companies are trying to comply with federal law, but I wonder if these volunteer organizations are legally "separate" enough to avoid issues.  I have no idea, that is up to the lawyers.
For my part, my real concern is Gencon.  Gencon is a for-profit enterprise, but runs on an army of volunteers. I am very curious to see how they handle the issue.  What about the people running games? Are they potentially in this pool of employee/volunteers as well?  I suspect it will be a long, brutal legal fight before anyone has the answers to these questions. I will keep you apprised.
Trask, The Last Tyromancer