Review: Wet/Dry Erase Cave Tile Mapping Set from 3Sages Games
3Sages Games just released a series of tile sets for tabletop role-playing games for their pending "Realms of Wor" game. I was never a big fan of dungeon tiles, but these claim to support both wet and dry erase pens and have a non-skid backing, so I picked up a set.
Full Disclosure: I paid full retail from a local game store for this tile set. I do not receive any benefit from any sales of or links to this product.
Upfront Review for the Impatient: The tile set does support dry/wet erase markers with no issues. Art on the tiles is good, but nothing spectacular. Sadly, the flimsy, paper-like nature of the tiles makes handling them on a game table difficult. Long-term use will require adding some cardboard to the back to make them easier to handle. These factors, combined with a $15.95 price tag for only 16 tiles make this item something to avoid.
Wandering into my FLGS today, I ran across this item and it caught my eye.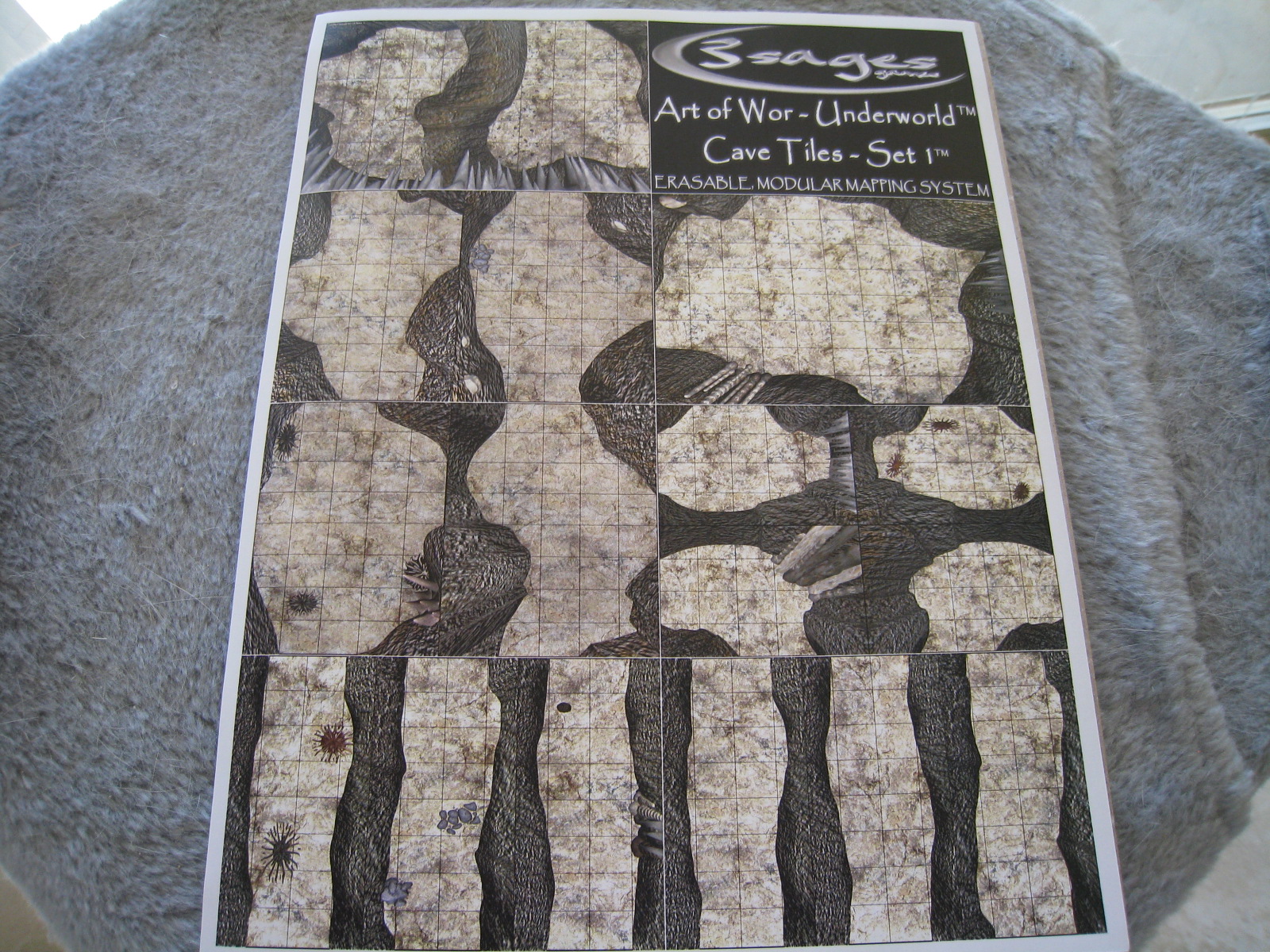 I avoided buying any of the WOTC dungeon tile sets because I did not like the fact you cannot write on them. This set claimed that I could write on them with either dry or wet erase pens. $15.95 later, I had my tiles. The set contains 16 tiles of various sizes, each with a different cavern graphic printed on them with a 1-inch tactical grid overlay.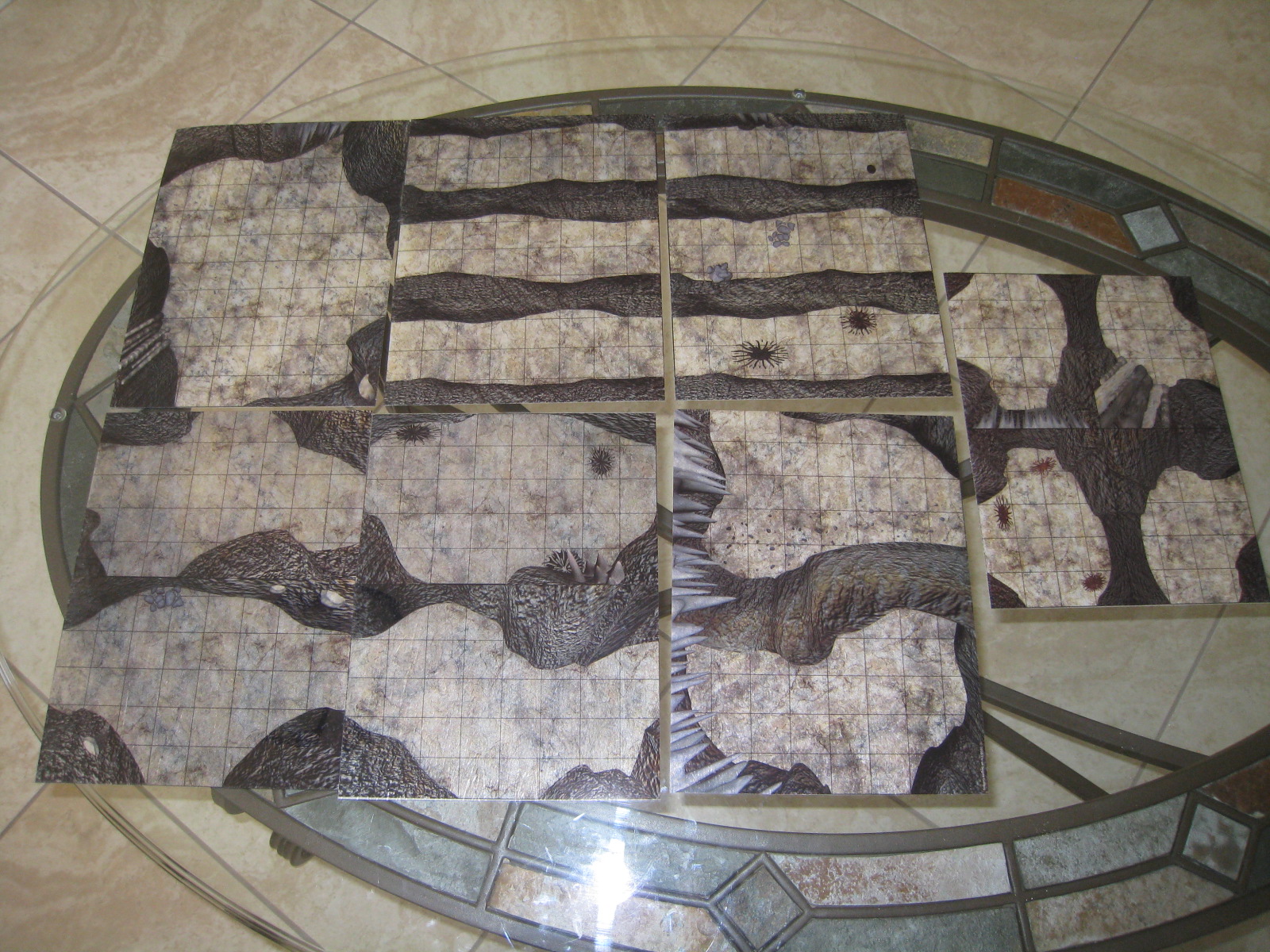 Some assembly is required. Several pages have multiple tiles printed on them and they are not pre-cut. The material used for the tiles is some kind of thin, pliable plastic, backed with a very thin layer of foam. A regular pair of scissors cut it easily and soon I had some cavern hallways.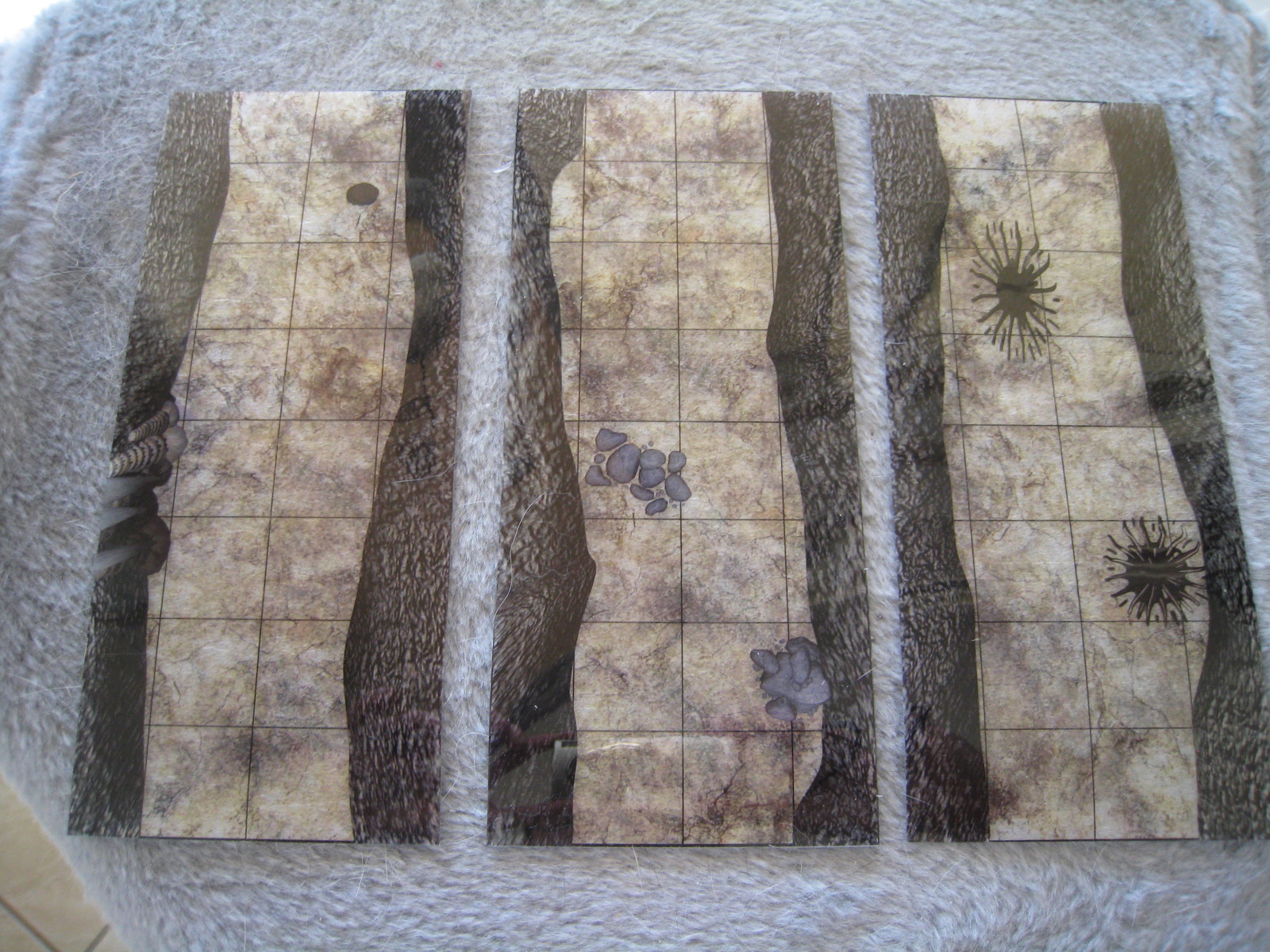 I tested the tiles with dry and wet erase markers and they worked as advertised. Both types of markers came off easily with little effort. The plastic is very strong and I could not tear or rip it. They are also water-resistant, so the occasional soda spill will not damage them. My issue is not with the tile's construction, but their usability. First, the non-skid foam backing does not work very well. I tried it on a glass table, wood table and a plastic battle mat and the tiles slide relatively easily. This is a real problem during complex, heated combats with lots of players touching the board causing "player quakes." Second, the tiles are almost paper thin. They lay so flat that I had issues picking them up and then it usually involved "crumpling" them to find a good grip. The tiles took the abuse fine, but it does make precision handling of the tiles difficult.
These tiles beg for a cardboard backing to raise them off the table for easy handling and to give them some weight to reduce movement during combat. It is an easy task with a little glue and some card stock, but it would be nice if they came with it already done.
While these tiles are a nice idea, the implementation leaves much to be desired. I am sticking with a marker to create my dungeons.
Trask, The Last Tyromancer