iPulpFiction.com Launches Pulp Magazine Kickstarter
iPulpFiction.com   launched a new Kickstarter project to convert old pulp magazines to a digital format.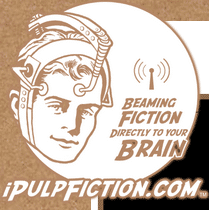 Pulp, for those of you that grew up after about 1990, were cheaply published weekly or monthly magazines full of high adventure, dangerous detectives and loose women.   Much of what we now call sci-fi, noir and fantasy has roots in these magazines. For my part, I grew up on a steady diet of Edgar Rice Burroughs (Tarzan!), and H.P. Lovecraft. Both of whom found their start in early twentieth century pulp magazines .
Sadly, much of this genre, excluding crossover successes like Conan or Tarzan, deteriorates unread in dank garages and attics. Much of it is long out of copyright, but needs someone to scan it, reformat it and get it on the Internet.  It is a worthy project that I will be supporting.
Here is the press release:
It's a literary legacy that was the source of countless film and television shows like Amazing Stories, Buck Rogers, Doc Savage, Perry Mason, Tarzan, and Zorro.  Even today it influences directors such as Quentin Tarantino, Shane Black, the Coen brothers, and Steven Spielberg. 


A Legacy in Danger

Pulp fiction magazines were a huge part of American pop culture in the first half of the twentieth century. If you have any doubts about the importance of pulp fiction in American literature, here are a few pulp authors you may have heard of: Isaac Asimov, Charles Beaumont, Leigh Brackett, Ray Bradbury, Max Brand, Edgar Rice Burroughs, William S. Burroughs, Raymond Chandler, Agatha Christie, Arthur C. Clarke, Joseph Conrad, Stephen Crane, Lester Dent, Philip K. Dick, Philip José Farmer, C. S. Forester, F. Scott Fitzgerald, Erle Stanley Gardner, Zane Grey, Dashiell Hammett, Robert A. Heinlein, O. Henry, Frank Herbert, Robert E. Howard, L. Ron Hubbard, Rudyard Kipling, Louis L'Amour, Elmore Leonard, Jack London, H. P. Lovecraft, John D. MacDonald, Richard Matheson, Johnston McCulley, Ellery Queen, Upton Sinclair, Mickey Spillane, Tennessee Williams, and many others who will be forgotten if their bodies of work are not preserved.

Collectors may preserve physical copies of pulp magazines, but the volumes are slid into archival sleeves and stored in a dark place. The literature in those magazines is very rarely read. And even in their protective cases, the magazines' poor quality pulp paper is slowly disintegrating.

Time is running out to save the works of these authors.

Preserving the Legacy

The iPulpFiction.com Pulp Preservation Project [view demo] is about bringing this wealth of forgotten American literature to the mobile generation. Our objective is to preserve the legacy of an entire class of literature. Many of these stories have never been reprinted since their original publication, making the Pulp Preservation Project a rich research tool for scholars as well as a boon to pulp fans and casual readers.

There will be two sets of classic pulp collections on the site: The free public collection of public domain issues and the premium all-you-can-read subscription service of copyrighted content licensed from premium content holders such as Steeger Properties, LLC and Altus Press.
Be sure to check out the Kickstarter!
Trask, The Last Tyromancer