Vampire, the blood-sucking predators of ancient myth appear in some form or another in almost every culture. Creatures that shun daylight and stalk humans as prey. Unstoppable,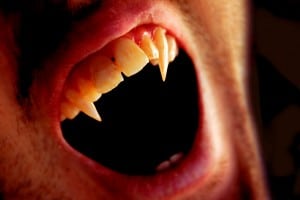 inhuman and utterly terrifying, vampires rightfully earned their place in millions of nightmares.
Role-playing games, almost from the beginning, included these fiends in the list of things that need killing. Many an adventure began with PCs desperately seeking out a murderous vampire's lair and hoping to get there before sundown. Because as the sun set for another night, the vampire rose with his full complement of powers and an insatiable hunger. Pure predators with no soul, no conscience and endless time to sow evil. They were, in a word, bad-ass!
Today, modern pop culture offers a new niche for the venerable vampire to fill.
Boyfriend.
Yes, the horrific undead lords of old now feast only on animals and seem to enjoy platonic relationships with teenage girls. Even excluding the execrable "Twilight" series, my bookstore overflows with vampire-as-romantic-hero themed novels.
Mighty villains reduced to simpering, effete, self-loathing metrosexuals is simply wrong. Really, do you think any vampire woke up one morning and said," I am so miserable, the supernatural beauty, immortality, super-powers and an endless food supply grow so tiresome. I think I shall go back to high school."
Somehow I doubt that.
Well, no more I say! It ends here!
Since I cannot end Stephanie Meyer's reign of pop-culture terror regarding vampires, I ask that each and every game master that reads this post run a vampire encounter in the near future and prove once again that blood-sucking undead deserve some respect. Do not just beat up the PCs either, have your vampire snack on a convent full of nuns, wipe out a pre-school, murder pacifists and then finish up by eating the party's favorite NPC and hanging the corpse up in the local temple. Seriously, really kick the puppy on this one. It is almost impossible to go over the top.
Will it make any difference in the greater culture at large? Probably not. But for that one session, a group of people once again face a vampire as they should be, fearless,  unrepentant and hungry.
Trask, The Last Tyromancer