Ex-Illis Mustering Tool and Mac Client Released
Ex-Illis, Bastion Studio's  software-driven miniature war game has added a mustering tool to their website.  I initially logged in to my account to get the Mac software package and discovered I could muster my units into different configurations and there have been some interface improvements. I thought I would share images of the mustering system and my thoughts on the new features.
Here is the initial Ex-Illis unit collections screen that appears when you login.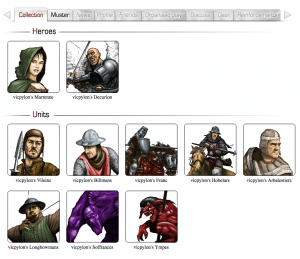 The muster screen is a bit odd at first, but it makes sense once you click on the detail screens. Each circle represents an army configuration summary. The green blob in the center is the relative strengths of that army.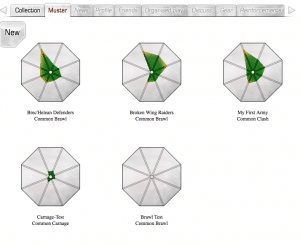 Here is the detail screen to explain what the colors mean on the front page.  More color towards a given spoke on the wheel means your army is relatively stronger in that area. Once I memorize the locations, those colors make it dead easy to pick the correct army for a given battle.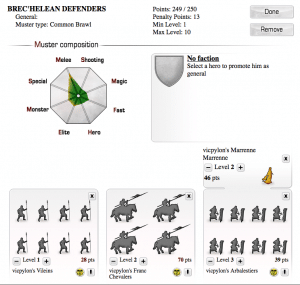 The army builder uses a point-buy system to determine how many unit you can bring to a battle. Ex-Illis units earn experience for each battle, so they have  levels like a character in an MMORPG or a tabletop RPG.  This creates the interesting situation that a frequently-played miniature costs more points than a "rookie" miniature. Happily you can downgrade a unit for a given army build to keep a favorite miniature in the army without blowing the point-buy cap. Overall the mustering tool worked very well.
Oh, the Mac package worked great and I was able to get in some practice sessions against myself.
Trask, The Last Tyromancer