GAMA Trade Show 2010 Report–Part 9
This Part 9 of our ongoing coverage of the GAMA Trade Show 2010! Check back tomorrow for more or subscribe to the Livingdice.com RSS feed and not miss a single post. As a reminder, these companies are not presented in any special order (just the order their booth was visited).
—-
Bandai, the Japanese toy and hobby company set up a booth at GTS to represent their collectable card game systems. There is a new addition to their Naruto: Shippuden CCG called Broken Promise, with a 17th set (Will of Fire) around the corner. There is also two new additions to their Battle Spirits CCG.  Scars of Battle has just released and Ascension of Dragons comes out in May.
—
Chubby Hubby Undies
This was definitely the biggest surprise at the show.  I was a bit surprised when I saw that an underwear vendor would be present at GTS. As the Chubby Hubby of the two of us, Trask and I agreed that I would cover this booth.  I was able to meet with Dorothy and talk about her company's mission ("…cause BIG GUYS WANT TO FEEL SEXY TOO !"). I encourage you to hit the link to their website and read the story. As Chubby Hubby set up their booth to sell their product directly (no, you won't see the undies in your local game shop unless your game store owner is looking to diversify), I am not sure GTS was the best venue for them. However, as we all know, the gamer market is brimming with potential clients. I suggested GenCon to be their next stop.  Dorothy was kind enough to give me a sample back of Chubby Hubby Undies. I will let you all know what I think (don't worry, no action shots).
—
Atlas Games was showing off their latest card game called Ren Faire. The premise behind Ren Faire is that you and your friends went to the local Renaissance Festivale in MUNDANE CLOTHES!  So to not look like futuristic fools, you must perform for the crowd to gain money for Renaissance garb. However, your friends can help destroy the progress you have made.  This game uses transparent cards that stack overt each other. If you are familiar with their game called Gloom, you know how this mechanic works. My wife is very excited to try this game out, so you can look forward to its review on LivingDice in the future.
—
I fell in love with Gaming Paper ever since I picked some up at GenCon (see our review last July). So, I was excited to stop by the booth to see the guys again. They were mostly there to continue their quest to tell everyone about their product. However, they did have a new addition to the Gaming Paper family, Hexagon paper. If your local game store doesn't carry this stuff, yell at them. If they save versus your fear attack, just buy it from the Gaming Paper website. This stuff is great!
—
Battle Foam is a miniatures case manufacturing company. Their awesome designs allow you to store and transport your armies in comfort and style. In addition to generic "for all uses" foam tray inserts for their bags, they have specialty trays that perfectly fit to popular pieces from Warhammer 40k, Warhammer Fantasy, Forgeworld, Hordes, Warmachine, and Flames Of War lines of games. In addition, you can order custom foam trays to fit whatever your needs are. Check out their Custom Tray Creator web tool. It is really amazing what they are doing (and just plain fun to play around with the web tool).
Trask interlude: GTS took place before the lawsuit versus "Outrider Hobbies" was public. We did not get any comment from Battle Foam on the issue. I checked the federal court website tonight and there are no new court filings on this lawsuit. The last filing was March 24th, 2010.  Rest assured I will stay on top of the issue.
—
Petroglyph has mostly been known for its video game talent (and they are very talented at that). They are now taking their renown strategy game genius and creating strategy games that can be played as a board game in addition to playing it as a video game. They have recently released Panzer General: Allied Assault and will be releasing Guardians of Graxia this summer. Panzer General: Russian Assault is also slated for later in the year. Unfortunately, I did not get a chance to demo either of these board games, but we will be watching Petroglyphs progress closely. There could be really good things coming for strategy board game lovers.
—
Ultra Pro was at GTS with a real classy booth showing off their latest creations for the CCG market. Nothing groundbreaking  here, but a lot of the old favorites are getting a face-lift for 2010. Deck Vaults now have shelves, new Magic: The Gathering artwork following the releases, MTG play-mats, new card boxes, Pokemon stuff, and Bella Sara stuff.
—
Triple-A Anime was showing off its line of Japanese / Anime based toys, snacks, do-dads, and movies to the retailers present. As there was no game material present, I asked them what was the best anime that no one has heard of.  His answer was
Astro Fighter Sun Red
. Anyone seen this before? And no, they did not know why Domo-Kun is so popular in the United States.
—
Flying Frog was on-set showing off their latest games. Their movie-inspired, fast-paced zombie romp Last Night on Earth and equally as interesting supernatural thriller A Touch of Evil is getting a couple of new members to the family. First is Invasion from Outer Space. In this game Carnival folk will use their special talents to fight off martian invaders. And since this game uses the Last Night on Earth game engine, you can combine the games for some interesting Martian vs Zombie vs Carnie fun. Invasion is due out this Fall.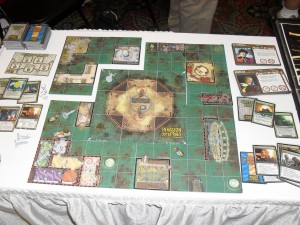 Also from Flying Frog is a new game called Conquest of Planet Earth. In this game you are leading an alien invasion trying to take over Earth. This throwback to 50's Science Fiction will be a sure hit. Conquest is due out in the holiday season.
—
A special thanks to James Takenaka (Bandai), Dorothy (Chubby Hubby Undies), Jen (Atlas Games), Erik Bauer (Gaming Paper), Jama Filip (Battle Foam), James Ward (Petroglyph), Melissa Chang (Ultra Pro), Vince Sam (AAA Anime) and Scott Hill (Flying Frog Productions). Thanks for showing me all of your new games!
—
Check back tomorrow for more great GTS 2010 exhibitors!
—
Haaldaar