Contested Ground Studios Releases Hot War: Transmission
Contested Ground Studios announced a new supplement for the excellent "Hot War" post-apocalyptic RPG.  Entitled "Hot War:Transmission" it is a quarterly magazine-style supplement for the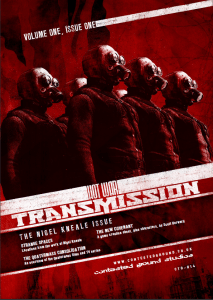 "Hot War" universe.   The first issue focuses on the "Quartermass" universe and how to integrate it into a "Hot War" campaign. Oh, did I mention you can get it free? Here is the press release.
The Hot War Transmission, Issue 1 in Print
We're delighted to say the first issue of the (http://www.contestedground.co.uk/hottrans.html) Hot War Transmission, the new quarterly mini-supplement for Hot War, is now available in a lavish, full colour print version. Priced at £5 (plus P&P), this 36-page booklet contains a host of great Hot War game material.
Issue 1 focuses on the work of the late, great   Nigel Kneale, creator of the hugely influential Quatermass TV series and films. Inside the Transmission you'll find a guide to Quartermass, with useful hints about incorporating situations and themes into your games, locations from the series and films, and a Kneale-esque game situation created by Scott Dorward. The game situation gives you background, antagonists, and four pre-generated characters, making ideal for convention play or for slotting in to your own games.
The booklet can be purchased direct from  our own online shop. It will also be available through  Indie Press Revolution in the next two to three weeks. You can also download the PDF of this first issue for free (future issues will be available through Drive-Thru RPG, priced at $4).
Importantly, this booklet uses environmentally friendly papers and printing products. The paper is Forest Stewardship Council Certified, which means it comes from recognised sustainable sources, providing a viable alternative to recycled paper, which is nice.
Details
Title: The Hot War Transmission, Volume 1, Issue 1
Authors: Malcolm Craig and Scott Dorward
Cover Artist: Paul Bourne
Price: £5 + P&P (print); FREE (PDF)
Hot War is a game of friends, enemies, secrets, and lies set in a post-apocalyptic 1960s London. You can find out more by visiting the Contested Ground website and (http://www.contestedground.co.uk/hotdown.html) downloading our free previews.