Vul-Con Arena 1 at Gamers' Inn Aprils 2nd, 2011 in Mesa, AZ
Vul-Con, the newest game convention in the southwest is not until February 2012, but that has not stopped them from running some warm-up "arena" events. I am a sponsor of the convention and hope that interested gamers in the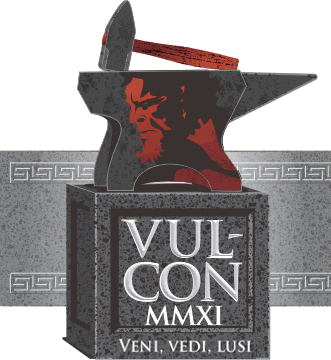 Phoenix, Arizona area would drop by for some gaming action.  Here are the games on offer at the event.
The Table Top Gaming Society will be running three different historical miniatures gaming events, including Rome vs. Gauls, Alexander the Great vs. Hannibal, and a Wild West Skirmish game.  The Arizona Men in Black will be running a variety of Steve Jackson Games, including Munchkin, Revolution, Car Wars: The Card Game, The Stars are Right, and Greed Quest.  Local Author and Game Designer Todd VanHooser will be running the Adventures Under the Laughing Moon Roleplaying Game twice during the day, in dual Gamemaster format with a twist.  Fantasy Flight Games is sponsoring three tournaments – a Wings of War WWI mini-campaign Tournament, the first "official" Dust Tactics Tournament in the Southwest, and a Tribune Board Game Tournament.  We'll also be unveiling two of the Ludi Vulcani games that will appear at Phoenix Vul-Con 2012 – Gladiator played in a 5ft diameter Gladiatorial Arena with 90mm miniatures, and Circus Maximus played on a model Hippodrome nearly 22′ in length and 7′ wide with 50mm miniature chariots.

We're highly recommending pre-registration, so you can lock in a seat at your preferred events.  Slots are limited and on a first-come, first-served basis.  Interest is high and we've had several registrations prior to announcing that the schedule and registration are live.  Those who pre-register for Phoenix Vul-Con 2012 can attend all Vul-Con Arenas for free and for those who haven't entry is only $10 and garners you a coupon for $10 off your Phoenix Vul-Con 2012 registration in addition to access to Arena I.
Work allowing, I will be participating in the "Wings of War" event.  Drop by and prove your air superiority by shooting me down!
Trask, The Last Tyromancer