GAMA Trade Show 2013 Report 7
Cheapass games, long known for extremely basic games, evolved a bit and produced a "snazzy" version of the venerable "Unexploded Cow."
This game has a retail price of $25.00.
Scheming and Skulking is a new trick-taking game due to be released at the end of May for an MSRP of $12.99.
Strictly speaking Sedition Wars and Zombicide below are both from "Cool Mini or Not," but in the interests of clarity I am splitting them off into their own entries.


Sedition Wars
Sedition Wars gets its first expansion "Sedition Wars: Arms of Sorrow" that functions as both a stand-alone game and expansion to "Battle for Alabaster."  The game releases later this year with a $90.00 MSRP.
"Arms of Sorrow"   is a potential kickstarter project, but that decision has not been made yet. It could release alone, but a kickstarter might allow for additional expansions as stretch goals.
Zombicide Season 2
Cardio! Start working out because the flesh-eating undead hordes are back in "Prison Outbreak." Prison Outbreak is a new stand-alone game and another planned expansion for both season 1 and season 2 called "Toxic City Mall" is in the pipeline as well.
Oh, Zombicide will be reprinted in September if you missed it the first time.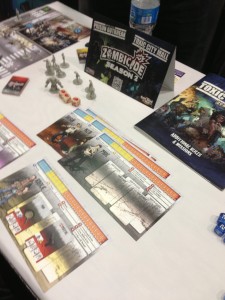 "Tide of Iron" lives! 1agames took over publication of  "Tide of Iron" and decided to add beginner scenarios with a stripped-down rules set and a new rulebook version  (called the "Next Wave") with updated and clarified rules. A new edition  is out now for $99.95 and the long-awaited "Stalingrad" expansion lands in the Fall of 2013 for $79.95.
Black Wyrm was a new vendor, but they impressed me with their offerings. Behold the dry-erase glory of their ships!
The starship maps come in two sizes, small and large with MSRPs of $30 and $50 respectively.  I even tested the dry erase feature and it worked well. So many maps, so little money….
Trask, The Last Tyromancer