Curled Maps that Will Not Lay Flat? I Have an Elegant Solution
An ongoing issue for tabletop war gamers and RPG players are maps that will not lay flat. Long-term storage in a tube or rolled up in a car trunk permanently creates hills, valleys and curling corners in soft maps. Most groups solve the issue with some well placed books and the occasional "Mountain Dew" can.
My solution is a paper weight, but they are far more elegant than a soda can. Bunchin – pronounced "boon-chin" are paperweights used by Japanese calligraphers to weight down their rice paper. I found them at a Japanese grocery store I frequent and was stunned I overlooked them for so long.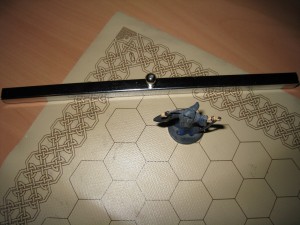 The miniature is a standard "medium" character, included for scale.
These particular examples only cost $3.00 each, but there are many, many types available on the internet far more elaborate and expensive.
I like these "bar" style bunchin as they are perfect for both weighting down the map and as the occasional supplement to an encounter. They make excellent wall miniatures and the little knob makes picking them up a snap. It is a solid metal bar that weighs about 100 grams, so it is easily heavy enough to hold the map down.
Of course, these are just paperweights, but the shape and style make them perfect for gaming and they come in many styles, some bordering on art.  I said the solution was elegant, not original. 😉
Trask, The Last Tyromancer