Review: Warealm Warlord Gaming Table from P9gaming.com
Update: I noticed Google traffic hitting this page and thought I should mention that p9gaming.com is apparently dead. I have not heard from this company in years and suspect they are out of business. –Updated 4-19-2013
P9gaming.com is a new company producing a line of collapsible game tabletops for collectible card games. I am familiar with standard green felt tabletops for poker, so it seemed like a sensible evolution to produce a hobby gaming version. Happily p9gaming.com agreed to send me a review copy of the "Warealm Dueler" tabletop for review. The Dueler is the two-person version. There are also  round and rectangular (for cafeteria tables) 6 player versions. You can see the other styles of tabletop  at p9gaming.com.
This is what showed up at my door.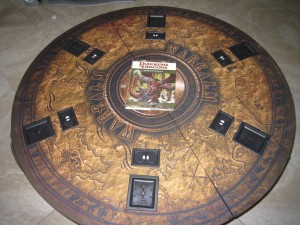 Do you see that 4E Monster Manual in the center? I included it so you could see the scale of this thing. I had in my hands the "Warlord" tabletop for six players rather than the two player version.
The tabletop (it does not have legs, the image was shot on my coffee table) is 51 inches in diameter and about 1/2 inch thick. The top is a decorated felt, very similar to a standard poker tabletop. Cards slide smoothly when pushed across the table, but it is not so slick as to make the cards overshoot. Rather than a plain design, there is an elaborate map and runes printed on the felt. I liked the art, it had a nice fantasy feel to it
One of the key features that P9 markets are the built in card trays and life counters. The counters are two wheels labeled 0-9 that rotate in their housings. They are the black and white discs above the card trays. There are numbers on each wheel, but my miserable photography skills could not get them in focus. Apologies.  Each wheel clicks into position and allows counting from 0-99. Below them is the deck tray. Each deck tray is counter-sunk into the table top about 1/4 inch, but has 12 short plastic nubs that rise up from tray's bottom. These raise the deck up off the bottom so you do not have to dig out your last few cards.
At the bottom of each deck tray are three holes that pass all the way through the board. Initially, I though these were a result of the manufacturing process, but I asked the publisher about them and was told they are drain holes to reduce damage to your deck from accidental Mountain Dew floods. Clever.
I believe the tabletop is made of particle board (best guess  as I did not disassemble it to find out), but the bottom has a vinyl pad on it that will protect your kitchen table. The seams at the fold points appeared reinforced and looked sturdy for repeated use.
One of the other key features of this tabletop is relatively small size when folded. I made a point of timing the setup/take down time with only one person (me) doing the work. Both take less than two minutes, including packing it back into the case.
Here is a shot of the same table in the included nylon carrying bag.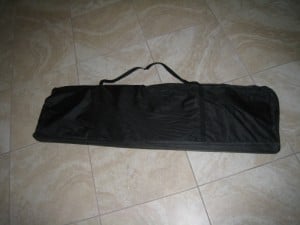 The entire kit weighs 27 pounds (12.2 kilograms).
Normally I do not solicit outside opinions during my reviews, but I packed up the tabletop and took it down to my local game store along with Arcane Legions for a day of play and reviewing.
My totally unscientific survey of gamers that wandered by was positive. General feeling was that it was good for games that allow multiple players to attack each other, Munchkin being one example that came to mind. Someone also mentioned a new flavor of Magic: The Gathering coming out this fall that had a multi-player component that this table would be well suited to support.
Admittedly, the Warlord  is better suited to game store and tournament usage, but if you have a large consistent group and are interested in preserving your kitchen table ( or just making said kitchen table "cooler") then this is a good investment.
Trask, The Last Tyromancer