Interview: Eric Johns of Wyrd Miniatures, Publisher of Malifaux
Malifaux first caught my eye at Gen Con 2009. It is a non-collectible miniature skirmish game that included some really odd miniatures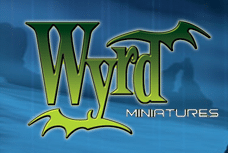 (redneck gremlins, old-west gunfighters and steampunk sorcerers) plus a combat mechanic based on a deck of cards. All of which meant it needed further investigation. Eric Johns, Creative Director at Wyrd Miniatures kindly answered some of my questions about Wyrd Miniatures and Malifaux.
Trask:
Talk about yourself a bit. What is your background in gaming and miniatures?
EJ:
I started with painting actually back early in college, in the late 90's, just doing miniatures to role play with. My painting was quite poor, but I enjoyed it. About a year later I had a friend introduce me to Warhammer 40k, which is where both my miniature gaming and painting really started taking off. I played a LOT of 40k, tournaments and such 2-3 times a month. After a while I did burn out on it a bit, and just settled into painting, and did that exclusively for many years, and working to take that to a competitive level as well. And I actually started at Wyrd as a painter, doing some of the first minis released. As I got more involved here, I branched out again, into gaming, and took over development of Malifaux
Trask:
Before we touch on Malifaux, from where did Wyrd Miniatures spring? I read some interesting information on the site that implied Wyrd as a business evolved into being rather than a conscious effort to start a company.
EJ:
Largely that's right. It started when Nathan one day decided that he thought he could put together a few fun minis, as he had gotten friendly with a sculptor, and myself, a painter, and figured why not release a few and see what happens. So the first 4 miniatures happened very much without any ambition to become what Wyrd has become, but really just grew out of our love of all things miniature related. Well, those first 4 did quite well, particularly the Viktoria Swordmistress model, and that of course gave us encouragement to do another set, and then another, etc…So yes, it was quite an organic growth from the start, and wasn't really until about 2 years in that we really had to sit down and decide what we wanted to do, and either go forward as a real company, or just leave it on a back burner, slow it down, and leave it a hobby. Of course we decided to try to push it forward, this was also the same time we decided to make a game to go with.
Trask:
So you started producing miniatures. When and why did you decide to add your own game rules to your miniature line?
EJ:
That happened in about Summer '07, just over 2 years ago now. The line was going quite well, and we had people constantly asking if there was a game to go with them. We had always created minis to fit into our fictional world of Malifaux, and we realized that with the minis, and the background fluff already in place, the next step really was to get serious about development of rules for it
Trask:
Can you give a little background on Malifaux? What is the world like?
EJ:
We've always enjoyed a mix of genre's so it's always been hard to classify Malifaux neatly into any. But the world takes place through a magical breach to another world, which people have ventured, people from many different origins. which created a vibrant mix of genre's, including western, Victorian, horror, steampunk, historical, with a good bit of humor thrown in as well. The result is something both richly diverse, and with the freedom to really let both our serious and fun sides find a place. I suppose that is about it in a nutshell.
Trask:
I noticed a distinct feeling of humor throughout the Malifaux line, including miniatures with names like "Hog Whisperer" and "Bayou Gremlins." Is this a comment on miniatures game that "take themselves too seriously?"
EJ:
I think that going into it we certainly decided that we certainly didn't want to take ourselves too seriously! I suppose the fact that we had to make that a conscious decision, might indicate that the general focus of the industry is on much more serious settings. But also we knew we were working to make something different, and something that could perhaps give people a laugh while playing. So I think primarily it reflects the personality we wanted to reflect of ourselves into the game, more than a reaction to everything else out there.
Trask:
Although I have not played Malifaux yet, I did get in a demo at Gen Con this year. Rather than dice, you went with a card-based combat system. Could you elaborate a bit on the thinking behind this choice?
EJ:
To some degree this is another thing that grew organically. As we started to work on a game, it was at a time that the market really was flooded with new games, and our goal was to create a mechanic that was different from the other dice games that were out there. This lead to a moment where in our frustration, we just decided to toss the dice, and go with cards, as it was something that had not really been done in seemingly every possible way…or really any possible way, yet. This was a big headache in many ways though, as we were really left trying to re-invent the wheel, creating a conflict resolution mechanic using something completely different. We also wanted to be sure to justify this decision by working in mechanics that would be unique to a deck of cards, things you couldn't do with dice. It was a hard road, and one we didn't know we were starting down when we first decided to toss out the dice, but I think despite the headaches, we'd make the same decision. We're very happy with the results.
Trask:
Malifaux has different levels of games, from small skirmishes to large battles. Did you feel the market lacked a game that scaled well?
EJ:
I think we felt mainly that the market lacked a good small scale skirmish game, so we started there. The scalability was worked into the game in order to give people additional options, so while they could get into a game which did offer a skirmish level game, they could also play slightly larger games as well. However, due to the system itself, I don't feel that the game would scale much larger than we've already developed. (To all those people worried we're going to keep growing it in size until it's up to 20-30+ models a side)
Trask:
What is the largest army supported?
EJ:
The largest is a 70ss brawl, meaning 2 masters and 70 soul stones worth of minions. I think we figured that the absolute maximum models that could be is about 35…BUT that would be a very gimmicky list. Usually 70ss would be 10-15 models max for a balanced selection. A more standard game is usually about 5-10 models though, as those 70ss brawls would take quite a bit of time to play out.
Trask:
I would like to ask about the more mundane logistical aspects of publishing a miniature game. Did you have any challenges as a new company with mass production of miniatures or printing books? Did you have to recruit outside help?
EJ:
It was literally all a challenge! Everything we did we had to learn from scratch. Like I said, at the time we started, the industry was really very saturated with games, and miniature lines, and more people wanted to get involved every day, so we actually found quite a lot of unreceptive people in the industry that did not want to give a helping hand. But Nathan and I are both quite stubborn, and pushed ahead anyway. It of course started with learning about making miniatures, and we had quite a few examples of learning from trial and error. Once we got to making a game book however, I was able to use my background as a graphic artist, and my many years of working with printing presses to really race through that part of it. But even with my background, there has been a lot of learning, everything from figuring out how to print custom decks of cards, to getting used to the turn around times on everything. We're still learning in fact! Since Gen Con, the learning has changed to figuring out how to scale up to meet the supply created by the game…something we're still working on!
Trask:
Since you started from scratch and moved in to the game publishing business, do you have any advice for potential game publishers? Did you make any mistakes you could warn others to avoid?
EJ:
I think the biggest piece of advice would be to be prepared to do it right, and be prepared for it not to be cheap. It really is a leap of faith, and you have to believe in your product enough to order in enough quantity to make it worth doing. (The more you print, the less it costs, and the only way you can make it work!). Also be prepared to give it A LOT of your time and dedication, as people can tell if you cut corners in any way. So you have to give it your best…just be prepared for that! The biggest mistake is to not be very persistent in following up with people to get what you need. Don't just let things slide and hope they'll work out right, you really have to stay on top of things, and people, to make sure the final product is up to that standard you set.
Trask:
Now that Malifaux is released, what are Wyrd Miniatures future plans?
EJ:
Of course we are working hard to release all the rest of the miniatures that are introduced in the game book, and we figure that will happen over the next 8-9 months. So we figure we had better get started on the next Malifaux book, to expand the game, expand the miniature choices, and add more to the Malifaux world. That next book is already in development. Also we have 2 other projects in the works for other games, that are related to Malifaux, but go in different directions from the table top skirmish game. At the moment these 2 are top secret, but I think you'll be hearing more about them soon. Also we're working on updating our website and forum. And of course we're working to continue our tradition of supporting Malifaux and the miniature hobby with our Painting contests and our online magazine – Wyrd Chronicles.
Trask:
Great, thank you for your time. I think I have enough to fill up a post and keep the content hungry readers of my site happy. Do you have any closing thought? Or questions for me?
EJ:
The obvious question is…When are you going to give in and play a game?
Trask:
Sadly, I have fairly good writing skills, but the painting ability of a monkey. I am interested in the game mechanics, but unless someone builds the army for me, I am useless.
EJ:
Fair enough! But we always like to hear peoples impressions! I guess for closing thoughts, I'd just like to thank everyone who has shown us such strong support over the last couple of months. The positive feedback has been very much appreciated and has given us a ton of energy to get back to work and make it even better!
Trask: Thank you for your time.
Trask, The Last Tyromancer