Gamer Accessory: The Ivar Backpack–A Backpack with Shelves
Carrying game supplies is a pain. Sometimes figuratively, often literally after a long convention. In my long years of gaming I observed everything from backpacks and duffel bags to rolling luggage . I just ran across another option and I thought I would share it. The Ivar Backpack. Ivar looks like a standard backpack externally, but it has a very clever internal shelving system to distribute the load. You can see the shelves in this cutaway image and they look ready to handle a evenings gaming worth of books and a laptop.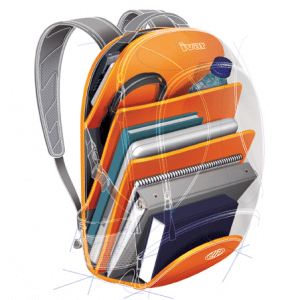 Other backpacks have pockets to distribute the load, but they are not the right size for the large form-factor game books or miniature boxes. Pricing ranges from $60.00-$110 USD depending on the model.
Here are shots of the real packs (though there are several other models not pictured.)
If anyone among my readership has first-hand knowledge of these backpacks, I would love to hear about it. Gen Con 2010 approaches and my single-strap courier bag was a bit painful last year, so I seek an alternative.
For further information, check out the Ivar Backpack website. I suggest you download the Ivar 2010 PDF catalog, as it has upcoming models as well as current offerings.
Trask, The Last Tyromancer
Full Disclosure: I received no compensation for this post and receive no benefit from any sales of this item.