GAMA Trade Show 2011 Exhibitor Coverage – Part 6
GAMA Trade Show 2011 coverage continues with Gary Games, RPS Games, Ovation Productions, Greater Games Industry Catalog, MerchantOS, North Star Games, and GameBrother




Gary Games
Gary Games was showing off the first expansion to the Ascension deck-building game. This new expansion, called Ascension: Return of the Fallen, adds new mechanics (Fate cards), support for more players (up to 6),  and 120 new cards. This product will be $29.99 and will be out in June.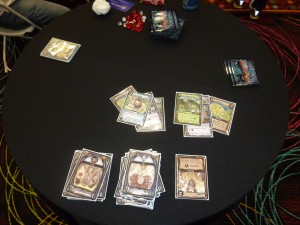 RPS Games
RPS was showing off their new game, Ro-Sham-Bo. This game is Rock-Paper-Scissors (RPS) put into a family strategy board game form. You use RPS when you encounter your opponents on the board. This game will be shipping in July. It is for 2-4 players.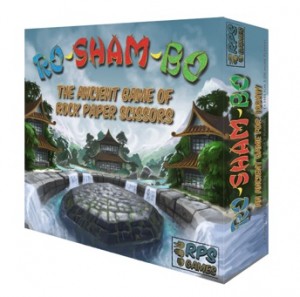 Ovation was displaying The Tower of Mystery, a competitive interactive board game. This game is focused on having a big social component, and would be great for family game night. A word of warning though, this game isn't for the hard-core strategy gamers who want to try to control everything. The game can change very rapidly, and has a heavy injection of random events. One thing I really liked about this game, is that even when it is not your turn, you are still very involved with the game. Bathroom breaks will require a game-pause. This game is for 2-8 Players, target ages 8+. Each game takes about 30 minutes times the number of players. But there is a rule that you can implement to accelerate toward conclusion at any point in the game.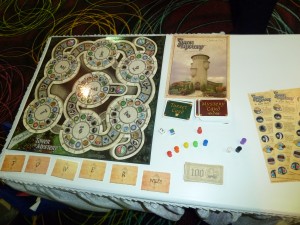 Greater Games Industry Catalog
The GGIC is a reference catalog for all hobby gaming products (over 45,000), as well as some articles of interest. Availability is limited to retailers, publishers, buyers, and distributors, but if you happen to be one of them, Trask is a regular contributor in the articles section.




MerchantOS
MerchantOS is a POS/Inventory Management system that is Internet-based. One cool thing with this product, is that they pre-load the SKUs for most of the game stuff out there. So if a retailer gets a new game into their store, it is ready to be scanned with the bar code reader, no information entry needed.
NSG has two new games for 2011. First is Say Anything: Family Edition. Similar to what they did last year  with their Wits and Wagers to Wits and Wagers Family crossover, it has the same mechanics as the original Say Anything, the questions are just more geared toward younger players and families. Also, they have a new party game coming out in August called Crappy Birthday. It is a good ice-breaker/get to know you type of game with similar mechanics to Apples to Apples. Everyone gives you cards to try to be the "worst gift possible" and you pick which one is worst for you, and they get a point. Expect a lot of laughs.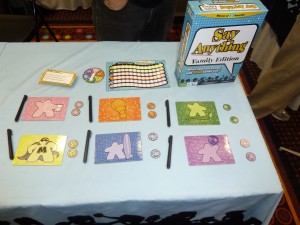 GameBrotherz
GameBrotherz, another new vendor at GTS this year, is a Canadian company focused on Kid/Family games. They have three new games coming out this year. Mister Mailman Junior (2-4 player, ages 8+) is a revamp of the original Mister Mailman with greater simplicity in the rules and gameplay.  In this game mailmen race around the neighborhood delivering mail. BOO (1-6 playres, ages 5+) is an adventure/race game.  Spuzzle (1-4 players, ages 4+) is a puzzle building game.
More tomorrow!