Ex-Illis Announces Bleeding Edge Knights Program and Contest
Update: Bad news, this company is no longer in business.
Bastion Studios, producers of the Ex-Illis Miniatures game and kind supporters of this site announced today they are looking for Ex-Illis players to join their new "Bleeding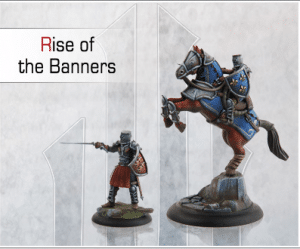 Edge Knights" program. The Bleeding Edge Knights function as the Ex-Illis demo team and support network for local gaming stores. BEKs earn points for running events, recruiting new players and  advancing the cause of Ex-Illis. These points can be converted into figures and other exclusive swag. Bastion is also running a contest along with the BEK launch that awards the highest Bleeding Edge Knight point earner a studio painted " Knight Baneret" (pictured) miniature release. Download the announcement PDF from the link below for full details.
Bleeding Edge Knights Announcement and Knight Baneret Contest Rules
Trask, The Last Tyromancer